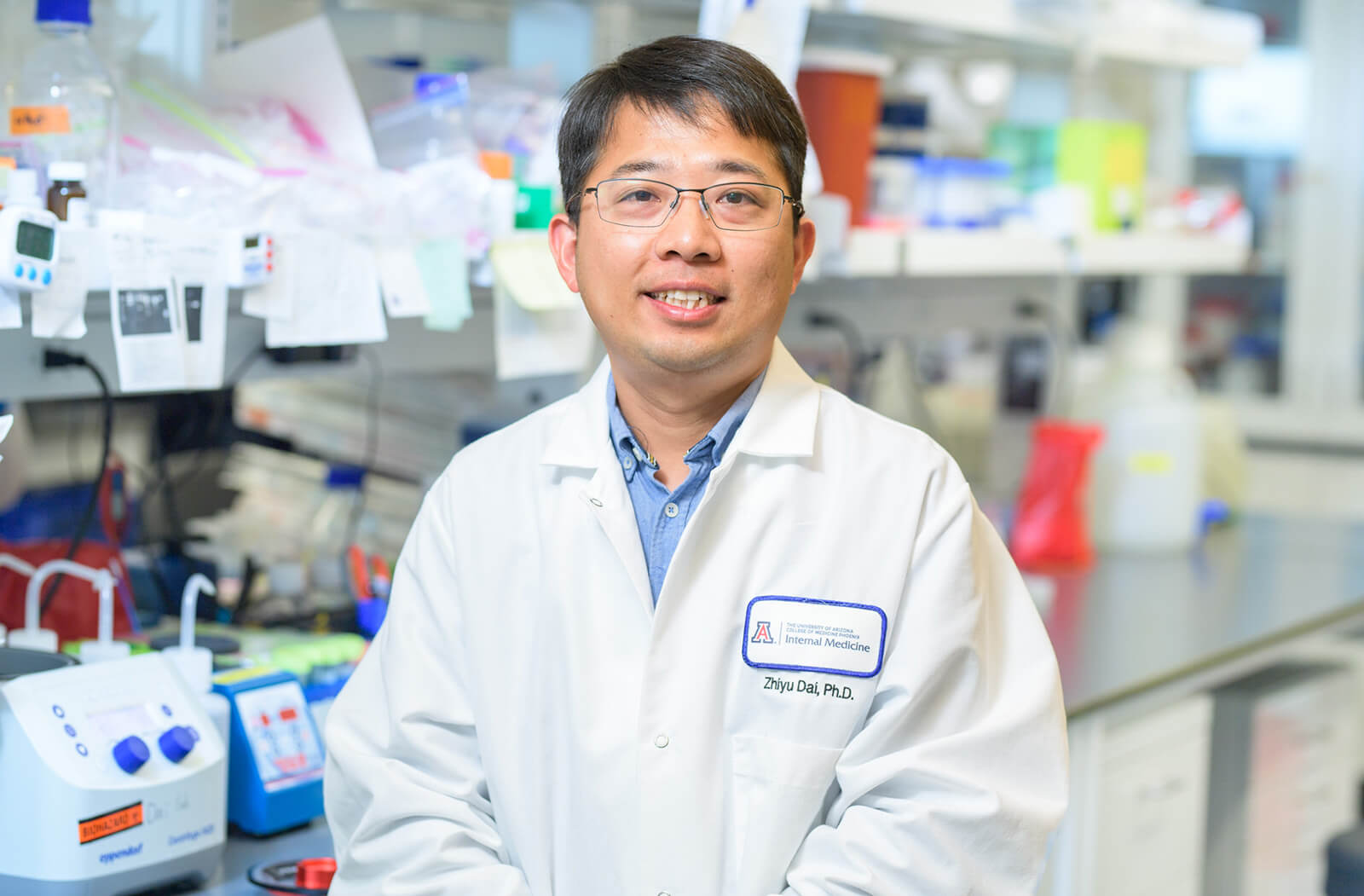 ABRC Grant to Support Research of Lung Disease Linked to Smoking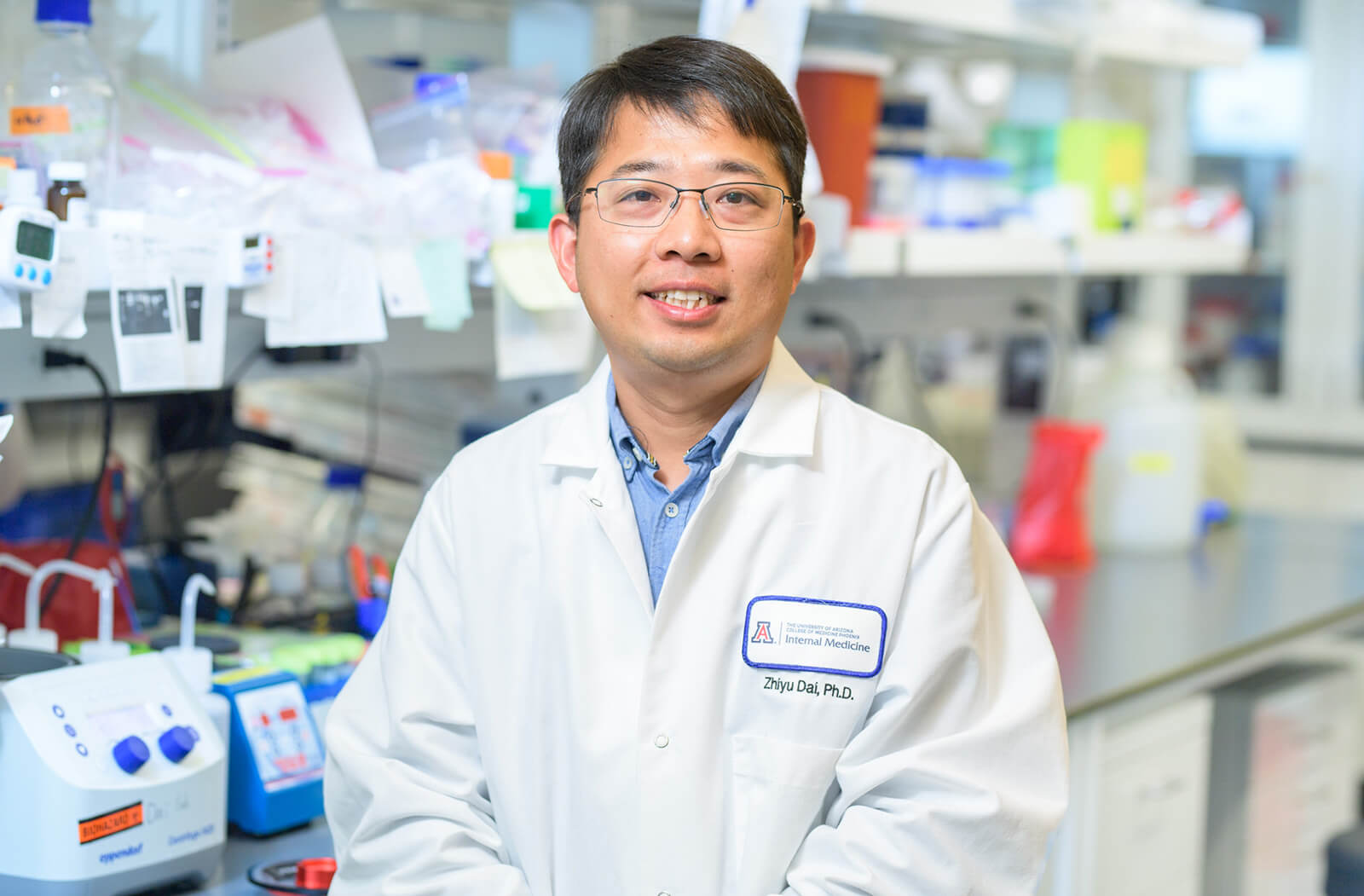 Zhiyu Dai, PhD, seeks to identify the process of pulmonary disease development and develop new therapeutics
Zhiyu Dai, PhD, an assistant professor and director of Translational Endothelial Research in the Department of Internal Medicine at the University of Arizona College of Medicine – Phoenix, received a research grant for his studies on chronic obstructive lung disease (COPD)-associated with pulmonary hypertension (PH).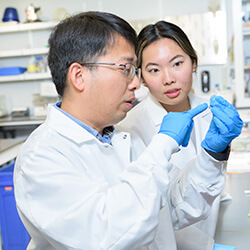 The Arizona Department of Health Services, Arizona Biomedical Research Commission (ABRC) has recognized eight researchers at the college with over $2.8 million in grants over three years.
The research interest in Dr. Dai's laboratory is studying lung vascular biology, the pathogenesis of pulmonary vascular diseases — such as PH — and the identification of targets for these diseases.
"Receiving the ABRC award serves as a source of motivation, encouraging us to continue our work in understanding how the diseases develop," Dr. Dai said. "It can also provide opportunities for collaboration and networking with other researchers in our field and potentially make a greater impact on the prevention and treatment of this disease."
Pulmonary vascular disease includes several complex conditions that affect the blood vessels in the lungs and make it difficult for the heart to pump oxygenated blood through them. The disease can lead to a range of symptoms, including shortness of breath, fatigue and chest pain — ultimately becoming life-threatening.
Current therapeutics aim to lessen the severity of symptoms to help improve patients' qualify of life. A primary goal is to lessen stress on the heart and reduce the risk of heart failure. Dr. Dai's research seeks to change that.
"I am motivated by a desire to better understand these diseases contributing factors, as well as developing new treatments that can help improve the lives of people living with these conditions," Dr. Dai said.
Dr. Dai's ABRC award is about investigating a sub-type of PH called chronic obstructive lung disease (COPD).
According to Dr. Dai, COPD is a major health problem in Arizona and is the third-leading cause of death in the state. An estimated 30 – 70% of patients with COPD also have PH, called PH-COPD.
"Understanding the pathogenesis of tobacco smoke-induced PH-COPD will lead to novel therapeutic approaches," Dr. Dai said. "Our proposed studies will have a significant impact on understanding the pathogenesis of cigarette smoke-induced PH-COPD and could reveal a novel therapeutic target to treat patients with the condition."
When it comes to mentors, Dr. Dai credits Michael Fallon, MD, chair of the Department of Internal Medicine, and Chris Glembotski, PhD, associate dean of Research and director of the Translational Cardiovascular Research Center, as two people who have been impactful in helping him navigate the complexities of research and developing the skills and knowledge needed to succeed for a junior faculty.
In the future, Dr. Dai hopes to continue contributing new understanding to the field of lung vascular biology and diseases by conducting original research and developing new theories or models.
"I will also communicate our findings and insights to the general public," Dr. Dai said. "My ultimate goal is to make a significant beneficial impact on pulmonary translational medicine for patients with pulmonary vascular diseases."
About the College
Founded in 2007, the University of Arizona College of Medicine – Phoenix inspires and trains exemplary physicians, scientists and leaders to optimize health and health care in Arizona and beyond. By cultivating collaborative research locally and globally, the college accelerates discovery in a number of critical areas — including cancer, stroke, traumatic brain injury and cardiovascular disease. Championed as a student-centric campus, the college has graduated more than 800 physicians, all of whom received exceptional training from nine clinical partners and more than 2,700 diverse faculty members. As the anchor to the Phoenix Bioscience Core, which is projected to have an economic impact of $3.1 billion by 2025, the college prides itself on engaging with the community, fostering education, inclusion, access and advocacy.