Christopher Glembotski, PhD, Appointed Director of the Center of Translational Cardiovascular Research
After an extensive national search, Christopher Glembotski, PhD, will be joining the University of Arizona College of Medicine – Phoenix as the inaugural director for the Translational Cardiovascular Research Center and professor in the Department of Internal Medicine.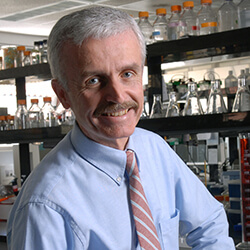 "Dr. Glembotski is a renowned researcher in cardiovascular disease with a remarkable background and a wide-range of accomplishments not only as a scientist, but as an educator and leader. I would like to thank our search committee for their incredible work resulting in this outstanding selection," said Guy Reed, MD, MS, dean of the College of Medicine – Phoenix.  
Dr. Glembotski currently serves as the director of the San Diego State University (SDSU) Heart Institute and is distinguished professor of biology. Dr. Glembotski has an extensive research background and has garnered more than $35 million in grants during his time at SDSU. Since he started his own lab in 1983, he has been continuously funded by the National Institutes of Health.
Dr. Glembotski has been recognized as an educator and researcher with several accolades that include receiving the American Heart Association Established Investigator Award, the Albert W. Johnson Research Lectureship Award and being named Distinguished Professor of Biology in 2019, SDSU's highest research honor. Other noteworthy honors and accomplishments include the Outstanding Faculty Award by SDSU Mortar Board in 2016; Most Influential Professor Award by SDSU Department of Biology in 2004, and Outstanding NIH Minority Biomedical Research Support Faculty Member in 2004.
His research centers around the area of molecular cardiology, with a focus on identifying new therapeutics for treating ischemic and hypertrophic cardiomyopathies.
Currently, Dr. Glembotski's lab uses gene therapy and small molecule approaches to improve protein-folding and to decrease protein aggregation in the hearts of patients suffering from numerous types of cardiac pathologies. Recent efforts in his lab have used a chemical biology approach to find new compounds that improve the natural defense mechanisms in the heart, which could reduce heart damage in patients suffering from a heart attack and could improve the outcomes in patients diagnosed with heart failure. The compounds identified to date have beneficial effects on the heart, as well as in the preliminary models of ischemic stroke.
The most promising compound to date, which Dr. Glembotski's lab has patented, has been shown to serve these beneficial effects by activating ATF6, a protein that Dr. Glembotski's lab found in heart cells that is a master regulator of a widespread protective gene program. This protein is expressed in every organ, including the brain, so the compounds Dr. Glembotski's lab has discovered could have benefits for a broad spectrum of cardiovascular diseases.
Dr. Glembotski earned a bachelor's degree in biochemistry from California Polytechnic State University at San Luis Obispo, CA, and a doctorate in biochemistry from the University of California, Los Angeles. He continued his studies at the University of Colorado Health Sciences Center in Denver as a postdoctoral fellow in molecular physiology and moved to his first faculty position as professor of pharmacology at the Perelman School of Medicine at the University of Pennsylvania in Philadelphia before relocating to San Diego to become director of the SDSU Heart Institute.
About the College
Founded in 2007, the University of Arizona College of Medicine – Phoenix inspires and trains exemplary physicians, scientists and leaders to optimize health and health care in Arizona and beyond. By cultivating collaborative research locally and globally, the college accelerates discovery in a number of critical areas — including cancer, stroke, traumatic brain injury and cardiovascular disease. Championed as a student-centric campus, the college has graduated 669 physicians, all of whom received exceptional training from nine clinical partners and more than 2,600 diverse faculty members. As the anchor to the Phoenix Bioscience Core, which is projected to have an economic impact of $3.1 billion by 2025, the college prides itself on engaging with the community, fostering education, inclusion, access and advocacy.