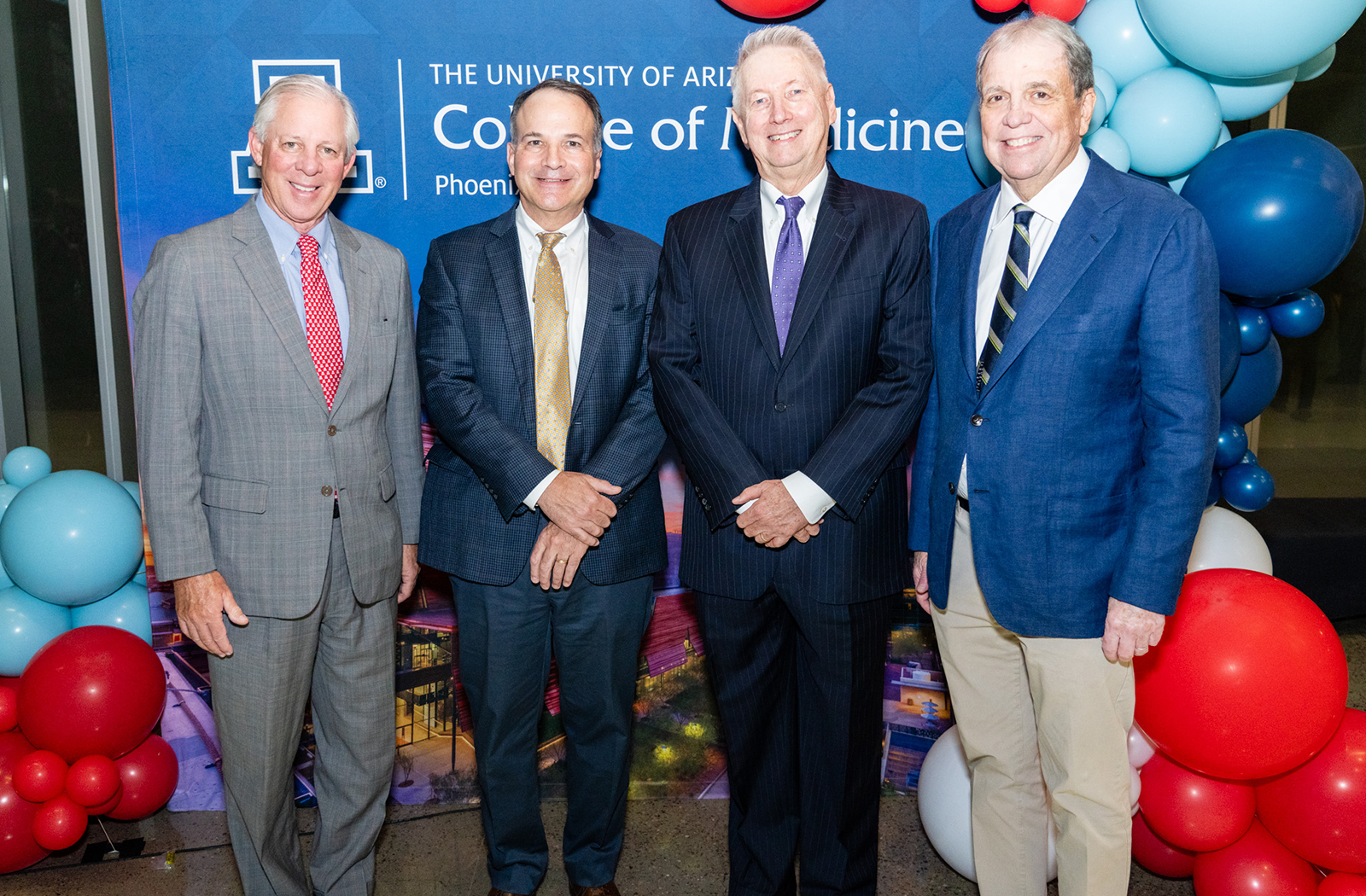 College Sets New Course as Dean Wondisford is Officially Welcomed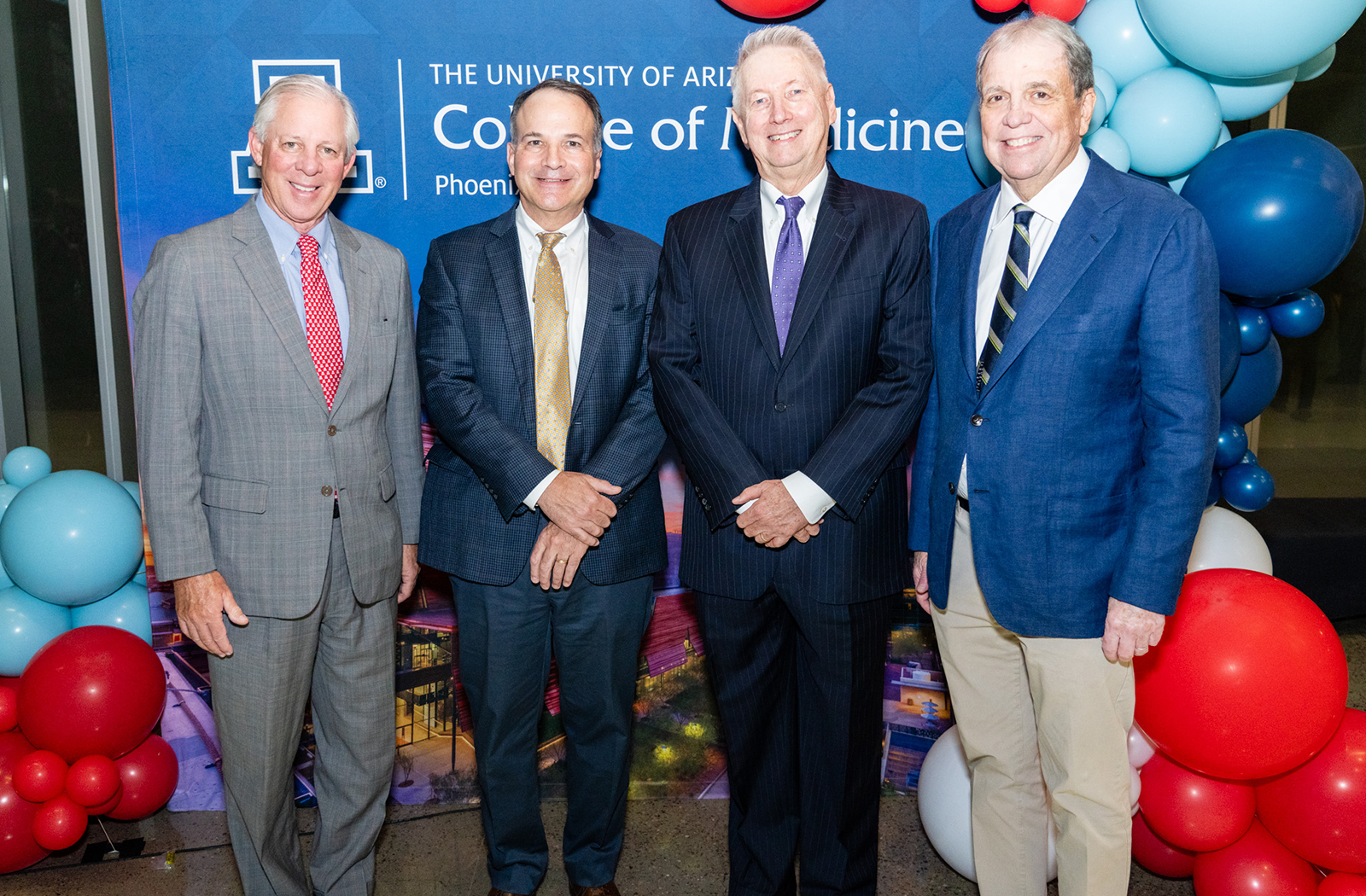 Reception introduced Dean Fred Wondisford to the college's family and extended gratitude to former dean Guy Reed, MD, MS, for his contributions
The University of Arizona College of Medicine – Phoenix is entering a new chapter — one set to be guided by Dean Fredric Edward Wondisford, MD, MS, MBA. To commemorate the transition, a reception was held Thursday, October 26, on the college's campus. It was an occasion defined by excitement, optimism and gratefulness.
Michael Dake MD, senior vice president of Health Sciences, shared insight into the process of selecting the right person to lead the college. "When we embarked on the search for our new dean of the college, we gave a great deal of consideration to the growth not just of this college, but the growth of the entire health sciences enterprise in Phoenix," he said. "Dr. Wondisford's background is academic medicine, clinical integration and research growth. It made him a natural fit to lead the College of Medicine – Phoenix," steering it into its next era.
The tremendous potential for the college and Phoenix was echoed by Robert C. Robbins, MD, president of the University of Arizona. "I think it's an incredibly exciting time for Phoenix and all the things that can be done, not only here with Banner, but with many other partners all over the state," he said.
He further highlighted the promise by noting the University of Arizona and the College of Medicine – Phoenix's focus to develop innovative research facilities, including the upcoming Center for Advanced Molecular and Immunological Therapies.
The vast potential for the college to influence the future of medicine drew Dean Wondisford to the role.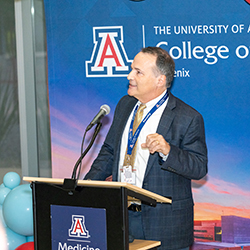 "We want to become an outstanding medical school and be a nationally known academic medical center," said Dean Wondisford. "But my vision isn't as important as what the school's vision is, what the faculty's vision is, what the staff's vision is, and what the students' vision is for what we want to become, because those are all the people that are going to make it."
To do so, he laid out some guiding principles, all centering around the letter R. "The first thing that we want to do is really make sure our relationships are strong. After that, we need to reorganize. In a sense, we need to become a little bit more of an agile organization, because we are now going to undertake a new inflection of growth," he said.
He continued, "We need to grow our research portfolio. That's something that's going to be really important; and that's going to require recruitment." And lastly, he noted that, "We want our school to be representative and respectful of the people not only in Phoenix, but also in greater Arizona." By doing so, the reputation of the college will further develop, strengthening its central mission.
Dean Wondisford's vision for the college is an ambitious one, but it builds upon the strong foundation set by his predecessor Guy Reed, MD, MS.
Dr. Reed's leadership during his six-year tenure as dean was also honored. He will remain with the college as a professor of Internal Medicine and is further developing his lab's work on groundbreaking therapeutics for pulmonary embolism and stroke — which has just entered Phase II clinical trials.
Dr. Reed oversaw tremendous advancement in several key areas of the college's strategic initiatives. His leadership helped to enhance the infrastructure of research and clinical programs; to recruit distinguished leaders from diverse specialties to serve as department chairs, division chiefs and research directors; to ensure the college exceeded the requirements to maintain full accreditation; to expand the college's class sizes from 80 to 120 medical students; to broaden the Graduate Medical Education opportunities offered; and much more.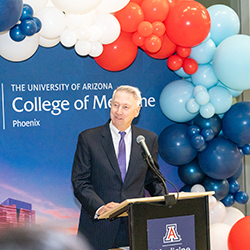 During the event, Dean Wondisford, spoke highly of Dr. Reed's contributions. "Why did I come here? What was unique about the opportunity? Well, it starts with Dean Reed. He was instrumental in shepherding this medical school during its startup phase. And that is not an easy task," he said. "We couldn't do this without you; I wouldn't be able to stand here … to be able to proceed without what you've done."
Dr. Reed took time to thank all those who were instrumental in helping him to further the college's initiatives during his tenure as dean. "There is no way to adequately express my gratitude to you. To everything, there is a season and a time, and this is the season for me to return to my previous passion and love of being a physician scientist," he said.
Fittingly, Dr. Dake announced he would become the college's first Dean Emeritus — a distinction that will be immortalized on the college's Wall of Honor on the third floor of the Health Sciences Education Building.
About the College
Founded in 2007, the University of Arizona College of Medicine – Phoenix inspires and trains exemplary physicians, scientists and leaders to optimize health and health care in Arizona and beyond. By cultivating collaborative research locally and globally, the college accelerates discovery in a number of critical areas — including cancer, stroke, traumatic brain injury and cardiovascular disease. Championed as a student-centric campus, the college has graduated more than 800 physicians, all of whom received exceptional training from nine clinical partners and more than 2,700 diverse faculty members. As the anchor to the Phoenix Bioscience Core, which is projected to have an economic impact of $3.1 billion by 2025, the college prides itself on engaging with the community, fostering education, inclusion, access and advocacy.