Community Stakeholders Discuss Primary Care, Public Health and Prevention in the Era of COVID-19
Annual Primary Care Advocacy Town Hall Addresses Primary Care Shortage and Challenges of the Coronavirus Pandemic
In an effort to shed light on the primary care crisis in Arizona and the challenges of the coronavirus pandemic, the University of Arizona College of Medicine – Phoenix Primary Care Scholars Program hosted a town hall with various stakeholders in the community.
The 2nd Annual Primary Care Advocacy Town Hall took place on Sept. 29 via Zoom, as part of Primary Care Week.
"Now, more than ever, the COVID-19 pandemic has exposed the need for primary care and only worsened the existing shortage of access to primary care doctors," said Shahrzad Saririan, MD. "A health care system with a strong primary care infrastructure achieves better health outcomes by preventing and effectively managing chronic diseases that increase our susceptibility to serious illness and death. Primary care can better address social determinants of health among vulnerable populations that have increased and intensified during this pandemic."
Dr. Saririan, who is the founding director of the Primary Care Scholars Certificate of Distinction and director of the Family, Community and Preventive Medicine Clerkship, said she hopes students use this session to educate the public and raise our awareness for the critical importance of primary care in our state.
The town hall began with an introduction by leadership, including Jeffrey Wolfrey, MD, chair of the Department of Family, Community and Preventive Medicine, and Guy Reed, MD, MS, dean of the College of Medicine – Phoenix, who recognized the challenges of primary care in the state of Arizona, specifically during the pandemic, and the need for more primary care physicians.
"We are blessed at the college to have outstanding primary care leadership, who have developed certificate of distinctions, scholarships, innovative educational approaches, such as the longitudinal integrative curriculum that creates opportunities for our students to see and experience the value of careers in primary care and rural medicine," Dean Reed said. "We are also working with hospital partners and others across the state to expand residency training here in Arizona, so we can retain these exceptional new physicians; and they remain in the state and serve Arizona."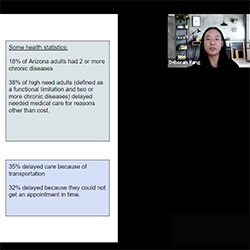 Second-year medical students Austin Cotter, Amaris Tapia, Leeann Mary Qubain and Deborah Yang were the students involved with planning the event. Yang presented on the current state of primary care in Arizona. Yang discussed how there has been a large scale of cancelations with primary care and outpatient appointments and studies have shown that primary care providers could lose up to $15 billion in revenue during the pandemic. Although there has been an increase in telehealth usage, reimbursement of those visits is still uncertain. Additionally, the barriers to primary care, which existed prior to pandemic, have only been exacerbated. Before COVID-19, Arizona ranked 31st out of 50 states for the total number of active physicians and 42nd for total active primary care providers.
"Prevention starts with public health and primary care, but it also requires community support and cooperation," Yang said. "To build that community support, we need trust and clear communication between every aspect of society, from our political and economic leaders to educators and individual families. I hope that the conversations during this town hall will be an opportunity to move toward those goals. I also hope that everyone who participated in this event will come away with a heightened awareness of the pandemic's impacts on primary care and public health and be able to translate that awareness into urgent action at local, state and federal levels."
The event included a keynote presentation from Daniel Derksen, MD, Walter H. Pearce endowed Chair and director of the University of Arizona Center for Rural Health. Dr. Derksen, who is also a professor of Public Health, Medicine and Nursing at the University of Arizona, discussed navigating primary care, public health and prevention in the era of COVID-19.
"We do incredibly important work taking care of patients and managing them in the context of their family and community," Dr. Derksen said. "I think our role is particularly important these days in helping draft legislation, or providing expert testimony to support legislation that improves health policy. We have to translate this data and information to policy actions and make it intelligible and actionable to patients and legislators that represent us."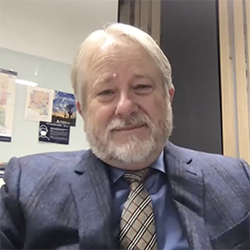 Dr. Derksen shared the current COVID-19 statistics and how the U.S. represents 4 percent of the world's population, but 20 percent of the world's coronavirus deaths. He discussed Arizona's coronavirus cases and how vulnerable and underserved populations, like Native Americans and Hispanics, have been disproportionately affected by the virus.
"In addition to the wonderful patient care that you will deliver, which is much needed in Arizona and around the country, it's important to also keep in mind, you are trusted spokespeople," Dr. Derksen said. "You may not feel that way as students and residents, but you are. People really do want to hear your voice and hear what is happening with your patients, in your practice, in your training and how we can do better. We need your voice to be added to others so we can change things for the better."
The event included a panel discussion from various stakeholders from the community. Panelists included Heather Carter, EdD, Arizona State Senator; Lisa Villarroel, MD, MPH, medical director of Public Health Preparedness at Arizona Department of Health Services; Katie Brite, MD, associate dean of Clinical and Competency Based Education; Judith Hunt, MD, a clinical assistant professor of Internal Medicine, and Austin Cotter, a second-year medical student. The event concluded with a Q&A session where attendees were invited to ask questions to presenters.
"Primary care is being drastically transformed because of COVID-19," Yang said. "Whether that transformation is for the better or not depends on all of us. I hope that this town hall will prompt community members to take further steps to support primary care as we move forward in this new era of medicine, and make primary care and prevention the priorities that society needs them to be."
About the College
Founded in 2007, the University of Arizona College of Medicine – Phoenix inspires and trains exemplary physicians, scientists and leaders to optimize health and health care in Arizona and beyond. By cultivating collaborative research locally and globally, the college accelerates discovery in a number of critical areas — including cancer, stroke, traumatic brain injury and cardiovascular disease. Championed as a student-centric campus, the college has graduated 745 physicians, all of whom received exceptional training from nine clinical partners and more than 2,700 diverse faculty members. As the anchor to the Phoenix Bioscience Core, which is projected to have an economic impact of $3.1 billion by 2025, the college prides itself on engaging with the community, fostering education, inclusion, access and advocacy.