Connect2STEM 2021 Reimagined as a Series of Dynamic Virtual Events
Children and families of Arizona did miss out on a cherished tradition. Connect2STEM returned this year on Saturday, Jan. 30, to kickoff an online, interactive pavilion with a series of live virtual events. The University of Arizona College of Medicine – Phoenix, in partnership with Cox Communications and the Arizona SciTech Institute, is proud to showcase the wonders of science, technology, engineering, math and medicine (STEM).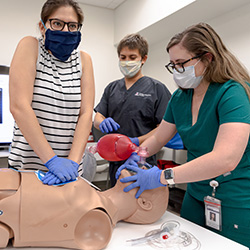 Throughout February, youth will explore activities led by physicians, performers and STEM professionals. The dynamic kickoff event Jan. 30 featured a special visit to the Wildcat Play Hospital; an opportunity to scrub-in with a world-renowned neurosurgeon; the treating of a pediatric simulation patient, "Hal," who helps train future doctors; a tutorial on how to TikTok your way to a STEM career with Cox Communications; as well as energetic performances from the Be Kind Crew and the Arizona School for the Arts.
"The future will present new challenges that require inquisitive minds to solve," said Guy Reed, MD, MS, dean of the UArizona College of Medicine – Phoenix. "Through Connect2STEM, we hope to inspire the next generation of creative thinkers, skilled innovators and compassionate leaders to pursue careers in STEM."
Connect2STEM has welcomed more than 40,000 children and families to the downtown Phoenix campus over the past six years. Safety measures to prevent the spread of COVID-19 led to the change in the event format from in-person to virtual.
The Connect2STEM kickoff served as the signature kickoff event for Arizona's 10th annual SciTech Festival, a two-month campaign in February and March that promotes STEM events across the state.
Introducing the youth of Arizona to the vast opportunities STEM offers is important not only to their futures, but to the growth of communities in Arizona. Thanks to strong support from our sponsors, exhibitors and staff, Connect2STEM Live TV will include new experiences never offered before.
Susan Anable, vice president of Public Affairs at Cox Communications, said "Connect2STEM is focused on exploration and innovation as we inspire our future STEM professionals. We are very proud to partner with Connect2STEM for the seventh year in a row; we have been here since day one."
Banner Health, APS and Cox Communications are key sponsors for the event and joined the kickoff's virtual lineup with enlightening activities and a special dedication honoring all essential workers during the pandemic.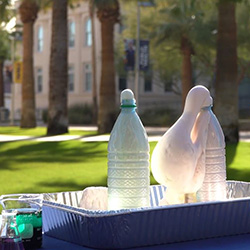 Connect2STEM LIVE TV is a brand-new series launching Feb. 6 and continues with free online programming every Saturday in February. Featuring faculty, staff and students from all five University of Arizona Health Sciences colleges — including Nursing, Pharmacy, Public Health and both medical schools in Phoenix and Tucson — dynamic STEM modules will allow youth of all ages to discover STEM careers and activities.
Regents' Professor Allan Hamilton, MD, FACS, a world-renowned neurosurgeon and executive director of the Arizona Simulation Technology Education Center, will host an introduction to medicine over multiple sessions. Dr. Hamilton currently holds four professorships at the University of Arizona in Neurosurgery, Radiation Oncology, Psychology and Electrical and Computer Engineering. Dr. Hamilton has also served as senior medical script consultant on Grey's Anatomy for more than fifteen years.
"Arizona's future depends on a highly-trained workforce — particularly in the areas of advanced medical technology, research and related STEM fields — and the SciTech Festival delivers on that vision," said Phoenix Mayor Kate Gallego. "I am particularly grateful to the University of Arizona and Phoenix Biomedical Campus for organizing this year's event and for engaging young minds during this challenging time."
Additional Connect2STEM 2021 sponsors include the Be Kind Project, DPR Sundt, Radiall, Dispatch Health, City of Phoenix Public Works, the Boyer Company and Standard Parking. Learn more about the history and incredible impact of Connect2STEM and the University of Arizona.
About the College
Founded in 2007, the University of Arizona College of Medicine – Phoenix inspires and trains exemplary physicians, scientists and leaders to optimize health and health care in Arizona and beyond. By cultivating collaborative research locally and globally, the college accelerates discovery in a number of critical areas — including cancer, stroke, traumatic brain injury and cardiovascular disease. Championed as a student-centric campus, the college has graduated 745 physicians, all of whom received exceptional training from nine clinical partners and more than 2,600 diverse faculty members. As the anchor to the Phoenix Bioscience Core, which is projected to have an economic impact of $3.1 billion by 2025, the college prides itself on engaging with the community, fostering education, inclusion, access and advocacy.