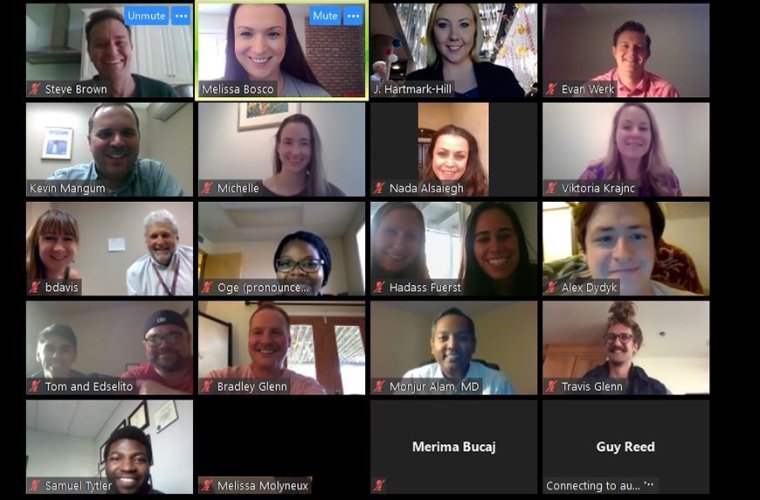 Faculty Development Fellowship Graduates 2020 Cohort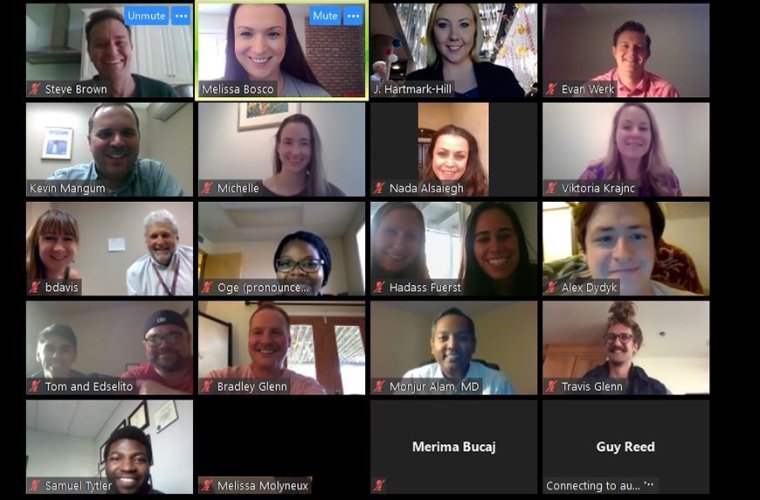 Program Graduates Fellows from Residency Programs Across the State
Despite the challenges of the coronavirus pandemic, the University of Arizona College of Medicine – Phoenix Primary Care Faculty Development Fellowship graduated its highest number of fellows in May from residency programs from across the state. Seventeen faculty members and senior residents graduated from the fellowship designed to support excellence in clinical teaching and leadership in primary care.
Physicians from clinical partners across the Valley and from as far away as Yuma joined the fellowship to learn a wide range of academic concepts and skills to advance their clinical teaching and bring their careers to the next level.
"They are an exceptionally talented group of leaders and innovative educators that represent our clinical partners across the state of Arizona," said Jennifer Hartmark-Hill, MD, director of the fellowship program. "Our graduates are continuing on to a number of high level leadership roles in academic medicine and we are incredibly proud of all they've accomplished."
The fellowship is a nine-month program that takes place from September through May. The curriculum consists of intensive in-person immersion days, asynchronous online education and scholarly research projects. Typically, all sessions are in-person. However, sessions from March onward were virtual due to COVID-19. Faculty quickly adapted and went virtual for the final sessions, scholarly project and the graduation ceremony.
Dr. Hartmark-Hill said the fellows demonstrated "amazing resilience and resourcefulness in the face of these changes — all while serving on the front lines clinically at their home institutions."
"Dr. Hartmark-Hill and Melissa Bosco did an outstanding job of rapidly transitioning the fellowship sessions to a virtual format in response to the pandemic," Jeffrey Wolfrey, MD, professor and chair of the Department of Family, Community, and Preventive Medicine. "Given the wide distribution of fellows across Arizona, this virtual platform will likely continue to be incorporated in the future to facilitate increased access to the program."
Fellows were taught learning-theory and evidence-based teaching strategies, competency and EPA-based curriculum development leadership and advanced communication skills, administration of residency and medical school requirements. They reviewed simulated teaching sessions from previously completed Objective Standardized Teaching Evaluations (OSTEs) and received mentoring and feedback on ongoing scholarly work.
Scholarly projects were presented by fellows in the last session via Zoom. Research presented included development of curriculum for Organizational Leadership, Global Health, Point-of-Care Ultrasound, End of Life Discussions, Medical Ethics, PrEP for HIV Prevention, Family Medicine Hospitalists as Educators and many more.
This is the third year of the current fellowship format at the College of Medicine – Phoenix, which has graduated a total of 46 fellows. The program sustains a tradition of high-quality family medicine faculty enrichment at the University of Arizona, both in Phoenix and Tucson, that dates back more than 30 years.
Meet a Few of this Year's Fellows:
Viktoria Krajnc, MD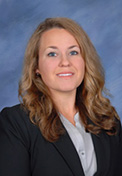 Dr. Krajnc is finishing her residency in Family Medicine at the UArizona College of Medicine – Phoenix. She will be starting her new job this fall as an attending physician in the Department of Family and Community Medicine at Banner – University Medical Center Phoenix.
"I wanted to participate in this fellowship because I developed a strong interest in teaching during my family medicine residency," Dr. Krajnc said. "I have been inspired by my own faculty at the College of Medicine – Phoenix Family Medicine Residency Program, and I specifically hoped to gain practical knowledge, so that I could become an effective teacher and mentor for residents and medical students."
Dr. Krajnc said she learned tips for efficient and effective precepting of learners; time management strategies for physicians who hold clinical and leadership roles; quick ways to search for curricula online; how to appraise and utilize evidence-based information in a busy setting; and also how to function as part of a successful team.
For her scholarly project — in collaboration with her program director, co-fellow and two faculty members in the Family Medicine Residency Program — Dr. Krajnc created a rubric to evaluate and appraise podcasts for medical learning, then created a "top-5 list" of podcasts that family physicians should listen to.
"Overall, my experience was enriching and enjoyable," Dr. Krajnc said. "I learned a lot and really appreciated the camaraderie among fellows from different family medicine programs."
Ogechi Abara, MD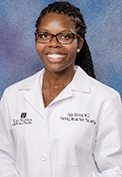 Dr. Abara is one of the core faculty members at the Yuma Regional Medical Center Family and Community Medicine Residency Program and a clinical assistant professor at the College of Medicine – Phoenix.
"Having recently completed my fellowship in geriatric medicine and entering into my first position as a faculty member within a family medicine program, I wanted to make sure that I was providing my best to the residents," Dr. Abara said. "I hoped that the faculty development fellowship would assist me in understanding how to do this. I was also interested in learning how I could be a more effective teacher and develop and grow within an academic role."
Dr. Abara said she learned a great deal during the fellowship, but there are two things she took away from the program: the importance of recognizing when you are "burned out" in medical education and "bringing yourself to work" and how to be an effective provider of feedback so that your learners grow.
Dr. Abara's scholarly project was to determine and assess attitudes about end of life care discussions among resident physicians in my program. She developed a toolkit, or an introductory handbook, to provide residents with quick access materials to streamline these discussions and assist their patients in making decisions
"Overall, it was a positive experience," Dr. Abara said. "I had previously completed a post-graduate certification program in medical education from the University of Dundee by distance. What I learned during the UArizona Faculty Development Fellowship was a great complement to my existing knowledge and provided me with a number of practical tools to enhance my teaching practice."
Melissa Molyneux, MD
Dr. Molyneux is core faulty at the Abrazo Family Medicine Residency Program and a clinical assistant professor in Family, Community and Preventive Medicine at the college.
"I was only a couple of years out of residency myself, and joined as faculty directly after graduation, and I wanted to put the effort into learning how to do a better job, so that I could be a better faculty member for my residents because they deserve the effort," Dr. Molyneux noted.
Dr. Molyneux said she has a much better idea of what feedback is and how to give effective feedback, and how not to be threatened by feedback. She also really enjoyed the book assignments and practice shared decision-making far more intentionally. Her scholarly project focused on efficacy of a longitudinal medical ethics curriculum.
"I really enjoyed the experience of this fellowship — not to say that having to take a hard look at my own practices and learning to accept feedback wasn't difficult, but I think it was important — and I am going to miss coming down to campus," Dr. Molyneux said.
She said that the fellowship was a great experience and has already recommended this program to her colleagues.
Samuel Tytler, MD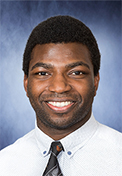 Dr. Tytler is faculty in the HonorHealth Family Medicine program and a clinical instructor in Family, Community and Preventive Medicine at the college.
"My program director signed me up for the faculty development program before I even started my job as a faculty, and I have to say that it was probably one of the best things I've done transitioning from residency," Dr. Tytler said.
Dr. Tytler said that the fellowship taught him leadership skills, precepting skills and networking. For his scholarly project, he developed a global health curriculum at his institution. "Global health is a big passion of mine and it was nice to use some of the skills and networking from the fellowship to help create the curriculum."
Dr. Tytler said that the experience was great, especially for a faculty just transitioning from residency training.
About the College
Founded in 2007, the University of Arizona College of Medicine – Phoenix inspires and trains exemplary physicians, scientists and leaders to optimize health and health care in Arizona and beyond. By cultivating collaborative research locally and globally, the college accelerates discovery in a number of critical areas — including cancer, stroke, traumatic brain injury and cardiovascular disease. Championed as a student-centric campus, the college has graduated 745 physicians, all of whom received exceptional training from nine clinical partners and more than 2,700 diverse faculty members. As the anchor to the Phoenix Bioscience Core, which is projected to have an economic impact of $3.1 billion by 2025, the college prides itself on engaging with the community, fostering education, inclusion, access and advocacy.