Hispanic Heritage Month Spotlight: Maria Manriquez, MD
Dr. Manriquez Joins Panel Discussion with Vice President Mike Pence to Address Key Issues Impacting Latino Population
The University of Arizona College of Medicine – Phoenix is proud to highlight a few of our Hispanic students and faculty during Hispanic Heritage Month (Sept. 15th – Oct. 15th).
In recognition of Hispanic Heritage Month, Maria Manriquez, MD, director of the Pipeline Admissions Program at the University of Arizona College of Medicine – Phoenix, participated in a roundtable discussion with Vice President Mike Pence and a panel of community leaders to share challenges of COVID-19 and address key issues impacting the Latino community.
The event, which took place at Grand Canyon University on Friday, Sept. 18, was hosted by the Libre Initiative.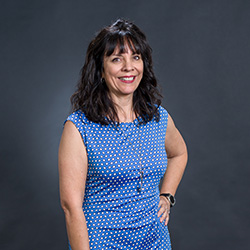 Dr. Manriquez, who is also the director of the Undergraduate Medical Education Pain and Addiction Curriculum at the UArizona College of Medicine – Phoenix and a professor in the Department of Obstetrics and Gynecology, shared her experiences as an obstetrician gynecologist caring for pregnant and parenting women with a substance use disorder. She discussed her background, being raised in Kearny, Arizona, a rural copper mining town, and the challenges people in rural towns face today with accessing health care and the value of telemedicine.
In honor of Hispanic Heritage Month and to highlight this accomplishment, Dr. Manriquez answered a few questions about her background and discussed this event.
What does it mean to you to be able to represent the medical community in this discussion?
I was honored to be considered by the state director of Americans for Prosperity Arizona and Daniel Garza, the president of LIBRE Initiative. I thought it would be a wonderful opportunity to directly communicate to the Vice President of the United States how valuable telemedicine is and should continue to be after the pandemic.
What do you hope the community takes away from this discussion?
I hope that communities and health systems see the true value of telehealth and how much it can improve the quality of care. Additionally, that the diversity in our physician force also improves care and patient satisfaction.
What does Hispanic Heritage Month mean to you?
I am a proud 2nd generation Mexican American. I was blessed with strong family love and commitment to one another. The Hispanic people have brought so much to America: labor, amazing food and music. It reminds us of where we came from, whether from Mexico, Panama, Ecuador, Peru, Chile, Puerto Rico or one of many other Spanish speaking countries, we share many values and the desire to succeed. There is pride and camaraderie.
Describe your background and path towards medicine.
My path was unconventional, which likely came from the traditions that women had occupations associated with traditional female roles. It quite honestly never occurred to me to be a physician as a child or early in my college education. I wanted to be in health care and my grandmother was a nurse, so that seemed obvious. It was later, after I was an RN, that I realized I wanted to contribute to health in a different manner that included actively directing care for patients, advocating for them and researching for better solutions.
As a physician, leader and educator, how does your background influence your practice?
I have witnessed poverty, substance use disorder and domestic violence first hand, sometimes secondary to a lack of resources, but too often because of a lack of hope. I actively offer empathy, affirmation and hope to my patients. I love to champion those individuals who need a boost and I incorporate faith into my practice. I pray regularly for my patients and I am sure my Hispanic background has a play in that.
What words of encouragement do you have for Hispanic children interested in STEM?
You can do it. Find a mentor, don't suffer in silence. We are a big community and our nature is to work hard, so work hard at achieving your dreams. Don't be afraid to dream even if those close to you fear you can or will fail. We all fail, we just have to get back up and try again.
About the College
Founded in 2007, the University of Arizona College of Medicine – Phoenix inspires and trains exemplary physicians, scientists and leaders to optimize health and health care in Arizona and beyond. By cultivating collaborative research locally and globally, the college accelerates discovery in a number of critical areas — including cancer, stroke, traumatic brain injury and cardiovascular disease. Championed as a student-centric campus, the college has graduated 593 physicians, all of whom received exceptional training from nine clinical partners and more than 2,400 diverse faculty members. As the anchor to the Phoenix Biomedical Campus, which is projected to have an economic impact of $3.1 billion by 2025, the college prides itself on engaging with the community, fostering education, inclusion, access and advocacy.