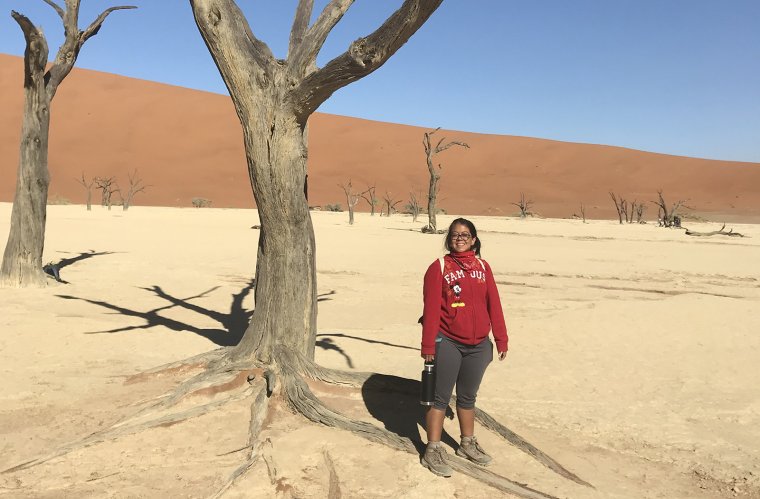 Incoming Student Profile: Elen Mendoza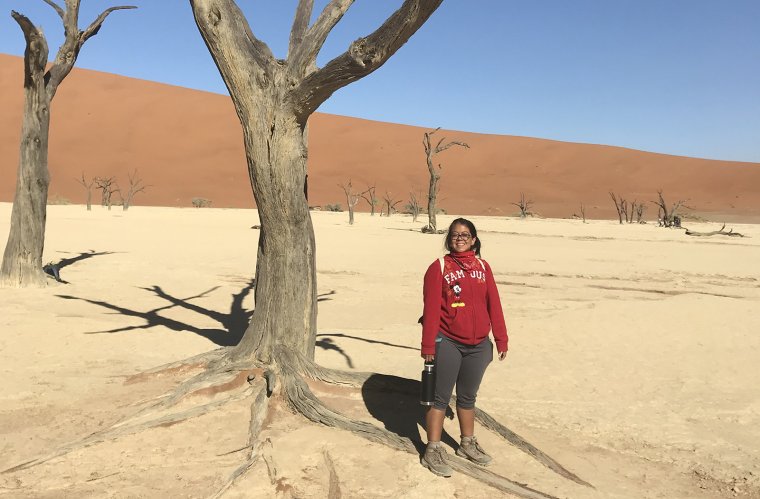 First-Year Medical Student Commits to Primary Care to Address Systematic Inequities
The University of Arizona College of Medicine – Phoenix welcomed its largest class of students this July. Due to the coronavirus pandemic, incoming students embarked on their medical journey via Zoom for the first time in the college's history. Although they will not be arriving on campus until the fall, we will be highlighting a few of the incoming students from the Class of 2024 and introducing them to the campus community.
Meet Elen Mendoza
Elen Mendoza is a first-generation in every sense of the word. Her parents immigrated from Mexico, making her a first-generation American. She was also the first in her family to graduate from university. "These achievements were only possible because I had an entire community supporting me," she said.
Mendoza is a recipient of the Primary Care Physician Scholarship, a program designed to cover tuition costs for students who commit early to pursing primary care in Arizona to address the physician shortage. Mendoza, who is from Maryvale, a majority Latinx neighborhood in west Phoenix, hopes to practice primary care in Maryvale or in an urban underserved area after graduation and residency.
Mendoza graduated from the University High School in Tolleson in 2014. Through QuestBridge's National Match Program, she received a full four-year scholarship to attend Stanford University. At Stanford, she majored in Human Biology. Within the major, her area of concentration was immigrant and minority health.
Path Toward Medicine
"Growing up with immigrant, monolingual Spanish-speaking parents, I became their interpreter and advocate at a young age. I've witnessed and experienced health disparities stemming from low socioeconomic status, including a lack of access to culturally competent care. For example, I grew up seeing very few Latinx or Spanish-speaking physicians, although over 75 percent of my neighborhood is Latinx. These observations and experiences drew me to medicine. I want to be a primary care physician to provide care that fills the needs of people like my family and other underserved communities. I understand the many barriers there are, especially for low-income folks, to achieve wellness and well-being. I understand how many obstacles there are to see a physician, and I believe that we all have a role in raising awareness of and addressing these systemic inequities."
Choosing the College of Medicine – Phoenix
"I chose the College of Medicine – Phoenix for many reasons — including its location and its people. Phoenix is home, and my family is here. Also, the Phoenix Biomedical Campus has many partnerships with nearby hospitals and clinics; therefore, students have the opportunity to be exposed to and work in a variety of settings and environments. Furthermore, when I attended the student welcome, interview and revisit day, I noticed how genuinely happy so many College of Medicine – Phoenix students are. They have time for school-life balance and exciting hobbies, and they feel heard by the administration in making systemic changes. An administration that is receptive to student feedback and prioritizes diversity and inclusion was a crucial factor in helping me decide what medical school to attend."
Entering Medical School During a Pandemic
"The pandemic has undoubtedly had massive effects on our communities and around the world. Black and brown people have been disproportionately impacted by the virus; they are about three times more likely to contract the virus and twice as likely to die from an infection, according to CDC data gathered by the New York Times. In Maryvale, people have waited for over 13 hours in triple digit weather in order to get tested. On a more personal note, my immediate family (myself included) recently recovered from COVID-19, and many members of my community are essential workers."
"These disparities in health outcomes show that we, as a nation, have a lot of work to do. Physicians and other medical professionals are doing incredible work, on the ground and in the lab, but are just one piece of the puzzle. Public health experts, community leaders and the general public all have a stake and responsibility in prioritizing the health and safety of our communities. I hope that this pandemic, as hard as it has been, serves as a call to action and as an eye-opener for those of us entering the profession."
Volunteer, Research and Hobbies
"I have experience with research in developmental psychology, specifically language development in young children and infants. I'm also passionate about education and the achievement gap between children whose families are low in socioeconomic status compared to their wealthier counterparts. During undergrad, I volunteered as a Spanish interpreter at the free clinic, and I would love to continue volunteering at the college."
Topics
About the College
Founded in 2007, the University of Arizona College of Medicine – Phoenix inspires and trains exemplary physicians, scientists and leaders to optimize health and health care in Arizona and beyond. By cultivating collaborative research locally and globally, the college accelerates discovery in a number of critical areas — including cancer, stroke, traumatic brain injury and cardiovascular disease. Championed as a student-centric campus, the college has graduated 669 physicians, all of whom received exceptional training from nine clinical partners and more than 2,600 diverse faculty members. As the anchor to the Phoenix Bioscience Core, which is projected to have an economic impact of $3.1 billion by 2025, the college prides itself on engaging with the community, fostering education, inclusion, access and advocacy.