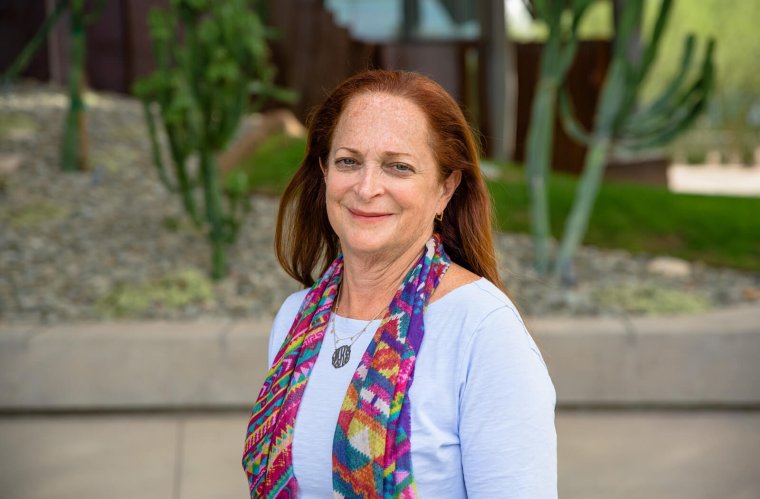 The Lung Detective: Identifying a New COVID-19 Protocol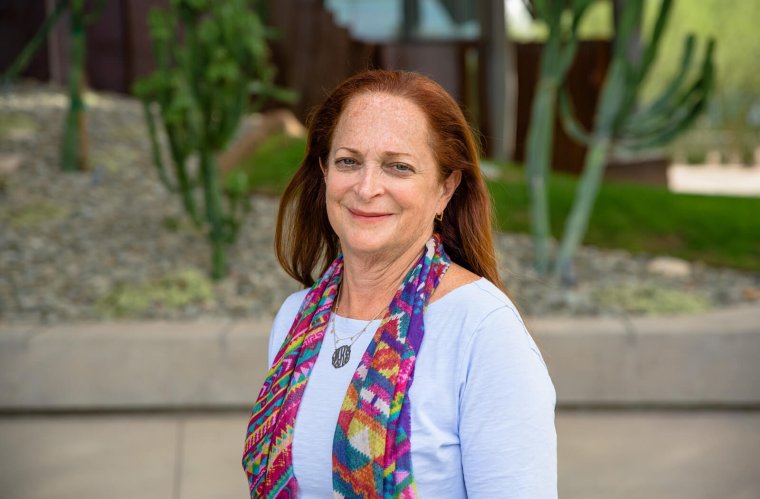 Marilyn Glassberg, MD, remembers the day she realized lung disease would be on the front line of the COVID-19 pandemic.
Just days after the pandemic was declared in March 2020, she followed news coming out of New York, Seattle and Europe, identified as hot spots of the outbreak at the time. The number of cases registered in the thousands per day, overwhelming hospitals and forcing emergency departments to turn patients away. Physicians trying to treat the novel virus began to share information with each other in hopes of improving diagnosis and identifying treatment protocols. One particular image immediately caught her attention and caused her to investigate.
"A physician tweeted out a photo of what we now know as 'COVID-19 lungs' on Twitter, and it showed the extensiveness of vascular abnormalities in the lungs as the result of the virus," Dr. Glassberg said.
"This got me to thinking, 'what if we could use this information to develop a biomarker tool for predictive analysis?' Initially, when physicians started seeing patients present in ERs, they were astounded by the lack of oxygen measured in the blood that led to treating patients with anti-clot drugs," she said.
Dr. Glassberg is the inaugural chief of the Division of Pulmonary, Critical Care and Sleep Medicine at the University of Arizona College of Medicine – Phoenix. She also serves as the senior director of Clinical Research for Strategy and Growth for the Department of Internal Medicine at the University of Arizona College of Medicine – Phoenix and Banner – University Medical Center Phoenix.
She collaborated with a multidisciplinary team of colleagues, including Michael F. Morris, MD, Paul Kang, MS, Lauren Ridenour, DO, Ben Lavon, MS, Maarten Lanclus, PhD, Rik Gordon, BSc, Jan De Backer, PhD, and Yash Pershad — a Stanford graduate student unexpectedly quarantining at home in Phoenix — to mount a retrospective study analyzing high-resolution computed tomography (HRCT) of the chest (chest CT) images from thousands of patients admitted with COVID-19.
They developed a predictive algorithm that related the HRCT findings to patients' clinical course. Their findings were recently published in the European Respiratory Journal as a peer-reviewed research paper, Altered Pulmonary Blood Volume Distribution as a Biomarker for Predicting Outcomes in COVID-19 Disease, that also garnered a lead editorial.
The study found that BV5 percent from chest CT scans can be used as an imaging biomarker for predicting adverse outcomes in patients with COVID-19. The team's research suggests a change in the treatment protocol for acute patients presenting in ERs with COVID-19 symptoms.
"We learned COVID-19 is quite aggressive for some patients, while other patients have a milder clinical course and have little to no impact from the viral infection. Interestingly, in postmortem studies of deceased patients' lungs, end stage destruction of lung tissue with holes — like you might expect when patients require high amounts of supplemental oxygen to breathe — have not been noted," Dr. Glassberg commented. "Our goal is to identify these vascular issues earlier for patients, so they won't have to wait for treatment. Certain patients may need to immediately receive chest CT scans."
Due to her role at Banner – University Medical Center Phoenix, the research team was able to examine vital patient population health data from one of the Banner Health hospitals in Colorado. Graduate student Yash Pershad developed an AI-inspired algorithm used to evaluate 7,000 chest CT scans and identify the 508 cases that would make up the study.
"The study included charts with graphs of average patient age and indicated older patients had longer hospital stays, experienced more problems when placed on ventilators and were quicker to die, particularly when you factored in comorbidities," Dr. Glassberg said.
The chest CT scans also revealed high levels of opacification as well as fluid and/or inflammation in the lungs. In addition, patients who had low BV5 percent, or a blood volume of under 25 percent, were more likely to be intubated for treatment or die from COVID-19. Some patients who were intubated due to low BV5 percent still succumbed to the virus.
"With this virus, we still don't know what route COVID-19 will take in the body. We do believe that an individual's comorbidities could make them more at risk," Dr. Glassberg said.
What's next for Dr. Glassberg and the research team? She believes the initial study has strong potential to receive funding from the National Institutes of Health (NIH) for further investigation. She believes it's important to increase the awareness of the team's findings to expedite treatment and improve patient outcomes.
Recently, Dr. Glassberg joined the reimagine Medicine Podcast to share insights from her experience leading frontline teams and how a tweet led to a new predictive model for COVID lungs.
About the College
Founded in 2007, the University of Arizona College of Medicine – Phoenix inspires and trains exemplary physicians, scientists and leaders to optimize health and health care in Arizona and beyond. By cultivating collaborative research locally and globally, the college accelerates discovery in a number of critical areas — including cancer, stroke, traumatic brain injury and cardiovascular disease. Championed as a student-centric campus, the college has graduated 745 physicians, all of whom received exceptional training from nine clinical partners and more than 2,700 diverse faculty members. As the anchor to the Phoenix Bioscience Core, which is projected to have an economic impact of $3.1 billion by 2025, the college prides itself on engaging with the community, fostering education, inclusion, access and advocacy.