Medical School and Phoenix VA Launch Innovative Research Space
The Phoenix VA Health Care System (PVAHCS) Research Space will be an Incubator for Medical Discovery, New Technologies and Clinical Care on the Phoenix Biomedical Campus
The Phoenix VA Health Care System (PVAHCS) Research Space will open this month in the University of Arizona College of Medicine – Phoenix on the Phoenix Biomedical Campus. This innovative partnership will accelerate the application of medical research discovery into clinical practice.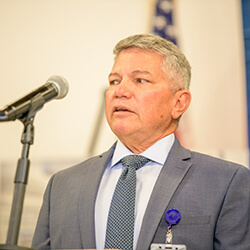 The newest partnership will allow UArizona researchers access to a secure database of medical and genetic information gathered by the VA (the Million Veterans Program, also known as "MVP") to provide personalized treatments for veterans. The genetic information will help physicians predict how patients will respond to medications and other treatments. It also will identify patients who may be eligible for a specific research study and invite them to participate in the investigation. The MVP program will provide science collaborators access to the richest medical genetic database in the world. These collaborations will help facilitate early disease intervention, prevent adverse reactions to drugs, save lives, decrease health care costs and improve quality of life for veterans.
"Our veterans have earned and deserve the best possible health care, and we believe that the best possible health care can only happen through innovation," said Samuel Aguayo, MD, associate chief of staff for research at the Phoenix VA Health Care System. "Our veterans are volunteering for our research studies because they understand that the benefit is for them and for others."
Dr. Aguayo, a distinguished pulmonologist, is the inaugural director of this PVAHCS Research Space. "We are blessed with a number of people who have a common vision," he said.
Phoenix continues to grow with more than 6,000 people moving to the area monthly. This trend is expected to increase as employment opportunities and cost of living make Phoenix a highly desirable metropolitan community. The fifth largest city in the United States, Phoenix needs skilled physicians and health care professionals to care for its growing population.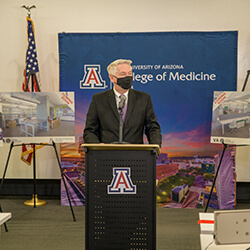 The PVAHCS provides health care for more veterans every year, as the growth in enrollments continually climbs. This synergistic collaboration will help serve the community by recruiting renowned clinical talent to practice medicine at the PVAHCS and conduct research at the UArizona College of Medicine – Phoenix. They will also develop the next generation of skilled clinical researchers through a variety of residency and fellowship programs.
A culmination of tireless efforts among the college, the PVAHCS, the City of Phoenix Economic Development office and the Mayor of Phoenix's office, the state-of-the-art research space showcases the dedication to driving economic development and providing life-changing medical treatments for veterans and the Phoenix community. For Dr. Aguayo, this research space is a vision he and others have worked for the last decade to create.
"The Phoenix VA and University of Arizona College of Medicine – Phoenix continue to lead by developing first-in-the-nation partnerships that serve as a role model for other academic medical centers across the country," explained City of Phoenix Mayor Kate Gallego. "We are proud to support the Phoenix Biomedical Campus for continuing to be a key generator of economic impact for Phoenix and Arizona."
Since opening in 2007, the UArizona College of Medicine – Phoenix has partnered with the PVAHCS to prepare the college's medical students and residents on the diverse health needs of veterans. As part of that collaboration, many third-year medical students rotate through the PVAHCS during their clerkships, in which they learn first-hand from top doctors how to provide excellent care to veterans.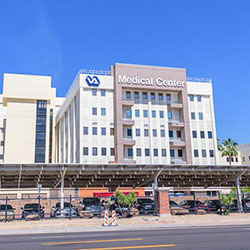 The college has more than 155 faculty members with affiliation at the Phoenix VA who serve as department chairs, committee chairs, mentors and advisors. These faculty members also participate in the doctoring program, clerkships, core lecture series and scholarly projects.
The partnership has grown through the years spanning many departments, including radiology, neurology, dermatology, internal medicine and, most recently, clinical informatics.
"We have worked hard to expand our collaboration with the Phoenix VA, and to enhance the scope of research on the campus," said Guy Reed, MD, MS, dean of the UArizona College of Medicine – Phoenix. "Our investigators will help use this data to treat illnesses in areas of unmet medical need, such as mental health, traumatic brain injury, skin cancer, heart disease and numerous other conditions. The insights that they gain will fuel the development of new therapies, new algorithms, new devices, new approaches for improving care."
A direct benefit to patients will be the ability to attract top talent in a variety of specialties, individuals who participate in research and education in addition to treating patients. The Phoenix community will benefit from having a thriving health sciences campus.
About the College
Founded in 2007, the University of Arizona College of Medicine – Phoenix inspires and trains exemplary physicians, scientists and leaders to optimize health and health care in Arizona and beyond. By cultivating collaborative research locally and globally, the college accelerates discovery in a number of critical areas — including cancer, stroke, traumatic brain injury and cardiovascular disease. Championed as a student-centric campus, the college has graduated 745 physicians, all of whom received exceptional training from nine clinical partners and more than 2,700 diverse faculty members. As the anchor to the Phoenix Bioscience Core, which is projected to have an economic impact of $3.1 billion by 2025, the college prides itself on engaging with the community, fostering education, inclusion, access and advocacy.