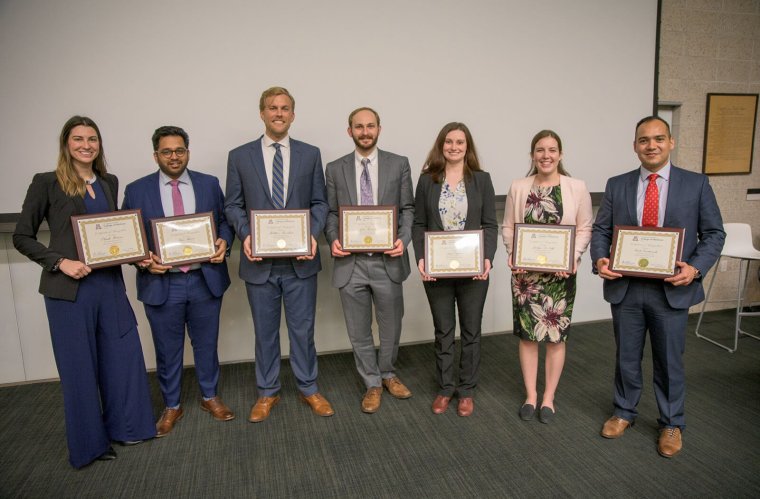 Medical Students Present Four Years of Research at Scholarly Project Symposium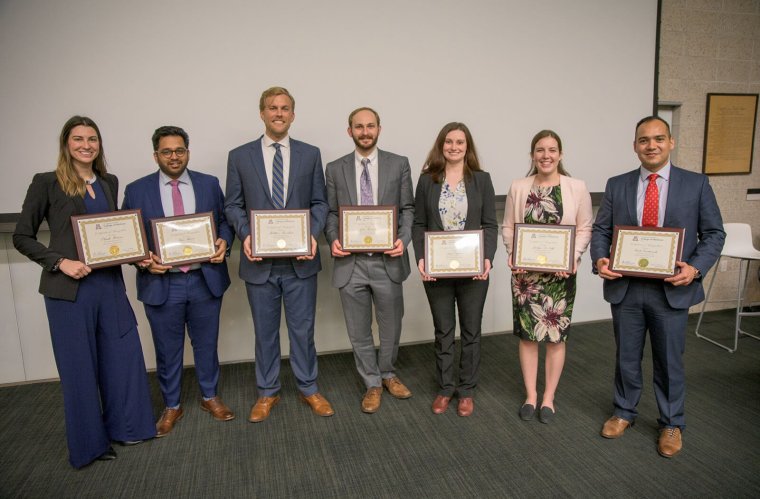 Student Scholarly Research Projects Make Impact on Academic Medicine Community
Medical students at the University of Arizona College of Medicine – Phoenix spend four years during their medical school journey conducting research designed to enhance their future careers and improve the quality of health care in Arizona.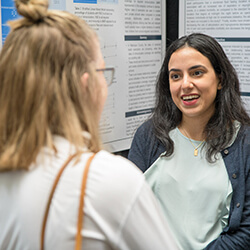 Each year, fourth-year students are required to present their research, a longitudinal, hypothesis-drive scholarly project at the annual Student Research Symposium.
"I was very impressed by the quality and depth of many of the projects," said Matthew McEchron, PhD, director of Scholarly Projects, at this year's symposium on March 11." Many students are submitting their research projects for publication. And nearly 50 percent of the class of 80 worked on a second research project in addition to their original project."
The medical school is one of just six in the country to require a longitudinal, hypothesis-driven project with a final thesis component. About one-third of medical schools require some scholarly activity, which can take on many different forms,and about 57 percent require some form of a scholarly project.
The project is an important component of the curriculum of the College of Medicine – Phoenix. Dr. McEchron said it provides students with critical thinking and tools to practice evidence-based medicine; emphasizes the importance of lifelong learning; offers students the opportunity to present their work at national conferences; and bolsters a student's application for residency.
Working with his scholarly project mentor, Stephanie Briney, DO, medical student George Nguyen evaluated educational courses to see if they would help the Arizona Asian Pacific Islander community be more receptive to help and psychiatric care. Nguyen's project discovered that after a one-hour course, community members were more likely to seek professional help.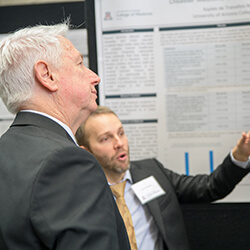 "I wanted to work with the Asian Pacific Islander community in Arizona, because there are a lot of needs that are pretty unique to them," Nguyen said. "I wanted to focus more on the mental health aspect, which is something that is not talked about in the community. It has been helpful to work with their interviews and work with the community itself."
Nguyen added that he enjoyed the symposium and loved seeing the projects of his friends and colleagues come to fruition after four years of hard work.
Agnes Ewongwo worked on two projects during her four years of medical school with mentors Dana Chase, MD, and Bradley Monk, MD. Her project looked at the burden of chemotherapy agents in the community. She was concerned about the financial burdens, as well as treatment toxicities that are associated with cancer medications.
Ewongwo said she didn't know what to expect at the symposium, but that it was a great experience. She enjoyed having first-year medical students learn about her work and ask questions.
"It has given me a more academic mindset," Ewongwo said. "The ability to start with a question and go through the rigorous process of data collection has taught me not only the process of contributing to the scholarly community, but also the process of research. This makes me better equipped for residency and better equipped as a physician. It also has given me the ability to publicly speak and present my work with the scientific community. This was something I had never done before starting my scholarly project and I'm very grateful for the opportunity."
The college has highlighted a few scholarly projects from graduating medical students.
Student Profiles
About the College
Founded in 2007, the University of Arizona College of Medicine – Phoenix inspires and trains exemplary physicians, scientists and leaders to optimize health and health care in Arizona and beyond. By cultivating collaborative research locally and globally, the college accelerates discovery in a number of critical areas — including cancer, stroke, traumatic brain injury and cardiovascular disease. Championed as a student-centric campus, the college has graduated 669 physicians, all of whom received exceptional training from nine clinical partners and more than 2,600 diverse faculty members. As the anchor to the Phoenix Bioscience Core, which is projected to have an economic impact of $3.1 billion by 2025, the college prides itself on engaging with the community, fostering education, inclusion, access and advocacy.