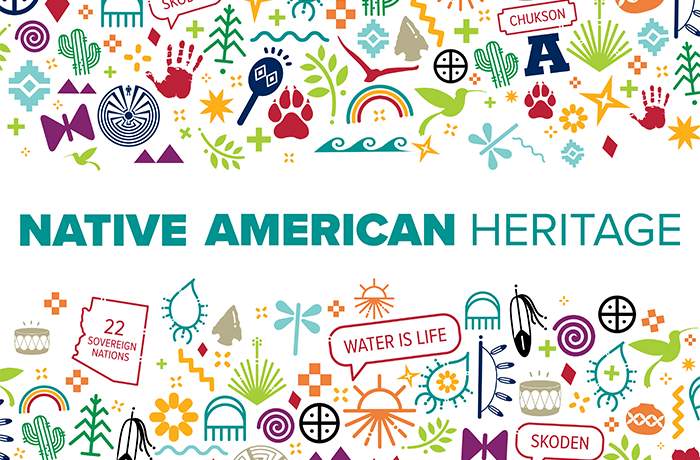 Native American Heritage Month Celebrations Highlight Need for Advocacy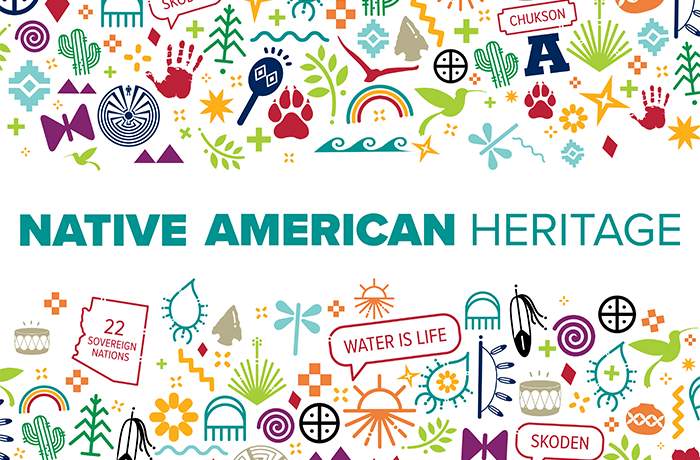 Health care inequity among Native Americans in Arizona and across the country takes center stage
Each year, the University of Arizona College of Medicine – Phoenix's Office of Equity, Diversity and Inclusion (OEDI) organizes HealthMonth, a discovery series focused on the health issues facing our diverse communities.
Coinciding with Native American Heritage Month — celebrated annually in November — this year's slate of events featured talks on the dire need for equitable access to care for the indigenous people of Arizona, and across the United States.
"It's important for our learners to be educated on health inequities faced by Native patients to better inform care; but just as importantly, it's crucial for them to learn about the rich history, culture and resiliency of Native patients to develop relationships built on respect and trust," said Francisco Lucio, JD, associate dean of OEDI.
Three talks, led by three Natives representing various tribes, shed light on the the historical inequalities in Native health care and offered insights for impactful change.
Alec Calac, MD/PhD Candidate
For the first seminar, the college was joined by Alec Calac, an MD/PhD candidate at UC San Diego School of Medicine and Herbert Wertheim School of Public Health and Human Longevity Science.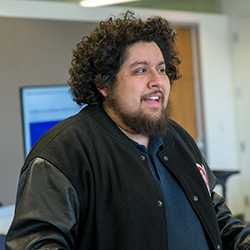 Calac took a long view of the problems that have plagued Native health care, tracing American Indian Health Policy from its roots to the present and assessing what still needs to happen. "The determinants of American Indian and Alaskan Native health are largely determined by the policies and laws of this country," Calac explained.
Historically, those policies and laws have failed to address the complexities of Native ancestry. "Health is much more than the absence of disease. It is a combination of so many different domains, and each one varies from individual to individual from culture to culture," he said. Though there are 574 federally recognized tribes in the U.S., the scope of those indigenous identities is often erased by how the government categorizes them. "If you are only familiar with one tribe, you're only familiar with one tribe. So what do you know about the Navajo nation cannot be so readily used to describe the state of affairs for any other tribe."
Sadly, for these populations, health disparities were a consequence of colonialism and all that came after. "Health disparities and chronic disease were largely absent from pre-contact indigenous societies," Calac said. "But only once our traditional knowledge systems were disrupted, then we saw the emergence of chronic disease and this disproportionate burden shouldered by our communities." In essence, they were the victims of a problem they didn't initiate.
An initial dip in the health of indigenous people would be expected, but the failures of policy for the generations that followed is what has created a health crisis that seems to exist in perpetuity. The situation has grown so dire that in a recent report from the Centers for Disease Control, it was stated that the life expectancy for an American Indian or Alaska Native dropped to 65.2 — the equivalent of person born during the 1940s.
To reverse the current trajectory, recognition and awareness, of course, will be key; but establishing policy that acknowledges these inequities is paramount, as is providing the necessary funds to alleviate the strains on the Indian Health System (IHS). As an example, when the VA opted to modernize their Electronic Health Record system, they received roughly $160 per patient. The IHS received $1.60."You can kind of see what we prioritize and what we don't prioritize, or what we value, because I always say that, 'Budgets reflect values,'" Calac said.
Calac, a member of the Pauma Band of Luiseño Indians, works collaboratively with the Global Health Policy and Data Institute on research projects integrating social media, health technology, health policy and Tribal public health. He also serves as the National President of the Association of Native American Medical Students.
---
Damon Dixon, MD
Damon Dixon, MD, a descendant of the Paiute-Shoshone and Hopi tribes, is well aware of the social determinants of health that impact Native peoples. A clinical assistant professor of Child Health with the college and a pediatric oncologist at Phoenix Children's, Dr. Dixon traced the lack of care to the dehumanization and societal indoctrination of indigenous people. Combined with  food scarcity on tribal lands and limited funding or infrastructure,  these social determinants of health have been a constant source of struggle.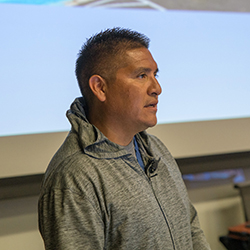 On average 30 percent of homes on a reservation are without running water, one in three of which don't have a sink or toilet. More than 15,000 homes are without electricity, and on the Navajo Nation — a reservation comprised of nearly 400,000 people across four  states — there are only 13 grocery stores.
Federal funding for recognized tribes is defined by the U.S. government's system for tribal identification, what Dr. Dixon defined as the blood quantum.
"I consider myself 100 percent Native American; my father is Paiute-Shoshone and my mother is Hopi. The problem is, I can only enroll in one tribe," he said. "Because I'm enrolled in my mother's tribe — I enrolled into the Hopi tribe — it only gives me 50 percent native blood, according to the government."
Such a designation will eventually dilute the number of Hopi tribal members. Lower numbers effect the amount of federal money dispersed. A lack of funding and a stressful physician shortage, leave many IHS facilities in need of infrastructural upgrade and unable to handle times of critical need — such as the COVID-19 pandemic.
"Provider wise, medication wise, they were not ready for that virus to hit that community. And it brought forward, again, to where we are today — that the Indian Health Service and Native health is still severely underfunded," Dr. Dixon said.
Though Dr. Dixon did present a stark reality, he also pointed to some hope. One such cause for celebration: the University of Arizona's unveiling of the Arizona Native Grant Scholars Program, which will will cover tuition and mandatory fees for full-time undergraduate students from Arizona's 22 federally recognized tribes who are studying on the main campus.
That, along with the college's recent partnership with the Arizona Community Foundation and the its Longitudinal Integrated Clerkship, opens educational pathways for Native Americans in Arizona. Dr. Dixon hopes these opportinuties will help to eliminate that shortage of providers in the future.
In addition, he referenced the recent elections in which multiple indigenous people were elected at the state and federal level. Their influence could help to amend the outdated policies that have led to the issues tribes across the U.S. face. "We need people to be our advocates," he said.
---
Naomi Bishop, MLIS, AHIP
Resting beneath the cityscapes of Phoenix and Tucson lie the artifacts of cultures that still exist and thrive on the reservations. And those cultures maintain the principles their ancestors did for sustaining a healthy community — respecting beliefs and spirituality, understanding resiliency and ways of life, and self determination.
"Before the cities were built, before the universities, there were people that were living here as a thriving community," Naomi Bishop, MLIS, AHIP, the UArizona Health Sciences librarian, explained during her lecture for Native American Heritage Month. Bishop is a member of the Akimel O'odham (translated River People) from the Gila River Indian Community in Arizona.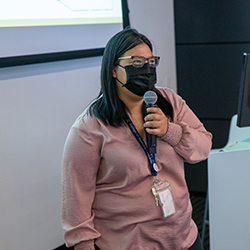 Bishop detailed the founding of the 48th state, as well as the inner workings of tribal life on her reservation.
She encouraged the students to practice cultural safety when treating Native American patients. "Cultural safety really impacts the delivery of care. And it changes your thinking. So you're gonna change your power thinking of relationships; you're gonna think about the patient's rights, and think about what the patient wants," she said.
Cultural consciousness is a value the college has always embraced. Students learn that to best serve their patients as physicians, they need to treat the individual, rather than the disease.
Receiving treatment from a physician who respects them as an individual can go a long way toward fostering confidence in the treatment being provided. "You, as a practitioner, you let them decide — the patient — whether they feel safe with the care that's been given," Bishop said.
This is especially important due to the limitations of health services available on the reservation, where patients who require specialized care must be treated outside the tribal health system.
---
Complementing the series of lectures hosted on campus, the college unveiled the Gila River Indian Community (GRIC) art exhibition, Health Care Promise: Dignity and Respect, on Friday, November 18. The exhibition is on display on the fourth floor of the Health Sciences Ecducation Building, and it aims to make GRIC culture and people more broadly visible to the college's campus community and to convey respect and gratitude for GRIC contributions, including those to the college's medical education.  
Land Acknowledgement
We respectfully acknowledge the University of Arizona is on the land and territories of Indigenous peoples. Today, Arizona is home to 22 federally recognized tribes, with Tucson being home to the O'odham and the Yaqui. Committed to diversity and inclusion, the University strives to build sustainable relationships with sovereign Native Nations and Indigenous communities through education offerings, partnerships, and community service.
About the College
Founded in 2007, the University of Arizona College of Medicine – Phoenix inspires and trains exemplary physicians, scientists and leaders to optimize health and health care in Arizona and beyond. By cultivating collaborative research locally and globally, the college accelerates discovery in a number of critical areas — including cancer, stroke, traumatic brain injury and cardiovascular disease. Championed as a student-centric campus, the college has graduated 669 physicians, all of whom received exceptional training from nine clinical partners and more than 2,600 diverse faculty members. As the anchor to the Phoenix Bioscience Core, which is projected to have an economic impact of $3.1 billion by 2025, the college prides itself on engaging with the community, fostering education, inclusion, access and advocacy.