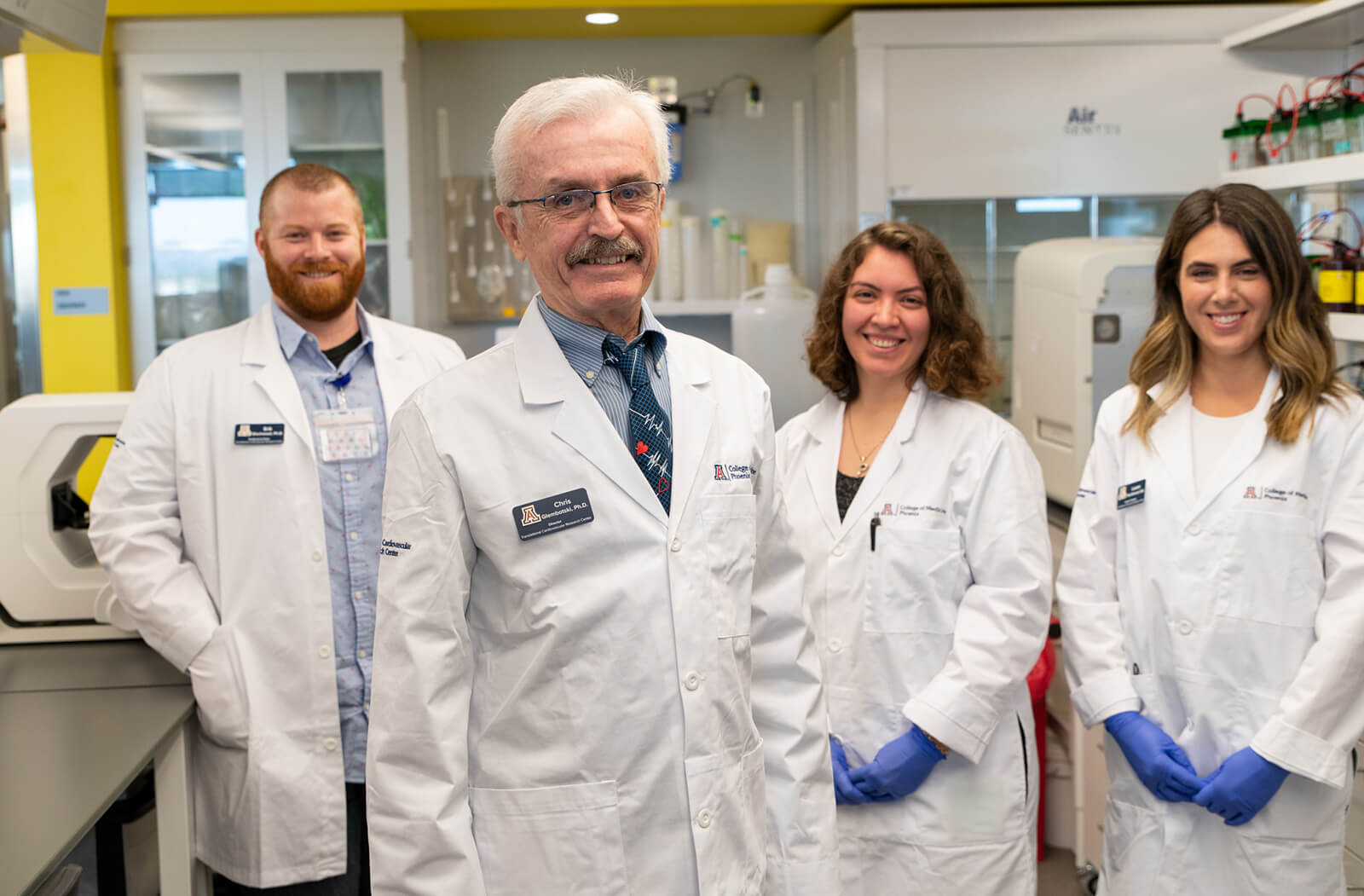 A Novel Molecular First Responder Could Improve Patient Outcomes after Heart Attack or Stroke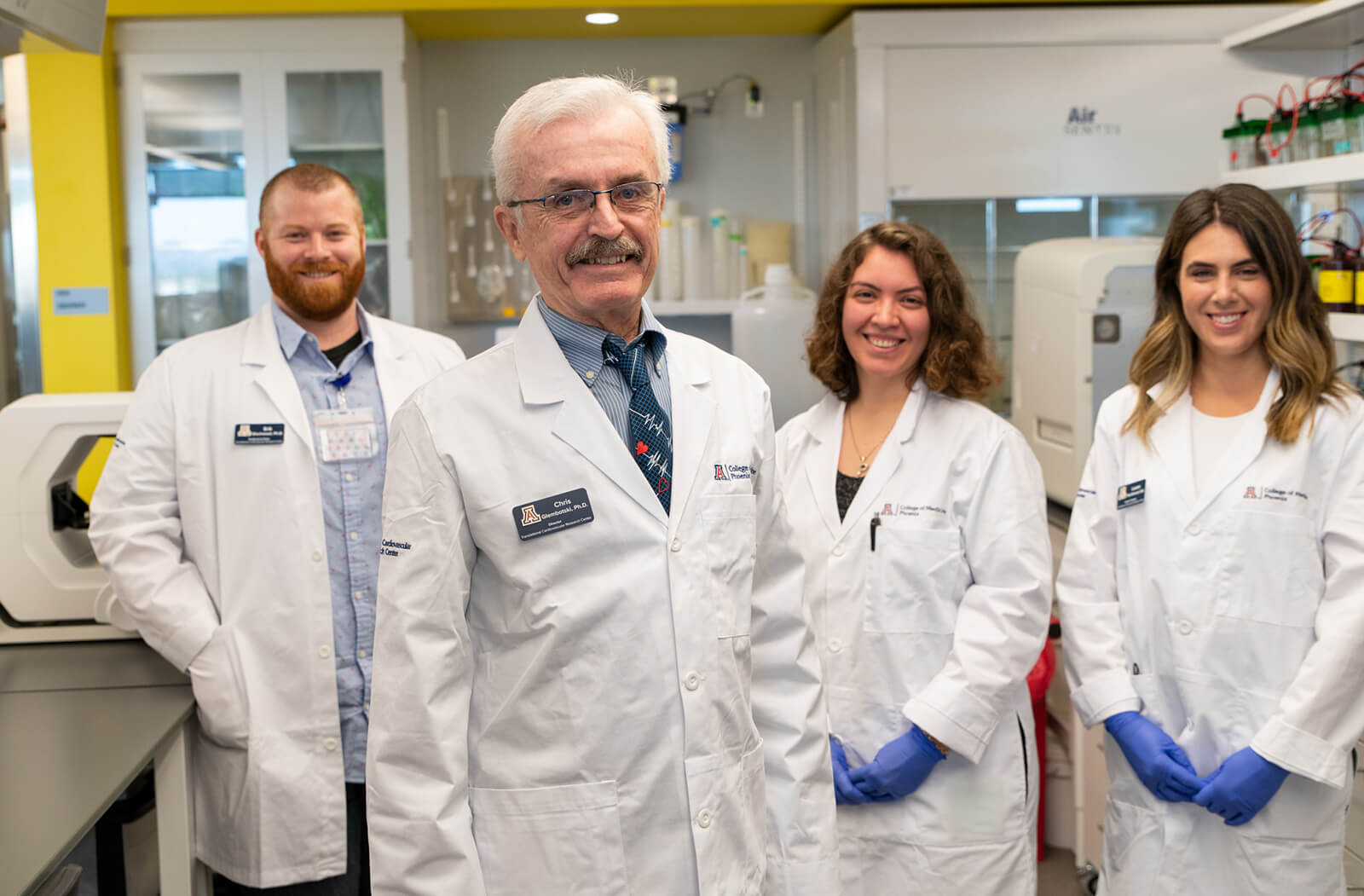 Discovery of Compound 147 by Christopher Glembotski, PhD, and His Team of Research Scientists May Revolutionize the Treatment of Cardiovascular Diseases
Imagine if EMTs could give a loved one a drug onsite to immediately reduce the severity of a heart attack or stroke?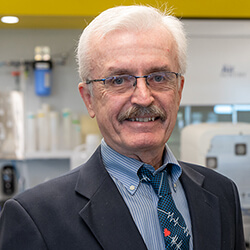 According to the Centers for Disease Control, every year, about 805,000 Americans have a heart attack. Of these, 605,000 are first-time heart attacks and 200,000 are people experiencing a second heart attack. The discovery of Compound 147, which activates a rock star protein called activating transcription factor 6 or ATF6, by Christopher Glembotski, PhD, and his team of research scientists at the University of Arizona College of Medicine – Phoenix may revolutionize the treatment — and recurrence — of cardiovascular diseases.
"We found compounds that we could someday make into drugs. When we mimic a heart attack in the laboratory, the compounds basically mitigate all the damage of a heart attack," said Dr. Glembotski — inaugural director of the Translational Cardiovascular Research Center (TCRC). He also serves as the associate dean for Research and as a professor in the Department of Internal Medicine.
Cardiovascular diseases, such as hypertension, coronary artery disease and heart attack, may increase the risk of stroke. Plaque buildup in the arteries caused by the disease can block the flow of oxygenated blood to the brain, resulting in stroke and potential brain damage. Heart disease is the No. 1 killer of Americans, according to the American Heart Association.
What makes Compound 147 an effective treatment is the presence of its partner protein, ATF6, in every cell and organ of the body. When the protein is activated, it stops all stress reactions, preventing further damage.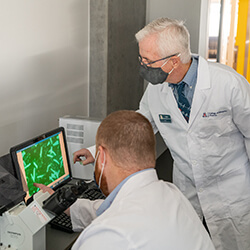 "This compound could also work for stroke — sometimes when people have a stroke, they suffer brain damage. Depending on the damage, they lose some motor control and can't walk as well after the stroke. When we replicated the equivalent of a stroke, our findings indicated Compound 147 limited the severity of a stroke and reduced the damage to the brain by more than two-fold," said Dr. Glembotski.
"This is powerful and would be the kind of drug you might get if you suffer a heart attack or after experiencing a stroke. It will reduce the damage to your heart; then your heart function will be much better, right away," he said.
Dr. Glembotski has been at the University of Arizona College of Medicine – Phoenix for only about a year, having moved from San Diego State University (SDSU) — where he was director of the SDSU Heart Institute. Since moving to Phoenix, he has focused his attention on supporting faculty, postdocs, research staff, graduate students and research office initiatives in translational neurosciences, cancer and cardiovascular disease. He has also dedicated himself to increasing the awareness of the TCRC. In collaboration with Banner – University Medical Center Phoenix, basic science and clinical cardiovascular researchers at the college are working on significant research projects to advance the understanding and treatment of a wide range of diseases, in addition to heart disease.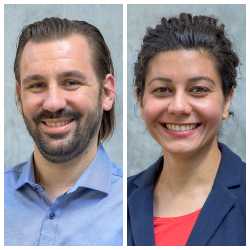 Dr. Glembotski's goal is to ensure medical research translates to patients. To support this goal, he recently recruited Tobias Jakobi, PhD, and Shirin Doroudgar, PhD, two highly sought-after researchers from the University of Heidelberg Medical School in Heidelberg, Germany. Their unique skillsets in bioinformatics and cell and molecular cardiology, respectively, will enhance investigation in the areas of stem cell research and the precision medicine translational data management systems in the center.
In support of these efforts, the TCRC has acquired numerous state-of-the-art research instruments, including a super high-resolution confocal microscopy system. The system has unprecedented imaging capacity, enabling scientists to better examine specimens and interpret data. Soon, they will add a cluster of computational servers that will be used to support translational research studies. Instruments like these will expand the team's capabilities to model disease progression and optimize intervention strategies in a precision medicine-oriented, patient-specific manner.    
The next phase of Compound 147 experiments will soon begin. The TCRC team will collaborate with peers at the Sarver Heart Center at the University of Arizona College of Medicine – Tucson, sharing technologies and research lab space.
"We anticipate that it will take about six to nine months to complete this next phase, and if we are successful, we will initiate clinical trials," he said. "ATF6 has particularly beneficial effects in cells and tissues that are stressed, as happens during a heart attack or a stroke, so in a way, we consider ATF6 to be a molecular first responder," said Dr. Glembotski.
About the College
Founded in 2007, the University of Arizona College of Medicine – Phoenix inspires and trains exemplary physicians, scientists and leaders to optimize health and health care in Arizona and beyond. By cultivating collaborative research locally and globally, the college accelerates discovery in a number of critical areas — including cancer, stroke, traumatic brain injury and cardiovascular disease. Championed as a student-centric campus, the college has graduated more than 800 physicians, all of whom received exceptional training from nine clinical partners and more than 2,700 diverse faculty members. As the anchor to the Phoenix Bioscience Core, which is projected to have an economic impact of $3.1 billion by 2025, the college prides itself on engaging with the community, fostering education, inclusion, access and advocacy.