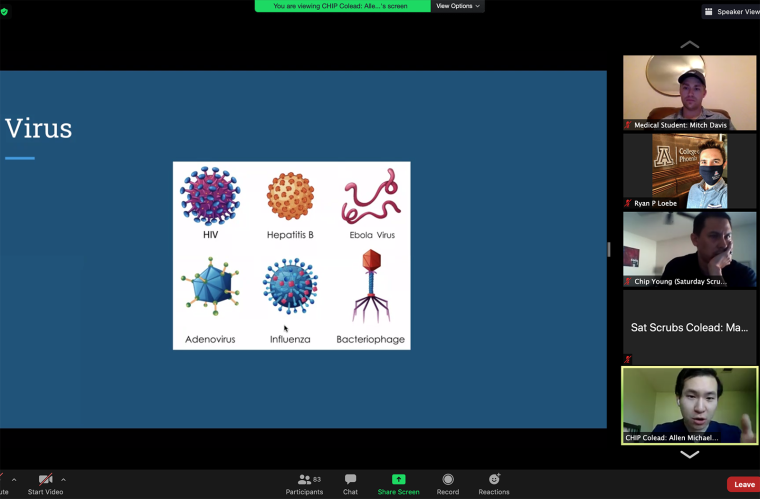 Phoenix-Area High School Students Scrub In — Virtually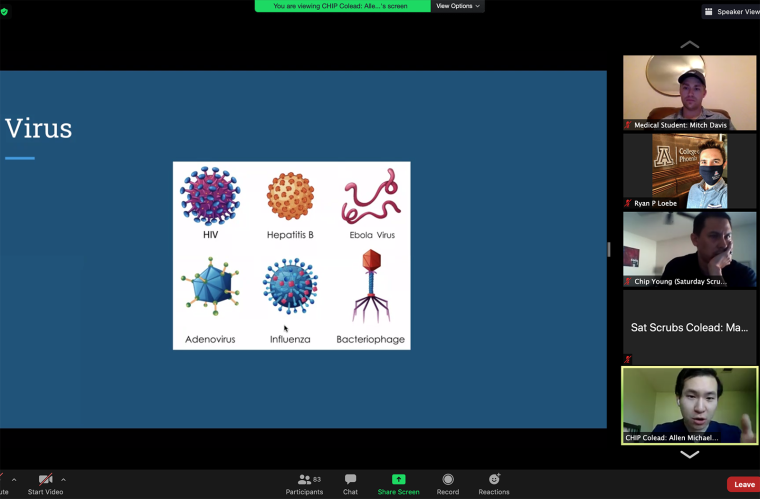 Saturday Scrubs Offers Online Sessions to Inspire Phoenix Teens to pursue STEM education and Careers
At the University of Arizona College of Medicine – Phoenix, we believe that fostering an environment enriched with science, technology, engineering, math and medicine sparks the minds of Arizona's youth and has the potential to yield an all-around healthier state of Arizona. Saturday Scrubs, a program coordinated through the Office of Admissions and Recruitment, focuses on engaging Phoenix-area high school students interested in exploring STEM education and careers.
Saturday Scrubs is a free program designed to encourage students to explore their interest in becoming a physician. A Saturday Scrubs session is intended to introduce participants to a variety of topics and expand on their existing knowledge related to medicine and the human body. Every session includes lectures by medical students or other health care professionals and includes hands-on, interactive activities. However, due to the coronavirus pandemic, the program has had to transition to an online platform to adhere to physical distancing guidelines and overall health and safety protocols.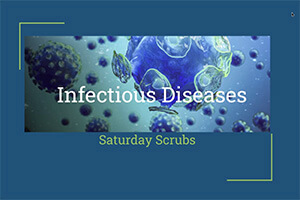 The revamped version consists of an hour-long session that begins with a 10-minute slide deck overview presentation, which informs the participants of their lecture topic. Then, attendees are put into virtual breakout rooms where they are given additional information to conduct a case-based instruction (CBI) and doctoring simulation.
"The high school students were given a sheet that had a script for how to interact with their patients, as well as a diagnosis list that had different diseases, symptoms and things to look for," said Chip Young, coordinator of Pipeline Initiatives in the Office of Admissions and Recruitment.
Once the high school students have completed their CBI, everyone is brought back to the main virtual room where they conduct a Q&A segment — in which participants are asked if they saved their patients or diagnosed their patients correctly.
While the Scrubs Academy has had to shift their efforts due to the global pandemic, the team behind the STEM-intensive program remains optimistic and has brainstormed new ways to engage Arizona's youth. One new element introduced in the September session was the addition of resident physicians from Banner – University Medical Center Phoenix. To this point in the academy's history, only undergraduate medical students at the College of Medicine – Phoenix had participated in the sessions — conducting the lectures and fielding the questions from participants.
This addition has given the high school students an opportunity to interact with another layer of mentors — ones in a subsequent stage of their physician career journey. This value-added component provides a platform for mentorship that extends from high school to undergraduate degree programs and on to the highest level of education — a medical degree.
Saturday Scrubs is conducted on the third Saturday of every month and lecture topics typically coincide with the current medical students' curriculum. The September 2020 Saturday Scrubs session focused on infectious diseases — a topic that is undoubtedly on everyone's minds, but especially on the minds of STEM education seekers.
A student participating in the program must attend at least seven sessions during the academic year in order to officially graduate from the Scrubs Academy. Should they graduate, the participants will be presented with a set of Scrubs in May 2021.
Are you an Arizona-based high school student interested in embarking on the journey to becoming a physician? Registration for upcoming sessions open on Mondays at 7:00 a.m. MST following the 3rd Saturday of each month. Spots are limited, and they fill up quickly. (October 2020 session registration has closed).
About the College
Founded in 2007, the University of Arizona College of Medicine – Phoenix inspires and trains exemplary physicians, scientists and leaders to optimize health and health care in Arizona and beyond. By cultivating collaborative research locally and globally, the college accelerates discovery in a number of critical areas — including cancer, stroke, traumatic brain injury and cardiovascular disease. Championed as a student-centric campus, the college has graduated 665 physicians, all of whom received exceptional training from nine clinical partners and more than 2,500 diverse faculty members. As the anchor to the Phoenix Bioscience Core, which is projected to have an economic impact of $3.1 billion by 2025, the college prides itself on engaging with the community, fostering education, inclusion, access and advocacy.