News
News
College revamps Saturday Scrubs to adhere to health and safety protocols
News
High school students from across Arizona and New Mexico spent a week of their summer learning the ins-and-outs of health care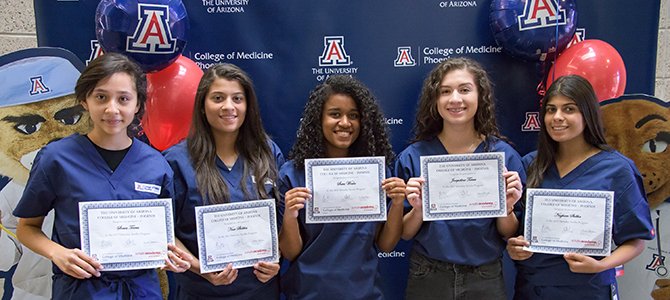 Saturday Scrubs is a free program designed to encourage and inspire Arizona high school students to explore their existing interest in becoming a physician. Each Saturday Scrubs event is intended to introduce participants to a variety of topics related to medicine and the human body. Every session includes lectures by medical professionals and hands-on/interactive activities. 
If you attend at least seven sessions, you will be an official graduate of the Scrubs Academy program and will be presented with a set of Scrubs at the May 2021 session.
Important note for participation:
In order to participate in these sessions, you and your parent or guardian must complete and review the following items:
Review (you do not need to print or turn in) – UA Student Code Of Conduct (PDF).
Complete (these must be turned in) – UA Non-enrolled Minor Policy Legal Forms (PDF).

Please download the forms, complete and sign them electronically, and return as a PDF 3 days prior the start of your registered virtual session.  If your forms are not received, you will not be able to participate in the session.  If you participate in multiple sessions in the 2020-2021 academic year, you will only be required to turn in legal forms for the first session that you attend. 
2020-2021 Sessions
| Session Date: | Registration Opens (at 7:00 a.m.): |
| --- | --- |
| August 15 | Closed |
| September 19 | Closed |
| October 17 | Closed |
| November 21 | Closed |
| December 19 | Closed |
| January 16 | Closed |
| February 20 | Closed |
| March 20 | February 22 |
| April 17 | March 22 |
| May 15 | April 19 |
FAQs
When will the new Saturday Scrubs information be updated?

Our registration and session information for the 2020-2021 academic year will be updated by July 1.

How many students do you accept into each session?

Normally, our sessions are limited to 100 participants, and we accept students until our registration form fills up. During our virtual sessions, we will be accepting up to 130 participants.

What time does each session start and end?

We will have two one-hour virtual sessions. Sessions will begin at 10:00 a.m. and 11:00 a.m. Students will be assigned to one of the two sessions. Students must be logged on for their session at least five minutes before their session is to begin.

Where are these sessions located?

Until further notice, all sessions will be held virtually. Session links will be emailed to registered participants.

What is the dress code for these events?

The dress code is casual. Please dress appropriately.

If I attended sessions last academic year (2018-2019), do I still need to bring the new paperwork?

Yes, we change our forms every year, and we need the new version for the academic year. If you do not have your forms on the first session, you will not be able to participate.

What if I can no longer attend the session I signed up for?

You will need to contact Chip Young, so he can remove you from the list and add someone from the waitlist. Participants who choose not to show up to their session without prior contact will be disqualified from future Saturday Scrubs sessions.

Do you have any other programs for high school students?
Contact
Chip Young
Office of Admissions and Recruitment
602-827-2005 | COMPHX-admissions@email.arizona.edu