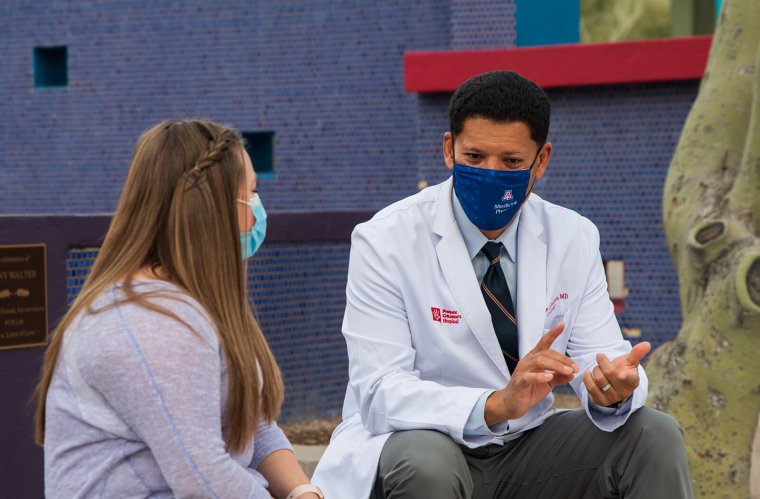 Wayne J. Franklin, MD, Honored with ElevateMeD's 2022 Breaking Barriers Award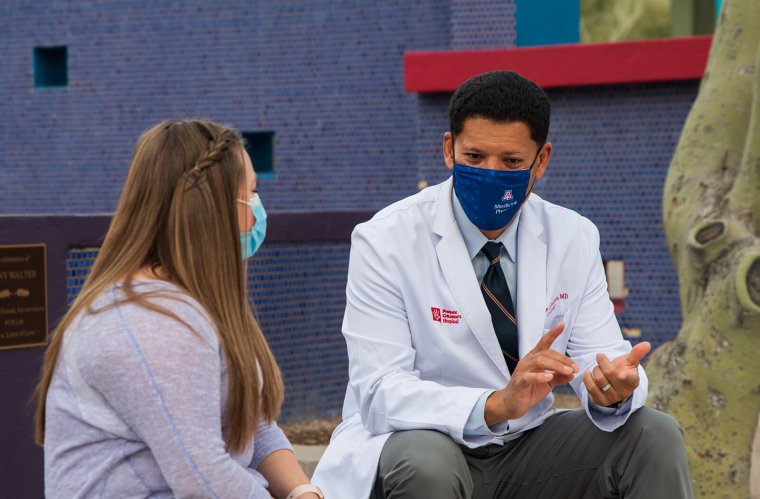 Dr. Franklin recognized for investing in underrepresented minorities, paving the way for more diverse future physicians
ElevateMeD awarded the 2022 Breaking Barriers Award to Wayne J. Franklin, MD. He is the second recipient of the prestigious award.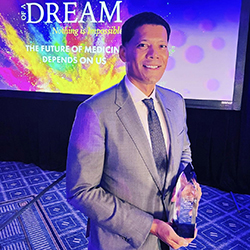 The ElevateMeD Breaking Barriers Award was established to recognize physician leaders whose work addressing health care disparities is positively and innovatively impacting diversity within medicine.
"It's fantastic to be recognized, but I do it for our students and colleagues," Dr. Franklin said. "On the one hand, it's humbling to think that we are still breaking some barriers in 2022, but on the other hand, it's important work that hopefully we all can support."
Dr. Franklin is co-director of the Center for Heart Care and division chief of Cardiology at Phoenix Children's. He also serves as associate director of Adult Congenital Heart Disease at Phoenix Children's and professor of Child Health, Medicine and Obstetrics and Gynecology with the UArizona College of Medicine – Phoenix.
According to Alyx Porter Umphrey, MD, the founder and executive director of ElevateMeD, Dr. Franklin's leadership at Phoenix Children's and the University of Arizona College of Medicine – Phoenix is blazing a path for the next generation.
"Dr. Franklin's career and legacy has inspired us all at ElevateMeD," Dr. Porter Umphrey said. "In addition to his exceptional clinical acumen, he is a true advocate for diversity in medicine." Dr. Porter Umphrey, and her husband, Dr. Greg Umphrey, started ElevateMeD in Phoenix in 2017, as a non-profit organization that helps underrepresented medical students receive mentoring and career guidance.
Throughout his successful career, Dr. Franklin has always found time to invest in underrepresented students of all ages. He hopes to continue to foster the talent of those in communities of color.
"I recognize that the higher one goes in professional life, especially in health care, the less diverse it gets," Dr. Franklin said. "I hope that as we move forward, we can help the next generation to aspire for and achieve even greater success."
Dr. Franklin formally received the award at the ElevateMeD's Scholars Summit, where diverse medical student leaders who've received scholarships and support from ElevateMeD experience a workshop weekend.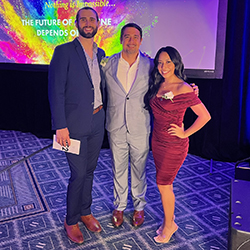 Abigail Solorio and Marcus Childs, both of whom are students at the college and winners of this year's ElevateMeD Scholarship, attended the event.
Marcus Childs, a third-year medical student, said people like Dr. Franklin make long-lasting and meaningful change within a system that can be exclusive for minorities.
"He worked hard to get where he is today, and he continues to reach down and help marginalized people climb that ladder to success," Childs said. "He doesn't have to do that; and he doesn't owe anyone that; and yet, he makes an effort to bring chairs to a table that rarely affords underrepresented students, such as myself, a seat."
Solorio, who's in her fourth year, said that she's been able to see Dr. Franklin's love for teaching after working alongside him in a clinical setting.
"His journey in medicine is inspiring, and his work continues to address disparities and break barriers," Solorio said. "Beyond impacting the lives of his patients as an expert physician, Dr. Franklin has created incredible opportunities for underrepresented students that will have a profound and lasting impact in our community."
Inspired by the global events of 2020, most notably the COVID-19 pandemic, Dr. Franklin decided to help start the Underrepresented in Medicine Scholarship campaign. Through the scholarship, he's raised over $75,000 for students at the college.
"It is changing, and the journey is slow, but steady," Dr. Franklin said. "We still need many more women and people of color as physicians, but also as academic and administrative leaders. This is hard work. And, as they say, 'Hard work is hard.' So, we need to continue this journey every day."
About the College
Founded in 2007, the University of Arizona College of Medicine – Phoenix inspires and trains exemplary physicians, scientists and leaders to optimize health and health care in Arizona and beyond. By cultivating collaborative research locally and globally, the college accelerates discovery in a number of critical areas — including cancer, stroke, traumatic brain injury and cardiovascular disease. Championed as a student-centric campus, the college has graduated 745 physicians, all of whom received exceptional training from nine clinical partners and more than 2,600 diverse faculty members. As the anchor to the Phoenix Bioscience Core, which is projected to have an economic impact of $3.1 billion by 2025, the college prides itself on engaging with the community, fostering education, inclusion, access and advocacy.