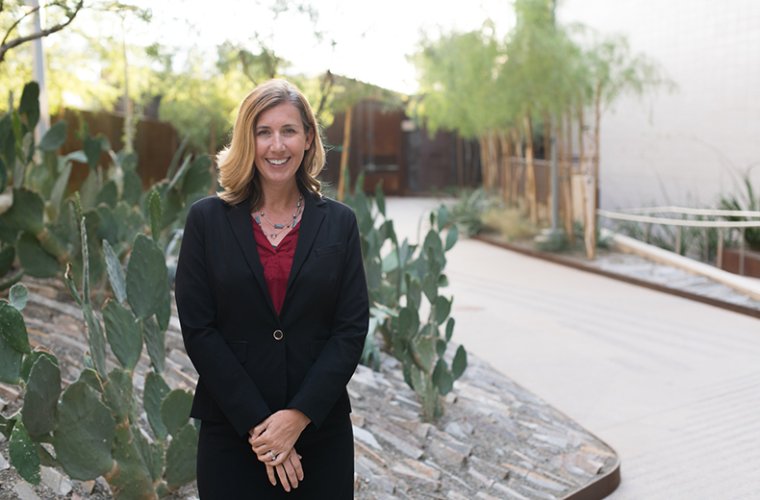 Women in Medicine: Trailblazers, Advocates and Leaders - Katie Brite, MD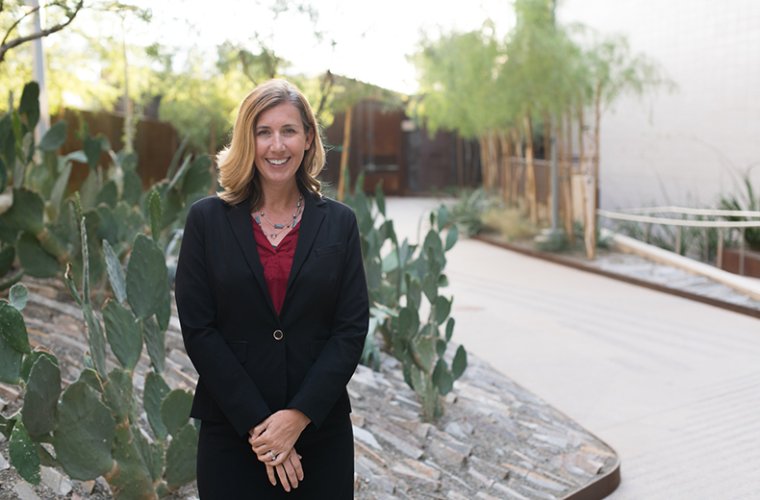 In honor of this year's Women in Medicine and Science theme, "Women in Medicine: Trailblazers, Advocates and Leaders," the College of Medicine – Phoenix has asked a few faculty to share their inspiring stories about female physicians or scientists who helped advance their career.
Katie Brite, MD, is the associate dean of Clinical and Competency Based Education at the University of Arizona College of Medicine – Phoenix.  She has been a family physician for 14 years and has demonstrated her dedication to serving the underserved through clinical work at Wesley Community and Health Center and Bayless Integrated Healthcare, where she recently served as vice president of Primary Care. Dr. Brite has many roles at the college — that include being chair of the college's Curriculum Committee and co-host of the reimagine Medicine podcast.
Tell Us About Someone Who Influenced You
There are simply too many to name. I am fortunate to come from a long line of amazing, strong women. My maternal grandfather, unfortunately, came home from WWII mentally altered and incredibly abusive. My grandmother left him with my two-month-old mother in tow. Without an education or a penny to her name, my grandmother relocated to Detroit, Michigan, and joined an assembly line. She was a real life "Rosie the Riveter." She raised a spirited, intelligent, independent woman (my mom), who, in turn, raised two successful, strong willed daughters and a son as a single mom for much of our childhood.
My paternal grandmother was equally strong. At sixteen, she was asked to leave her house because there were too many mouths to feed. She became a telephone operator in rural Michigan, moved into an apartment above a dime store, completed her high school education and successfully raised two sons and a daughter. Her daughter (my aunt) became the dean of admissions at Central Michigan University and has always been a tremendous inspiration to me. This is the culture in which I was raised. My parents always encouraged me to pursue my dreams, and made me feel that I could do or be anything I wanted to regardless of my gender. They were so encouraging that I was a bit naive. It has been my experiences in the real-world that have made me realize how difficult being a career woman can sometimes be.
In medical school, as I grappled with choosing my specialty (trouble is, I loved every rotation I did), Dr. Cookie Dupont inspired me. She was a family medicine attending who embodied everything I wanted to be in a doctor. She was compassionate, humanistic, intelligent and had the best bedside manner I had ever observed. I truly wanted to emulate her as a physician, and hope that she knows how much she influenced me early on in my career and as a physician. As I embarked upon my journey into academic medicine, Jacque Chadwick, MD, had a great impact on me. She was a kind leader, always there if needed, but really placed trust in her team and allowed you to autonomously evolve, gaining confidence along the way. She was the first boss I had in academic medicine who encouraged me to see myself as a future leader, shake off the doubt and, although I still grapple with it, cast the "imposter syndrome" aside.
How Are You Paying It Forward?
I find teaching future physicians to be among the most rewarding aspects of my career. I had some amazing mentors along the way, and I feel very compelled to offer my knowledge and support to students. I hope I lead by example. I have always served the underserved and by training students in this setting, I try to illustrate how amazing and intrinsically rewarding it is to offer their services to a population that needs it the most.
Caring for all with compassion and grace regardless of their ethnicity, gender or walk of life is what I hope to demonstrate to students and residents who train with me. Having a baby in medical school, a baby in residency and a third in practice has made me a "go-to" for women in medicine who have questions about becoming a mom on this journey. I hope that I have demonstrated that it is possible to be a mother, if you so choose, and a darn good doctor. You can be a doctor, mom and a leader in the medical community and in academic medicine. All of this is possible, and I will continue to advocate for and encourage women in medicine to dream big.
Throughout the month of September, we will be celebrating and highlighting the important work of women scientists, clinicians, educators, mentors and leaders in academic medicine. They will share their empowering stories about female physicians and scientists who helped shape their careers in medicine and paved the way for the next generation of trailblazers in academic medicine.
About the College
Founded in 2007, the University of Arizona College of Medicine – Phoenix inspires and trains exemplary physicians, scientists and leaders to optimize health and health care in Arizona and beyond. By cultivating collaborative research locally and globally, the college accelerates discovery in a number of critical areas — including cancer, stroke, traumatic brain injury and cardiovascular disease. Championed as a student-centric campus, the college has graduated 669 physicians, all of whom received exceptional training from nine clinical partners and more than 2,600 diverse faculty members. As the anchor to the Phoenix Bioscience Core, which is projected to have an economic impact of $3.1 billion by 2025, the college prides itself on engaging with the community, fostering education, inclusion, access and advocacy.