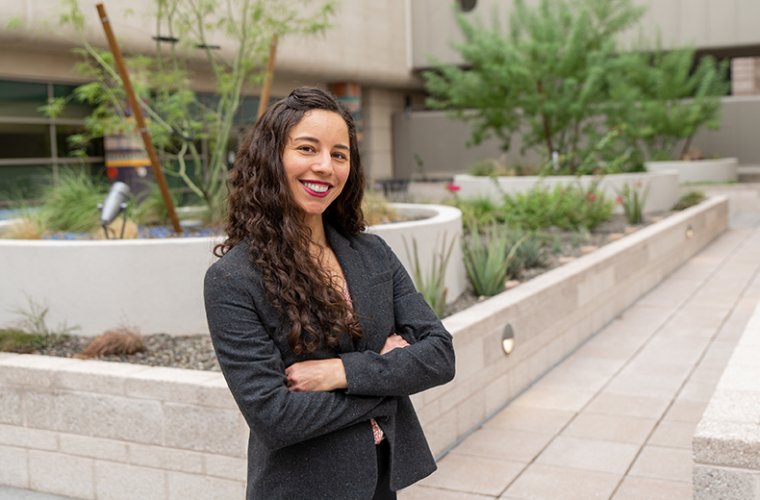 Women in Medicine: Trailblazers, Advocates and Leaders - Nichole Mahnert, MD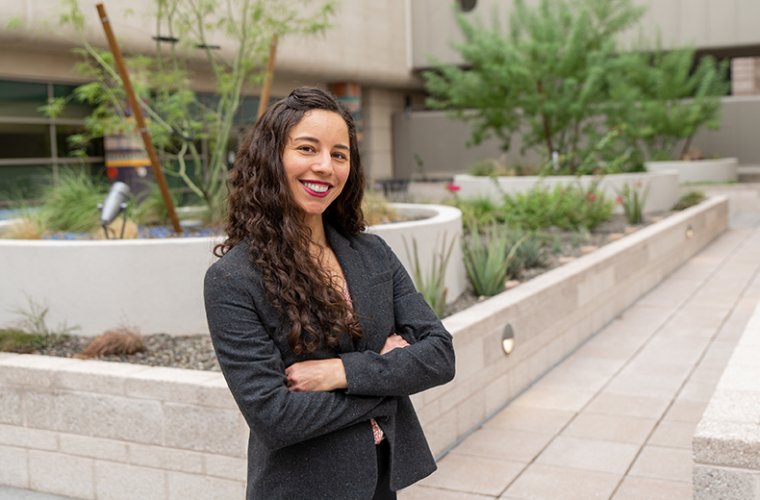 In honor of this year's Women in Medicine and Science theme, "Women in Medicine: Trailblazers, Advocates and Leaders," the College of Medicine – Phoenix has asked a few faculty to share their inspiring stories about female physicians or scientists who helped advance their career.
Nichole Mahnert, MD, is the co-director of the Minimally Invasive Gynecologic Surgery Fellowship and director of the Obstetrics and Gynecology (OB/GYN) Residency research program at the University of Arizona College of Medicine – Phoenix. She was born and raised in Phoenix, Arizona. Dr. Mahnert has worked as gynecologist at Banner – University Medical Center Phoenix for the last three years.
"As a gynecologist, I have the unique role to care for women throughout their lives and transitions, in times of joy and times of distress, which is an amazing privilege," Dr. Mahnert said. "I have the opportunity to guide women through periods, birth control and family planning. I normalize symptoms and help women improve their quality of life. I advocate for and empower women every day. I would not trade my job for any other."
Tell Us About Someone Who Influenced You
There are many notable female physicians in my life who have helped me along my career trajectory and most of the stories are simple, but meaningful, acts of support. My residency mentor helped me find my confidence and always took me out for great Japanese food. She was someone I could count on for honest and practical feedback, and to write a stellar letter of recommendation — there were many. As I entered the next phase of my career, it meant a lot that my fellowship mentor invited me into her home to review statistics and then invited me to stay for dinner along with her family. She made herself available by phone and email long after I finished the fellowship. I can still hear her whisper in my ear when I am in the middle of a difficult surgery or when I'm writing a new abstract for publication.
When I was a gynecologic surgery fellow, I was staffing my own surgery and ran far behind, because I was still an amateur in estimating how long it would take. It was only after finishing the surgery and going back to the office that I realized I had set the director of Gynecology far behind schedule, because she was to follow me. I felt like a terrible failure. As I was leaving for the day, I saw her and profusely apologized. Unexpectedly, she said it was totally fine. I don't know if she could sense my agitation, but she put me at complete ease. I was initially intimidated by her powerful position and accolades, but at that moment, I realized she was a real person who cares about her colleagues and trainees, which continued to be evident throughout my tenure. Since then, I have definitely improved my surgery time estimation skills.
What I found most meaningful in these moments is feeling supported and connected. These acts of caring are crucial for women to collectively further our careers.
Was there a time when you needed to forge a new path?
Starting my education, I had little exposure to female physicians or scientists, especially women of color. As the first physician in my family, I felt like I was in a foreign world going through medical school and even residency. In those early days, my true role models were my mother and grandmother who taught me that I could do more, regardless of gender or ethnicity. My mom finished her college degree when I was in the 4th grade. I have a photo of my four-year-old self, asleep sitting up at the kitchen table in my onesie footed pajamas and blanket, as I tried to keep my mom company while she studied. More memorable is my mom always toting her backpack full of college books (at least 4-5) on our yearly camping vacations. I don't know if she was actually able to study on the trip, but it made her feel better to have them. She chose a career in computer technology and was one of the only women in her classes, and one of a few Latinxs in her field. It was her drive and dedication that showed me I could do the same.
Throughout the month of September, we will be celebrating and highlighting the important work of women scientists, clinicians, educators, mentors and leaders in academic medicine. They will share their empowering stories about female physicians and scientists who helped shape their careers in medicine and paved the way for the next generation of trailblazers in academic medicine.
About the College
Founded in 2007, the University of Arizona College of Medicine – Phoenix inspires and trains exemplary physicians, scientists and leaders to optimize health and health care in Arizona and beyond. By cultivating collaborative research locally and globally, the college accelerates discovery in a number of critical areas — including cancer, stroke, traumatic brain injury and cardiovascular disease. Championed as a student-centric campus, the college has graduated 669 physicians, all of whom received exceptional training from nine clinical partners and more than 2,600 diverse faculty members. As the anchor to the Phoenix Bioscience Core, which is projected to have an economic impact of $3.1 billion by 2025, the college prides itself on engaging with the community, fostering education, inclusion, access and advocacy.