Vision
The reimagine Health Research Symposia will develop into a preeminent venue in which thought leaders from academia, industry, health care and the community present and discuss solutions to contemporary challenges in the biomedical sciences and health care — attracting an international audience.
Mission
The reimagine Health Research Symposia provide an open and inclusive platform for the dissemination and discussion of significant and current challenges and solutions facing the health of humankind. To accomplish this goal the venue brings together experts to present and discuss scientifically underpinned findings, as well as social and ethical matters.
Upcoming Symposium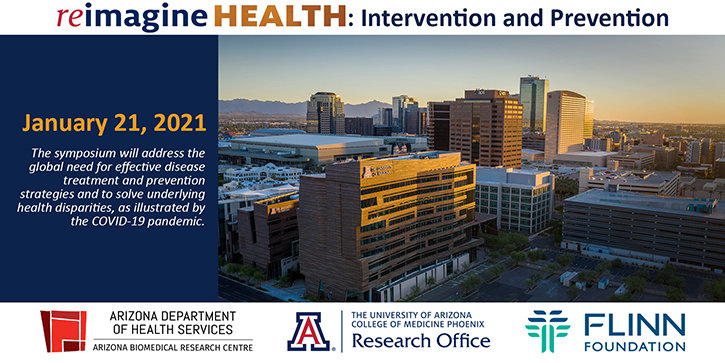 The 3rd Annual reimagine Health Research Symposium will be held on Thursday, January 21, 2021. Attendees will be able to attend the symposium in-person at our Phoenix Biomedical Campus or virtually via Zoom.
The symposium will focus on current topics in the areas of Intervention and Prevention of important diseases that are impacting humankind. It will emphasize approaches for a variety of diseases and crises — including COVID-19, cardiovascular disease, cancer, opioid addiction and the challenge of needing to develop novel antibiotics. Attendees will learn from and engage with leading experts who will present and discuss contemporary treatment and prevention strategies in the areas of drug discovery, vaccine development, addiction management, the use of artificial intelligence, as well as ethical and social factors contributing to these approaches.
Sponsors
The reimagine Health Research Symposium is co-sponsored and planned by the Arizona Biomedical Research Centre, the University of Arizona College of Medicine – Phoenix Research Office and the Flinn Foundation.
Contact
If you have questions about the symposium or would like to become a symposium sponsor, please contact the Research Office.