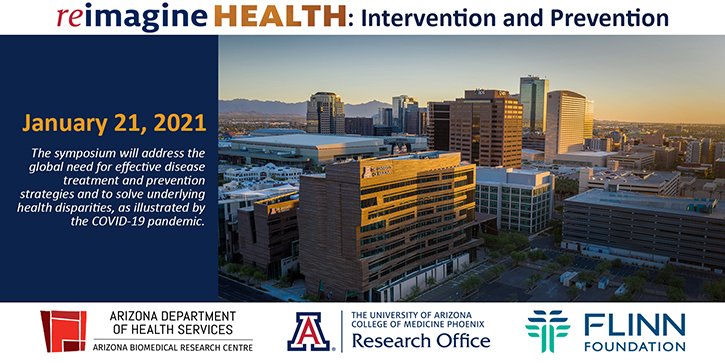 Confirmed Speakers│Registration│Committee│Contact Us
Symposium Objective
The 3rd Annual reimagine Health Research Symposium will focus on current topics in the areas of Intervention and Prevention of important diseases that are impacting humankind. It will emphasize approaches for a variety of diseases and crises — including COVID-19, cardiovascular disease, cancer, opioid addiction and the challenge of needing to develop novel antibiotics. Attendees will learn from and engage with leading experts who will present and discuss contemporary treatment and prevention strategies in the areas of drug discovery, vaccine development, addiction management, the use of artificial intelligence, as well as ethical and social factors contributing to these approaches.
Sponsors
The reimagine Health Research Symposium is co-sponsored and planned by the Arizona Biomedical Research Centre, the University of Arizona College of Medicine – Phoenix Research Office and the Flinn Foundation.
Keynote Speaker
Topic: Vaccines
Gary Nabel, MD, PhD
Chief Scientific Officer and Senior Vice President, Sanofi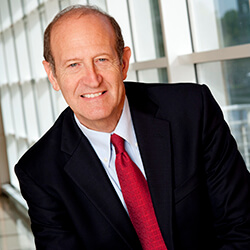 Dr. Gary J. Nabel is chief scientific officer, Global Research and Development at Sanofi. In addition to serving as senior vice president for the company, Dr. Nabel also oversees the Breakthrough Lab — which developed the first trispecific antibodies now in development for HIV as published in Science, as well as cancer immunotherapies and novel vaccines.
An author of more than 450 scientific publications, Dr. Nabel joined Sanofi in 2012 from the National Institutes of Health, where he served as director of the Vaccine Research Center (VRC) since 1999; during which time, he provided overall direction and scientific leadership of the basic, clinical and translational research activities and guided development of novel vaccine strategies against HIV, universal influenza, Ebola and emerging infectious disease viruses. His work encompasses basic mechanisms of HIV gene activation, structure-based vaccine design and immunotherapy.
Dr. Nabel graduated magna cum laude from Harvard College in 1975 and continued his graduate studies at Harvard, completing his PhD in 1980 and his MD two years later; this was followed by a postdoctoral fellowship with David Baltimore at the Whitehead Institute. In recognition of his expertise at the forefront of virology, immunology, gene therapy and molecular biology, Dr. Nabel was elected to the National Academy of Medicine in 1998. Among his many other honors, Dr. Nabel received the Amgen Scientific Achievement Award from the American Society for Biochemistry and Molecular Biology, the Health and Human Services Secretary's Award for Distinguished Service and is a fellow of the American Association of Physicians, as well as the American Academy of Arts Sciences.
Speakers
Regina Barzilay, PhD
Delta Electronics Professor, Department of Electrical Engineering and Computer Science, Massachusetts Institute of Technology

Topic: AI in Antibiotic Discovery and Oncology Drug Development
 
Julie E. Bauman, MD, MPH
Deputy Director, University of Arizona Cancer Center
Chief of Hematology/Oncology
Professor of Medicine
Associate Director of Translational Research, University of Arizona Cancer Center

Topic: Cancer Immunotherapy
 
Jolene Bowers, PhD
Research Assistant Professor, Pathogen and Microbiome Division, Translational Genomics Research Institute

Topic: COVID-19 Genomic Epidemiology
 
Tom Broker, PhD
Professor (Retired), Department of Biochemistry and Molecular Genetics, University of Alabama at Birmingham School of Medicine

Topic: Development of anti-HPV Drugs
 
Marilyn Glassberg, MD
Chief, Division of Pulmonary Medicine, Critical Care and Sleep Medicine, Professor of Internal Medicine, University of Arizona College of Medicine – Phoenix
Physician Executive Director, Banner Health University Lung Institute

Topic: COVID-19 Clinical Trials and Pulmonary Fibrosis
 
William Holland, MD
Vice President of Care Management and Chief Medical Informatics Officer, Banner Health

Topic: Banner System Response to the COVID-19 Pandemic
 
Sam Lee, PhD
President, Cocrystal Pharma Inc.

Topic: Discovery and Development of Antivirals
 
Purnima Madhivanan MBBS, MPH, PhD
Associate Professor, Health Promotion Sciences Department, UArizona Mel and Enid Zuckerman College of Public Health

Topic: HPV Vaccination
 
Grant McFadden, PhD
Director and Professor, Center for Immunotherapy, Vaccines and Virotherapy, Biodesign Institute, Arizona State University

Topic: Virotherapy
 
Terrence Stull, MD
Senior Vice President of Research and Chief Research Officer of the Phoenix Children's Hospital Research Institute
Professor, Child Health, University of Arizona College of Medicine – Phoenix

Topic: Bacterial Vaccine Polypeptides
 
Tricia Wright, MD, MS
Professor, Obstetrics, Gynecology & Gynecologic Subspecialties
University of California San Francisco

Topics: Addiction Medicine
Call for Abstracts
You are invited to submit an abstract for the University of Arizona College of Medicine – Phoenix Research Symposium, reimagine Health: Intervention and Prevention. Abstracts should focus on the aspects of disease intervention, prevention and management in the categories listed below. 
Submitted abstracts will be reviewed for applicability to the symposium theme, rigorous research methodology, impact to health care and readability. Accepted abstracts will be invited to submit a digital poster and video presentation, which will be due in early January, and shared during the duration of the symposium.
All interested attendees including students, trainees, and principal investigators are encouraged to submit an abstract!
Abstract Categories:
Epidemiology.
Drug discovery and development.
Vaccine development.
Public health measures.
Disease management.
Immunotherapy.
Virotherapy.
Addiction medicine.
Abstract Submission Deadline:
December 2, 2020, 5:00 p.m.
Who is Invited to this Event?
This event is free and open to the public. Attendees will be able to attend the symposium virtually via Zoom. We highly recommend researchers and health care professionals attend. We also welcome students, educators and the general public to attend this valuable conference. Please register in advance.
Registration
Register for the 3rd Annual reimagine Health Research Symposium on Thursday, January 21, 2021.
Cost
Thanks to our generous sponsors, the Arizona Biomedical Research Centre and the Flinn Foundation, there is no cost to attend the symposium.
Contact
For questions about the symposium or to become symposium sponsor, please contact the Research Office.
Planning Committee
Paul Boehmer, PhD – Committee Chair, University of Arizona College of Medicine – Phoenix.
Jennifer Botsford, MSPH – Program Director, Arizona Biomedical Research Centre.
Pamela Garcia-Filion, PhD, MPH – Associate Research Scientist.
Jonathan Lifshitz, PhD– Director, Translational Neurotrauma Research Program, University of Arizona College of Medicine – Phoenix.
Maria Manriquez, MD, FACOG – Director, Pipeline Admissions Program and UME Addiction Medicine Education, University of Arizona College of Medicine – Phoenix.
Mary O'Reilly, PhD – Vice President, Bioscience Research Programs, Flinn Foundation.
Claire Pascavis, MBA – Program Coordinator, Sr., University of Arizona College of Medicine – Phoenix.
Bernadine Sadauskas, MS, CRA – Director of Operations, University of Arizona College of Medicine – Phoenix.
Victor Waddell, PhD – Executive Director, Arizona Biomedical Research Centre.
Ting Wang, PhD – Associate Professor and Scientific Director, Pulmonary and Endothelial Research Core, University of Arizona College of Medicine – Phoenix.