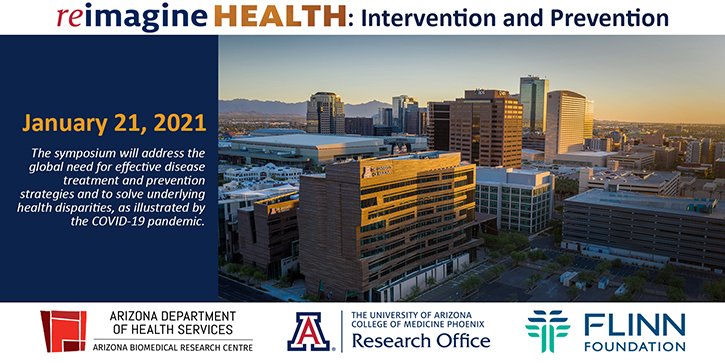 Registration│Location│Travel/Hotel Accommodations│Planning Committee│Contact Us
Symposium Objective
The 3rd Annual reimagine Health Research Symposium will focus on current topics in the areas of Intervention and Prevention of important diseases that are impacting humankind. It will emphasize approaches for a variety of diseases and crises — including COVID-19, cardiovascular disease, cancer, opioid addiction and the challenge of needing to develop novel antibiotics. Attendees will learn from and engage with leading experts who will present and discuss contemporary treatment and prevention strategies in the areas of drug discovery, vaccine development, addiction management, the use of artificial intelligence, as well as ethical and social factors contributing to these approaches.
Sponsors
The reimagine Health Research Symposium is co-sponsored and planned by the Arizona Biomedical Research Centre, the University of Arizona College of Medicine – Phoenix Research Office and the Flinn Foundation.
Who is Invited to this Event?
This event is free and open to the public. Attendees will be able to attend the symposium *in-person at our Phoenix Biomedical Campus (PBC) or virtually via Zoom. We highly recommend researchers and health care professionals attend. We also welcome students, educators and the general public to attend this valuable conference. Seating is limited, so please register in advance to guarantee your place.
*All in-person attendees will be provided a complimentary lunch during the conference.
Registration
Register for the 3rd Annual reimagine Health Research Symposium on Thursday, January 21, 2021. Tickets are available to attend in-person or virtually.
Cost
Thanks to our generous sponsors, the Arizona Biomedical Research Centre and the Flinn Foundation, there is no cost to attend the symposium.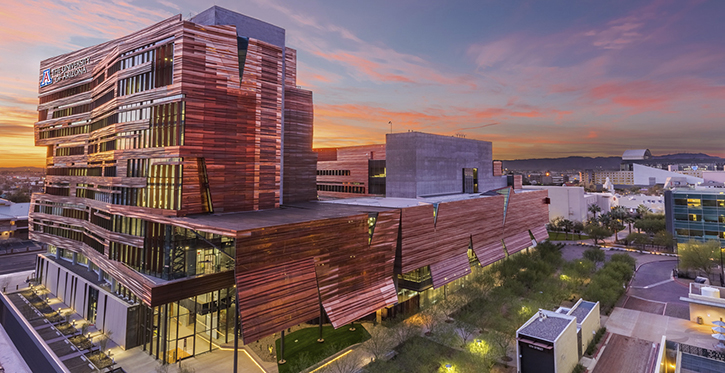 For those who choose to attend the symposium in-person, it will take place on the first floor of the Biomedical Sciences Partnership Building — 475 N. 5th Street, Phoenix, AZ 85004 — on the college's campus.
Parking
Please note that you must park in the *PBC Garage (555 E. Fillmore, Phoenix, AZ 85004, located at the Southeast corner of 5th St. and Fillmore) for us to have the ability to provide a ticket that will let you exit for free. Please keep the ticket received at the entrance, attendees will receive their pass to exit when signing in at the symposium.
Photography
A photographer will be on-site taking candid shots during the symposium. Registration allows us permission to take and use photos for future advertisements, brochures, etc.
WiFi and Electronic Devices
Complimentary WiFi will be available in the meeting room during the symposium. Electricity will be provided in the symposium room to keep electronic devices charged.
Nearby Hotel Accommodations
Contact
For questions about the symposium or to become symposium sponsor, please contact the Research Office.
Planning Committee