Symposium News
News
Symposium shed light on how biomarker discoveries can be applied to the treatment of diseases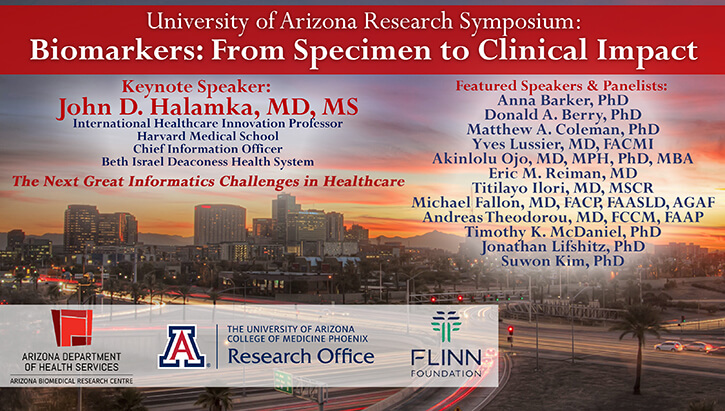 Symposium Objective
Comprehensive screening of large patient populations, using collaborative and integrative approaches, has the potential to improve health and health care delivery. Early detection, better health outcomes, strategies to decrease costs and insights from basic and translational research are shaping the growing field of precision medicine.
A contemporary wave of cell engineering techniques and cheaper high-throughput technologies are accelerating the discovery of new biomarkers for diagnosis, prognosis and treatment. Comprehensive programs that combine technology and information to screen large populations are critical to design, implement, adopt and scale actionable clinical practices that impact patient health.
The application of rigor is essential throughout biospecimen collection, pre-analytical processing, downstream selection of suitable algorithms for data analysis, reporting and management of the health care information to accomplish personalized medicine. Oversight of quality assurance, compliance and standardization provide the necessary data for informed decision making in the delivery of personalized health care.
In this symposium, interdisciplinary leaders from multiple institutions dove into the opportunities, capabilities, future trends and challenges of innovation in biomarker discovery. Attendees were treated to the future of therapeutic and diagnostics development, digital medicine and machine learning as large scale health delivery advances in the modern age.
Sponsors
The reimagine Health Research Symposium is co-sponsored and planned by the Arizona Biomedical Research Centre, the University of Arizona College of Medicine – Phoenix Research Office and the Flinn Foundation.
Keynote Speaker
John D. Halamka, MD
Chief Information Officer, Beth Israel Deaconess Health System
International Healthcare Innovation Professor, Harvard Medical School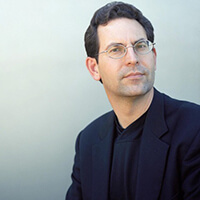 John D. Halamka, MD, is the chief information officer (CIO) at Beth Israel Deaconess System, chairman of the New England Healthcare Exchange Network (NEHEN) and a practicing emergency physician. He is also  the International Healthcare Innovation professor at Harvard Medical School.
Dr. Halamka completed his undergraduate studies at Stanford University, where he received a degree in medical microbiology and a degree in public policy with a focus on technology issues. He entered medical school at the University of California, San Francisco and simultaneously pursued graduate work in bioengineering at the University of California, Berkeley — focusing on technology issues in medicine. He completed his residency at Harbor–UCLA Medical Center in the Department of Emergency Medicine.
In his role at BIDMC, Dr. Halamka is responsible for all clinical, financial, administrative and academic information technology, serving 3,000 doctors, 12,000 employees and 1,000,000 patients. As chairman of NEHEN, Dr. Halamka oversees clinical and administrative data exchange among the payers, providers and patients in Massachusetts.
As a Harvard professor, he has served the George W. Bush administration, the Obama administration and national governments throughout the world planning their health care IT strategy. Dr. Halamka has authored five books on technology-related issues, hundreds of articles and thousands of posts on the popular Geekdoctor blog. He runs Unity Farm in Sherborn, MA and serves as caretaker for 150 animals, 30 acres of agricultural production, as well as a cidery/winery.
---
Symposium Speakers
Anna D. Barker, PhD
Director, Transformative Healthcare Knowledge Networks
Co-Director, Complex Adaptive Systems Initiative
Professor, School of Life Sciences, Arizona State University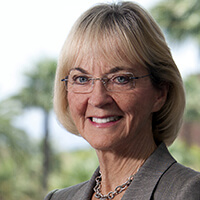 CAS at ASU creates knowledge networks to solve complex systems problems in biomedicine. Examples of current programs include the NBDA, a non-profit think tank that addresses major barriers in biomarker discovery and development, and the first global adaptive clinical trial for glioblastoma (GBM AGILE).
Prior to ASU, Dr. Barker served as the deputy director of the National Cancer Institute (NCI) — where she planned and implemented the: Nanotechnology Alliance for Cancer; The Cancer Genome Atlas (TCGA) with NHGRI; Clinical Proteomics Technologies Initiative for Cancer; Physical Sciences-Oncology Centers; and national programs in biospecimens and bioinformatics.
Before her work with NCI, Dr. Barker served as a research scientist and, subsequently, senior executive at Battelle Memorial Institute and as the co-founder and CEO of a public biotechnology company. She has received a number of awards for her work and service in cancer research. Her research interests include CAS, biomarker discovery and development, innovative clinical trials and free-radical biochemistry. She completed her PhD at Ohio State University.
---
Donald A. Berry, PhD
Professor, Department of Biostatistics, University of Texas MD Anderson Cancer Center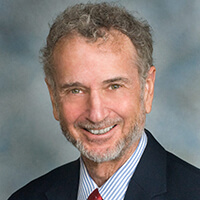 Donald Berry is professor in the Department of Biostatistics of the University of Texas MD Anderson Cancer Center. He received his doctorate in statistics from Yale University and has held endowed faculty positions at Duke University and MD Anderson.
He has designed and supervised the conduct of many innovative clinical trials, including adaptive Bayesian trials in cancer and other diseases. A principal focus of his research is the use of biomarkers for learning which patients benefit from which therapies, based on genomics and phenotype.
In particular, he designed and is a co-PI of I-SPY 2​ and GBM-AGILE​, Bayesian adaptive platform clinical trials in high-risk early breast cancer and glioblastoma, respectively.
He has authored many books on biostatistics and more than 400 peer-reviewed articles. He is a Thomson Reuters Highly Cited Researcher in recognition of ranking among the top one percent of most cited researchers in clinical medicine.
He has received numerous research grants from the NIH and NSF and is fellow of the American Statistical Association and of the Institute of Mathematical Statistics. He is founder and co-owner of Berry Consultants, a company that designs innovative clinical trials for industry, cooperative groups, international consortia and patient advocacy groups.
Matthew Coleman, PhD
Senior Scientist, Biosciences and Biotechnology Division, Lawrence Livermore National Laboratory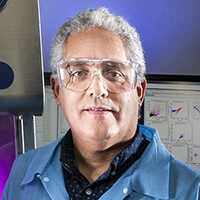 Dr. Matthew Coleman is currently an adjunct professor at the University of California, Davis in the Department of Radiation Oncology and a member of the NIH-funded Cancer Center.
Dr. Coleman also holds a scientific appointment as a senior scientist at the Lawrence Livermore National Laboratory in Livermore, California.
Dr. Coleman's research focuses on understanding the processes involved in genome instability following genotoxic stresses, such as ionizing radiation. Dr. Coleman's research also studies novel approaches in nanotechnology using nanolipoproteins to help characterize biological components involved in cell signaling.
Dr. Coleman's training is in molecular biology. He received his BA in that subject from the University of Massachusetts and his PhD in biophysical studies of membrane proteins from Boston University.
He has authored over 100 publications in peer-reviewed journals, published proceedings and book chapters covering a diverse breadth of molecular biology and biochemistry. Dr. Coleman has seven patents related to biomarker discovery and biotechnology.
Yves A. Lussier, MD, ACMI
Associate Vice President for Health Sciences and Chief Knowledge Officer
Executive Director, Center for Biomedical Informatics and Biostatistics, University of Arizona Health Sciences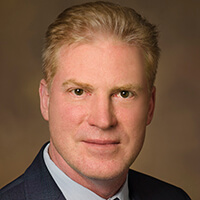 Dr. Lussier is the associate vice president for Information Science and chief knowledge officer of the UArizona Arizona Health Sciences, founding director of the Center for Biomedical Informatics and Biostatistics and a professor of Medicine.
He received a bachelor of engineering and his medical degree from the University of Sherbrooke, Quebec, Canada. He performed predoctoral research in the Departments of Medicine and Human Physiology at the University of Sherbrooke and then completed an internship in ophthalmology at Laval University Hospital in Quebec City; he also completed a residency in family medicine at the University of Sherbrooke Medical Center. He was a postdoctoral residential fellow in the Department of Biomedical Informatics in the College of Surgeons and Physicians at Columbia University.
Dr. Lussier's research group conducts pioneering hypothesis-driven computational modeling predictions in precision medicine that are then validated in vitro, in vivo and in clinical trials.
As a leader of the fields of translational bioinformatics and of Data Science-augmented precision medicine, he has launched successful companies and international conferences, authored 185 publications and delivered more than 100 invited presentations in precision medicine, systems medicine and translational bioinformatics — including 21 opening keynotes at international conferences.
He has been awarded $190,000,000 in grants as principal, core leader, or co-investigator, and mentored 53 graduate and postgraduate students, as well as 40 junior faculty members.
Dr. Lussier's honors include: three IBM Faculty Awards; being an inducted Fellow of the American College of Medical Informatics (ACMI); being named the first recipient of the Columbia University Faculty Mentoring Award; being selected as an "Ambassador for Health Sciences" at the University of Sherbrooke (Canada); as well as receiving 16 outstanding publication awards from the American Medical Informatics Association (AMIA), the International Society for Computational Biology (ISCB) and the Translational Bioinformatics Conference (TBC).
In 2016, Dr. Lussier was among ten USA academic leaders invited by the White House for its Precision Medicine Summit, where the University of Arizona Center for Biomedical Informatics and Biostatistics — that he directs — has committed $20 millions of research and development toward bringing precision medicine to practice.
---
Promotional Video
Jonathan Lifshitz, PhD, Director, Translational Neurotrauma Research Program, University of Arizona College of Medicine – Phoenix
Committee
Michael E. Berens, PhD – Deputy Director, Research Resources, Translational Genomics Research Institute.
Paul Boehmer, PhD – Committee Chair, Interim Associate Dean for Research, University of Arizona College of Medicine – Phoenix.
Jennifer Botsford, MSPH – Program Director, Arizona Biomedical Research Centre.
Deborah Dahl – Vice President, Innovation, Banner Health.
Titilayo Ilori, MD, MSCR – Associate Director, Global Health Institute, University of Arizona, Medical Director, All of Us Research Program Phoenix.
Jonathan Lifshitz, PhD – Director, Translational Neurotrauma Research Program, University of Arizona College of Medicine – Phoenix.
Mary O'Reilly, PhD – Vice President, Bioscience Research Programs, Flinn Foundation.
George Poste, DVM, PhD – Chief Scientist, Complex Adaptive Systems Regents' Professor and Del E. Webb Chair in Health Innovation, Arizona State University.
Casey Sapio – Program Coordinator, Sr., University of Arizona College of Medicine – Phoenix.
Bernadine Sadauskas, MSCRM, CRA – Department Administrator, University of Arizona College of Medicine – Phoenix.
Shenfeng Qiu, PhD –  Associate Professor, Department of Basic Medical Sciences, University of Arizona College of Medicine – Phoenix.
Frederic Zenhausern, PhD, MBA – Director, Center for Applied NanoBioscience and Medicine, University of Arizona College of Medicine – Phoenix.