Didactics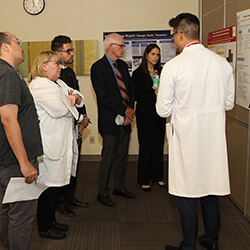 Didactic conferences are held on Thursday and Friday mornings. All residents are required to attend, unless they are in Alaska on rotation or on vacation. Thursday morning conferences cover a wide array of surgical topics. The residents are given an assigned reading ahead of the lecture. The readings for the senior residents are from a textbook such as Schwartz Principles of Surgery. By the end of their chief year, each resident will have worked through the entire textbook.
The readings for the junior residents are from Scientific American. All residents have access to SCORE and are given additional assigned SCORE modules every week to supplement their core reading assignments.
The lectures are given by an expert in the field. The style for lecture ranges from PowerPoint presentations to oral board style questioning. Friday morning conferences are, for the most part, resident presented. The first half of the conference serves as a clinical correlation for the reading for that week. This is usually in the form of case presentations relevant to the topic. The second half of Friday morning conferences are mini-Grand Rounds presentations given by the junior residents, mock orals or other needed presentations. A small sample schedule for Thursday morning conferences is below.
Sample Schedule
Date
Topic(s)
Presenter(s)

2/23/2017

Competency Week One: Research – Trial Design

Gerkin

3/2/2017

Appendix

Pediatric Surgical Patient

Keric

Lacey

3/9/2017

Lower GI Bleeding

Elderly Surgical Patient

Calcote

Sisley

3/16/2017

Colon Cancer

Immunocompromised Patient

Brown

Feinstein

3/23/2017

Rectal Cancer

Thyroid/Parathyroid

Kim

Milas

3/30/2017

Hereditary Colon Cancer and Polyposis Syndromes

Pituitary/Adrenal

Runfola


Preston

4/6/2017

Anal Neoplasms

Esophagus

Brown

Perry

4/13/2017

Adrenal Disorders

Stomach

Perry

Preston

4/20/2017

Hyper-/Hypothyroidism

Small Bowel

Jyothinagatam

N. Patel

4/27/2017

Thyroid Nodule

Colon/Appendix/Rectum

Milas

Brown

5/4/2017

Neck Dissection

Gallbladder

Schellenberger

Keric

5/11/2017

Hyperparathyroidism

Liver/Portal System

Milas

Brink

5/18/2017
Competency Week Four: Research – Analyzing Data
K. Johnson
Morbidity and Mortality (M&m) Conference
M&M is held every Thursday morning at 7:00 a.m. following the didactic lecture for the week. All residents are expected to attend, except those in Alaska or on vacation. Residents are responsible for every patient they operated on the week prior. Residents turn in write-ups for any complications two days prior to M&M. If called to present, the residents will review what happened to their patient, why they think it happened, present a literature review relevant to the topic, as well as what they would do differently next time. The conference is meant to be educational.
Grand Rounds
Grand Rounds is held on Thursday mornings at 8:00 a.m. following M&M. The chief residents and fourth-year residents are all expected to present a Grand Rounds during the year. The remaining speakers are invited lecturers from within our institution, as well as from around the country.