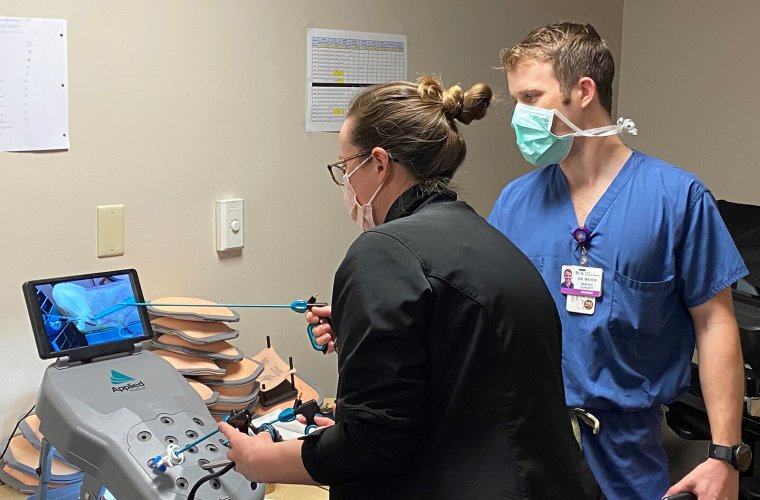 Overview
This is a longitudinal curriculum that stretches across all the years of residency. It is intended to teach and practice critical surgical skills in a safe, constructive environment that will translate to greater technical confidence and competence in the operating room. It follows the simulation curriculum guidelines developed by the American College of Surgeons (ACS), as well as the Association of Program Directors in Surgery (APDS). It incorporates curricula for Fundamentals of Laparoscopic Surgery (FES) and Fundamentals of Endoscopic Surgery (FES) in preparation for passing each exam required by American Board of Surgery for graduation.
Each session is led by expert faculty. In addition, PGY4 or PGY5 residents assist in teaching junior resident sessions. These sessions are held Thursdays from 10:00 a.m. to 12:00 p.m. Residents have 24-hour/day access to the simulation center to practice.
Topics and Skills
PGY1
Instrument identification.
Knot tying.
Suturing.
Ultrasound basics.
Central line placement.
Surgical biopsies.
Simsei modules.
Abdominal entry.
Camera navigation.
Laparoscopic instrumentation.
Laparoscopic tissue handling.
Surgical energy.
Laparoscopic suturing.
Laparoscopic cholecystectomy.
PGY2
FLS practice.
Introduction to endoscopy.
FAST Exam.
Neck ultrasound.
Airway management.
Intubation.
Cricothyroidotomy.
Percutaneous trach.
Open trach.
Laparotomy.
Skin grafting.
Bowel anastomosis.
Vascular anastomosis.
PGY3
FLS practice.
FES practice.
Laparoscopic colectomy.
Laparoscopic Nissen fundoplication.
Neck dissection.
Trauma/vascular scenarios.
Cadaver lab.
Pig lab.
---
PGY4
FES practice.
Trauma/vascular scenarios.
Cadaver lab.
Pig lab.
PGY5
Cadaver lab.
Pig lab.
Mock oral board practice.
Faculty
Dr. Amy Sisley.
Dr. Jennifer Preston.
Dr. Stephen Brown.
Dr. Jeromy Brink.
Dr. Mira Milas.
This is a standardized curriculum to guide surgical residents, fellows and practicing surgeons in the performance of basic laparoscopic surgery.
This is a standardized curriculum to guide medical and surgical residents, fellows, practicing general surgeons, gastroenterologists and other physicians to learn basic endoscopic skills required to form a foundation in the practice of flexible endoscopy.
This curriculum is designed to ensure fundamental knowledge for safe use of surgical energy-based devices in the operating room, endoscopic suite and other procedural areas. It is not currently required in our program, but is highly encouraged.
This curriculum component provides training to manage critically ill patients for the first 24 hours or until appropriate critical care consultation can be arranged. It is taken at the conclusion of the PGY1 year in preparation for the SICU rotation as a PGY2.
This program provides strategies for minimizing bile duct injuries.
Didactic curriculum for each of these surgical skills is available online and free of charge.