White Coat Profile: Nicole Falls
From Saturday and Summer Scrubs to Medical School
Meet Nicole Falls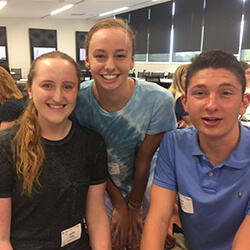 "I feel like I have come full circle," said Arizona native Nicole Falls, an incoming medical student in the Class of 2025. She graduated from Arizona State University with a bachelor's degree in Biochemistry and a minor in Spanish. Her journey to medical school — and her relationship with the University of Arizona College of Medicine – Phoenix — began more than six years ago when she participated in both the Saturday Scrubs and Summer Scrubs programs.
Saturday Scrubs is a free program that encourages Arizona high school students to explore their interest in becoming a physician with weekend programming on topics related to medicine and the human body. Summer Scrubs is a health career exploration program designed to help high school students prepare for a future in the health professions.
The exposure Falls received from both programs was invaluable to her and nurtured her interest in a medical career. As a high school freshman, she was initially denied admission into Summer Scrubs. She later completed Summer Scrubs as a high school junior and enjoyed the engagement with physicians and medical students. Falls shadowed health care professionals at a cardiology clinic and viewed a heart catheterization procedure. In 2019, while in college, she served as a Summer Scrubs camp counselor.
"I remember when I applied to medical school. I wrote in my application about how much being a Summer Scrubs counselor meant for me and for my personal growth. I just wanted to be that person for someone else and to be a resource for them. Now, as a medical student, I will have the opportunity to be part of the Saturday Scrubs program, which takes me back to where I started. Maybe I'll inspire someone who is in the exact same spot I was several years ago."
It was a college service trip to Ecuador with a group of surgeons that convinced her she set the right career goal.
"I remember volunteering to help with pre-op and post-op activities and that was when I knew there was nowhere else that I wanted to be. I had combined every one of my interests — medicine, Spanish and my love of culture and travel. I was also using my Spanish language skills to translate for the doctors and help communicate care plans back to the local patients," said Falls.
She counts her family as her biggest supporters and says her parents supported her educational goals. They are her inspiration.
"I think it is because they work so hard, and they have shown me how to be a hard worker. They have encouraged me to run toward the things I am passionate about and not worry about what anyone else is doing or thinking. The lessons I have learned from them have made me someone who is going to succeed hopefully in the future with whatever I end up doing," said Falls.
She is thrilled to start medical school and participate in the White Coat Ceremony. Looking ahead, she plans to practice in Arizona after she completes residency.
"Every year I would read about the students in White Coat Ceremony, and now I'm one of them. It's such an honor to be here. I think it is a combination of all of the hard work that we've done thus far on our journeys."
About the College
Founded in 2007, the University of Arizona College of Medicine – Phoenix inspires and trains exemplary physicians, scientists and leaders to optimize health and health care in Arizona and beyond. By cultivating collaborative research locally and globally, the college accelerates discovery in a number of critical areas — including cancer, stroke, traumatic brain injury and cardiovascular disease. Championed as a student-centric campus, the college has graduated 669 physicians, all of whom received exceptional training from nine clinical partners and more than 2,600 diverse faculty members. As the anchor to the Phoenix Bioscience Core, which is projected to have an economic impact of $3.1 billion by 2025, the college prides itself on engaging with the community, fostering education, inclusion, access and advocacy.