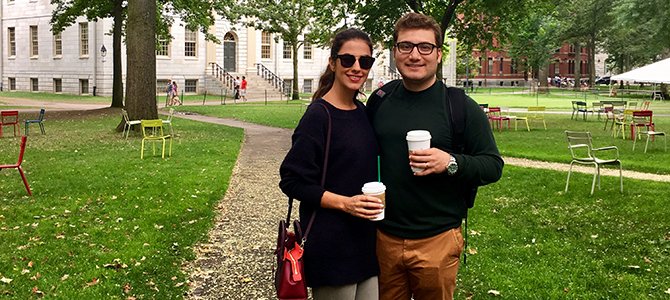 White Coat Profile: Amir Kaboodrangi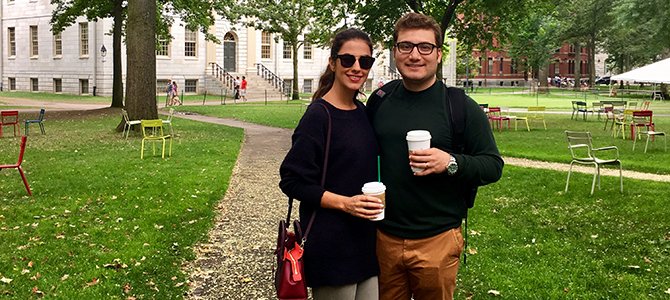 Growing Up in a Medically Disadvantaged Area, the First-Year Medical Student was Driven to Make a Difference
The White Coat Ceremony marks the first time a medical student will don his or her white coat, the defining symbol of a physician. The coat bestows a great honor on each student, and with it comes a responsibility to uphold the trust of every patient they will encounter. The Class of 2022 will receive their white coats on July 20 during a ceremony that begins at 3:30 p.m. at Symphony Hall in downtown Phoenix.
Meet Amir Kaboodrangi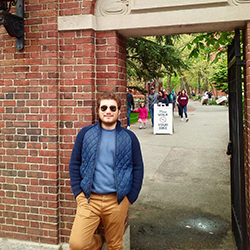 First-year medical student Amir Kaboodrangi was born in a small town northeast of Iran.
His interest in medicine is rooted in where he grew up. As a young boy, he dreamed big. No one in his family had ever gone to college, but he was determined to do so. The chance presented itself when he moved to the U.S. at the age of 19.
For Kaboodrangi, the U.S. presented unique opportunities — technology and cultural diversity, to name a few — that would allow him to pursue that dream of a world-class education.
Yet it would not all be easy. Immigrating to a new country posed its own set of obstacles. "I coped with a lot of challenges of assimilating to the culture, learning the language and financial difficulties," Kaboodrangi said. Despite those struggles, he never let them deter him. Kaboodrangi received both a bachelor's and master's in bioengineering from UCLA; he then went on to continue his research at Harvard, where he became the lead developer of a cost-effective and ergonomic sleep apnea monitoring device.
Following his time at Harvard, Kaboodrangi joined the, "Dalio Institute of Cardiovascular Imaging at Weill Cornell Medicine to take part in developing an artificial intelligence algorithm for an integrated visualization system for interventional cardiology procedures by fusion of Computed Tomography and fluoroscopic imaging modules."
Kaboodrangi's Interest in Medicine
Growing up in a medically disadvantaged area, Kaboodrangi never forgot how difficult it was for people to receive adequate care. Sometimes, people had to travel hours to see a doctor. "Having experienced and witnessed the inequality in access to health care, I see a missed opportunity to improve access to care in underserved communities. The inconvenient truth is that the global shortage of physicians and the skyrocketing cost of care will not allow everyone to access 'world-class' care provided at some institutions," he said.
One of his goals is to reach out to such populations through both direct clinical care and research.
His engineering education and research has provided him the technical tools for starting a successful research career and prepared him for medical school. He added that, "Studying medicine would give me the unique physician perspective needed to identify and understand specific areas of need and become a leader in developing low-cost and highly accessible medical devices."
Describe Your Volunteer Experiences
Kaboodrangi has spent time working with the Saturday Science Academy (SSA), which is a pipeline program of Charles Drew University with the mission of increasing the participation of minorities, mostly African-American, in STEM fields.
Through that program, he taught students math and science, mentored them through high school and college applications, and even went on field trips and played sports with them.
For Kaboodrangi, his experience with SSA was quite meaningful. He built strong relationships with the students and was also given insight into their culture.
With his four-year medical school journey now underway, he is excited to continue working with the community.
Why Did You Choose the College of Medicine – Phoenix?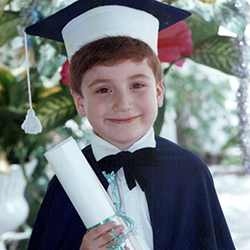 The College of Medicine – Phoenix was his top choice for medical school. "On interview day, Dean Reed personally welcomed us and introduced us to the innovative curriculum, the scholarly project and the collaborative world class clinical training programs of the college, which absolutely reaffirmed my interest," he said.
He also noted that, "Speaking with the medical students in the program was humbling and reassuring. I found that the small class size and the collaborative spirit among the students and faculty sprouted a synergistic environment, which fits well with the atmosphere I hope to be trained in as a physician."
In addition to the culture, Kaboodrangi felt the InnoVention biomedical technology center at the college, "was a great opportunity to continue my interests in medical device development and to exercise the wide range of skills I acquired from my previous research experiences in an effective way."
Attending medical school in Phoenix came with one additional, and very important, benefit: staying close to his wife, a third-year dental student at Midwestern University.
What Does the White Coat Mean to You?
The "white coat is a symbol that recognizes my duty to promote health and make a positive change in society, to serve and advocate for patients, as well as heal them physically, emotionally and mentally to my best, independent of their personal and social background," he said.
Be a part of this storied tradition by becoming a White Coat Sponsor today! Your generous gift will provide one of these future physicians with their white coat.
About the College
Founded in 2007, the University of Arizona College of Medicine – Phoenix inspires and trains exemplary physicians, scientists and leaders to optimize health and health care in Arizona and beyond. By cultivating collaborative research locally and globally, the college accelerates discovery in a number of critical areas — including cancer, stroke, traumatic brain injury and cardiovascular disease. Championed as a student-centric campus, the college has graduated 500 physicians, all of whom received exceptional training from nine clinical partners and more than 2,000 diverse faculty members. As the anchor to the Phoenix Biomedical Campus, which is projected to have an economic impact of $3.1 billion by 2025, the college prides itself on engaging with the community, fostering education, inclusion, access and advocacy.