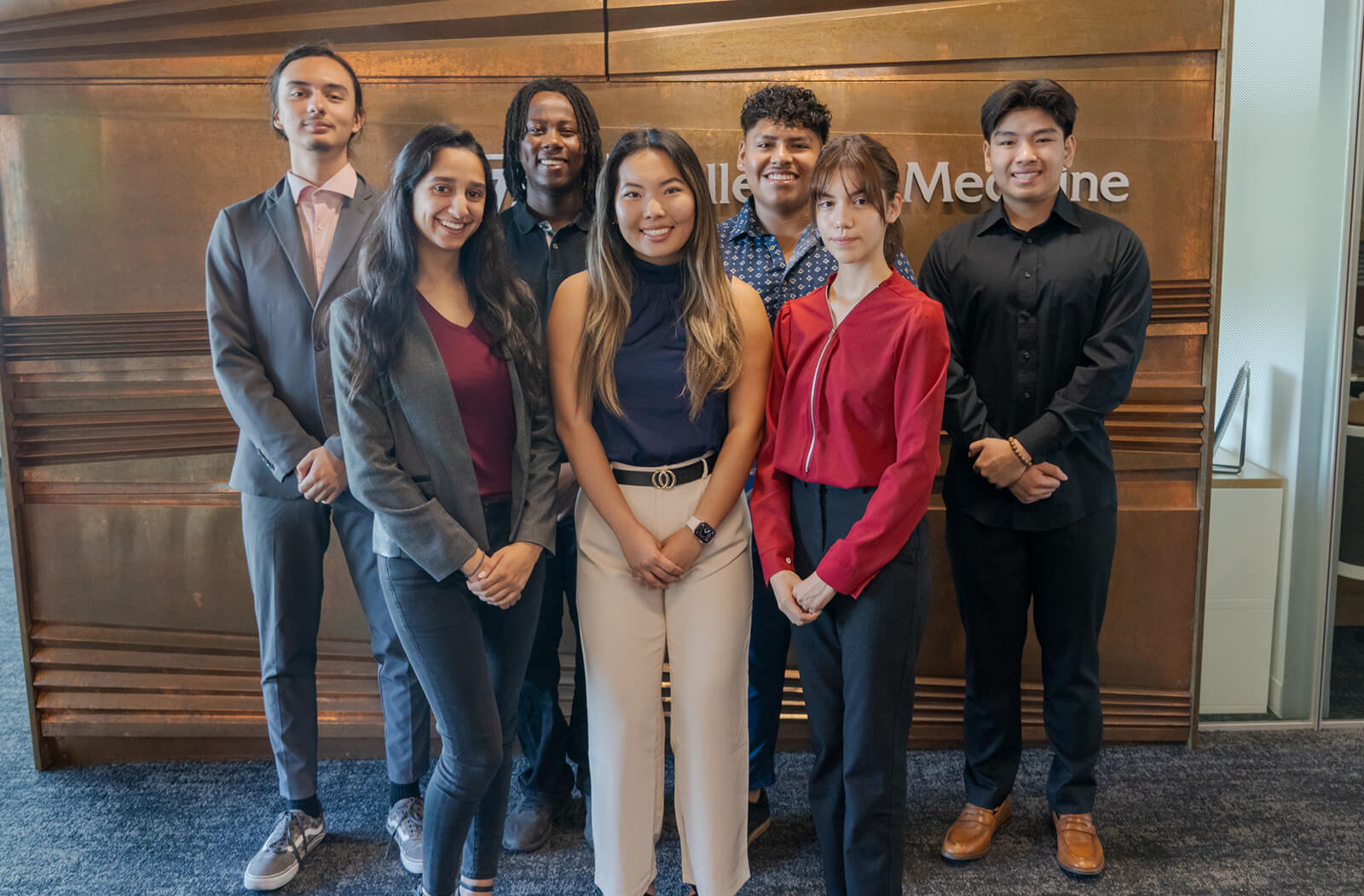 Flinn Foundation Summer Internship Pairs Researchers with Aspiring Medical Students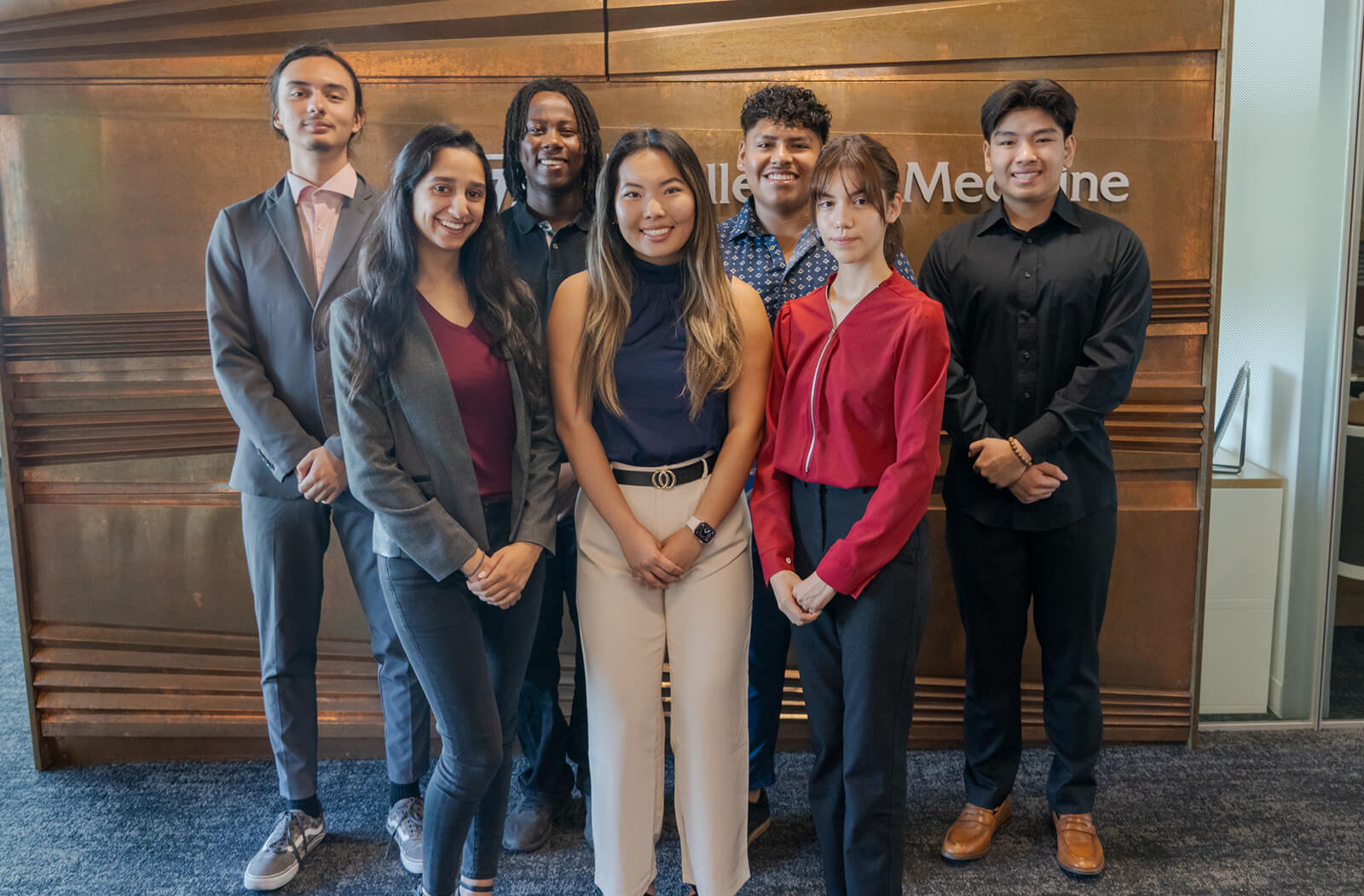 Faculty and researchers pay it forward, mentoring prospective medical students through hypothesis-driven research
A primary focus of the University of Arizona College of Medicine – Phoenix is to improve the health of Arizonans by inspiring and training the next generation of physician-scientists. As part of its mission, the college partnered with the Flinn Foundation to host the inaugural Flinn Foundation Summer Internship Program May 15 to July 14.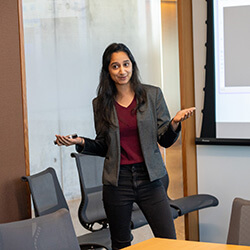 Seven undergraduate students, who aspire to purse health professions, were paired with researchers from departments across the college to develop hypotheses and conduct research projects to explore their interests.
Dean Guy Reed, MD, MS, who served as one of the mentors, noted how invaluable the program was for their growth as students, "It was an unparalleled opportunity for interaction with physicians, scholars and educators in an informal environment that emboldened them to ask questions and build genuine connections."
The paid internship focused on hypothesis-driven research, but it also featured bi-weekly lunch and learn sessions — where the ambitious interns engaged with renowned physicians/researchers from the college — to further their development.
The eight weeks of work culminated with a symposium of individual presentations, featuring research that ranged from pulmonary arterial hypertension to cervical and endometrial cancers to traumatic brain injury.
Some of the mentors and interns shared their experiences.
Erik Blackwood, PhD, and Amy Cai
Erik Blackwood, PhD, is a research assistant professor of Internal Medicine at the college, as well as an active member of the Translational Cardiovascular Research Center (TCRC). His intern, Amy Cai, is a rising junior at Arizona State University (ASU), majoring in biochemistry and minoring in business and data science.
Their research — part of a large, ongoing project — focused on role of the kinase, SGK1, in promoting unhealthy heart growth that leads to the development of heart failure.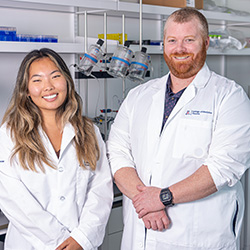 "Knowing Amy's background interests and skillset, we were able to find her a niche in this project where she could significantly contribute valuable datasets by examining heart growth and remodeling after we genetically manipulated SGK1 expression," Dr. Blackwood said. "We focused her background in literature review on relevant cardiac physiology and specific cell and molecular signaling events related to SGK1 such that she quickly could take her discoveries and put them into the context of the larger project."
Cai felt the experience was both informative and valuable. "It [the internship] provided me with interactive hands-on experience and exposure to a research environment that fosters positive team-building skills and great networking opportunities," she said. "I was able to work with experienced individuals who built an effective and accepting learning environment for me. Under their guidance, I was able to expand on my abilities and push my knowledge to new heights."
She was also complimentary of how Dr. Blackwood helped her acclimate to the lab ecosystem and be comfortable in seeking guidance. "He created an accepting environment that gave me constructive feedback," she said. "He went over new methodologies in a very judgement-free and helpful way, while ensuring that I was learning the scientific reasoning and concepts behind the procedures."
Dr. Blackwood reflected fondly upon the experience, as well, expressing how beneficial it would have been as a young researcher to have had such an opportunity. "Amy [Cai] immediately found her place in the team, and our time invested in mentoring her paid off as she is now a regular member of our lab and will continue working with us as her academic year starts," he said.
Upon graduating, Cai seeks to join an MD/PhD program and specialize in the field of cardiology. "I hope to give back to my community by serving the underrepresented populations through my experiences and background," she said. "I would love to conduct research in hopes of improving people's lives."
---
Zhiyu Dai, PhD, and Rogelio Miranda Mora
Zhiyu Dai, PhD, an assistant professor of Internal Medicine and member of the TCRC, was paired with Rogelio Miranda Mora, a rising sophomore at Duke University. Mora is majoring in both Spanish and biology, as well as minoring in chemistry.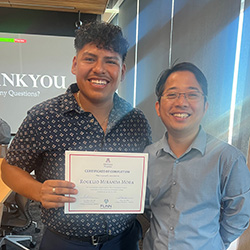 Their research project sought to determine whether senescence is present in pulmonary arterial hypertension. Mora's role was to identify molecular markers for cellular senescence using multiple approaches, including quantitative PCR assay, Western Blotting assay and immunostaining analysis on the disease model.
"Training new researchers fosters a culture of innovation, encouraging them to explore new areas, test novel hypotheses and develop cutting-edge therapies," Dr. Dai said. "Witnessing their growth and achievements is personally fulfilling."
Mora's reflections on the experience mirrored that statement. "The internship benefited me by closing the gap between academic learning and the actual practice of research. It helped me develop and refine some essential research skills — like data collection and analysis, critical thinking and communication skills," he said.
Mora added that, "Working with an experienced researcher and mentor provided me with feedback on my work, advice on navigating my research career, as well as how to grow my network for future opportunities."
In the end, the process prompted him to shift his future focus. Originally, Mora only planned to pursue an MD, but will now seek to obtain a PhD, as well.
---
Melissa Herbst-Kralovetz, PhD, and Eiven Mugo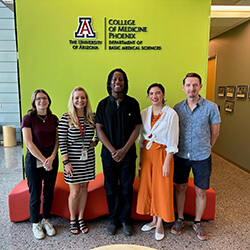 Melissa Herbst-Kralovetz, PhD, professor in the Departments of Basic Medical Sciences and Obstetrics and Gynecology, mentored Eiven Mugo, a rising sophomore at ASU. Mugo is studying biomedical engineering and is in Barrett, the Honors College.
Together, they partnered on two projects — one related to culturomics, analyzing samples collected from patients with gynecologic cancer to identify bacterial growth, and one centering on metabolomics, the scientific study of the set of metabolites present within an organism, cell or tissue. "Eiven made great progress on both projects that melded the wet bench microbiology with bioinformatics," said Dr. Herbst-Kralovetz.
More important, she found the experience of mentoring to be profoundly impactful. "It is so important to train the next generation of researchers as they will be making advances for health and the physicians are the ones that will be taking care of us in the future," she said. "It is incredibly rewarding process of contributing to the growth and development of these future scientists and physicians and personally to expand their knowledge and insights on women's health."
For Mugo, the internship was his first proper research experience, and it helped to open his eyes to future possibilities. "Initially, my future goal was to go into neurosurgery, but this experience has widened my perspective on other career paths," he said. "Specifically, with research, I am much more interested in doing something like industry for biomedical engineering, which would combine the lab setting with work that would be closer to my major."
He added, "If possible, I would also want to pursue medical school — now with a more exploratory mindset instead of being so dead-set on neurosurgery."
---
Amelia Gallitano, MD, PhD, professor in the Departments of BMS and Psychiatry, Tim Marlowe, assistant research professor in the Department of Internal Medicine, and Theresa Currier Thomas, PhD, associate research professor in the Department of Child Health, also served as mentors for the program. The program was coordinated by Elizabeth Bornstein, research program manager with the College of Medicine – Phoenix.
If you are interested in participating in next year's Flinn Foundation Summer Internship, please contact Elizabeth Bornstein.
About the College
Founded in 2007, the University of Arizona College of Medicine – Phoenix inspires and trains exemplary physicians, scientists and leaders to optimize health and health care in Arizona and beyond. By cultivating collaborative research locally and globally, the college accelerates discovery in a number of critical areas — including cancer, stroke, traumatic brain injury and cardiovascular disease. Championed as a student-centric campus, the college has graduated more than 800 physicians, all of whom received exceptional training from nine clinical partners and more than 2,700 diverse faculty members. As the anchor to the Phoenix Bioscience Core, which is projected to have an economic impact of $3.1 billion by 2025, the college prides itself on engaging with the community, fostering education, inclusion, access and advocacy.