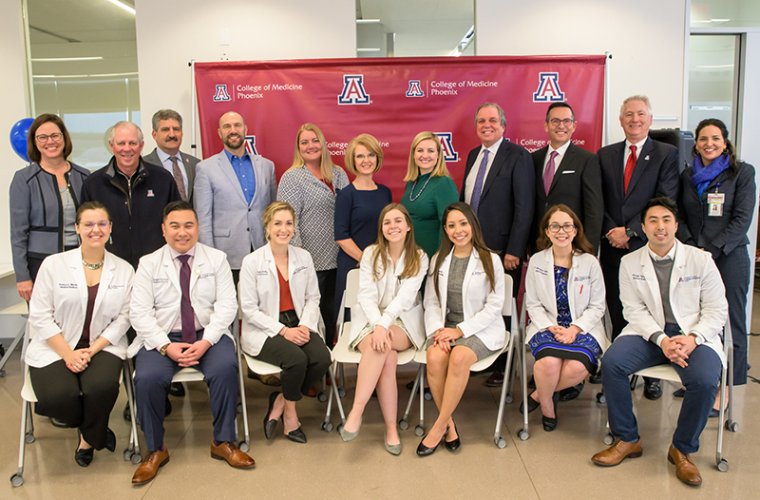 Eight Medical Students Awarded Primary Care Physician Scholarships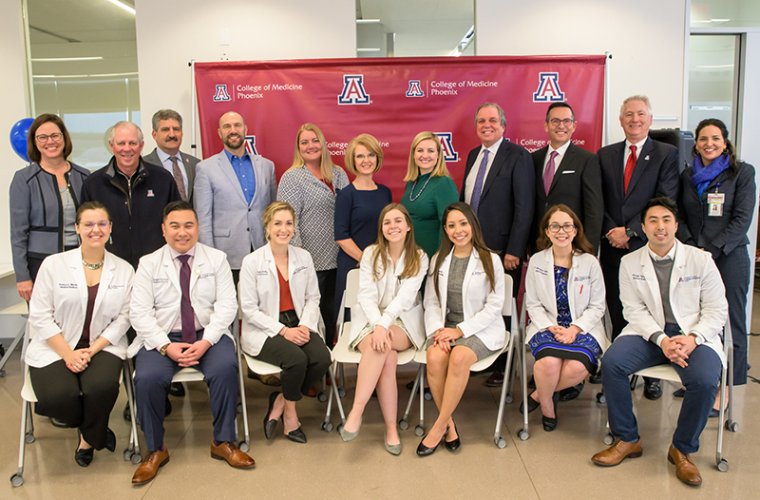 College of Medicine – Phoenix Hosts Reception Honoring Students Committed to Primary Care
The outlook for primary care in Arizona became a little brighter this week when eight students from the University of Arizona College of Medicine – Phoenix were introduced as the first recipients of the Primary Care Physician Scholarship.
Kathryn Blevins (MS1), Merrion Dawson (MS2), Megan Kelly (MS4), Alicia Leslie (MS3), George Nguyen (MS4), Jasper Puracan (MS3), Abigail Solorio (MS1) and C. Maryssa Spires (MS2) have committed to serving as primary care physicians in underserved areas of the state following their residency training.
The program, announced in November 2019, was developed in partnership with and funded by a portion of $8 million allocated by the Arizona Legislature and paid for by the state of Arizona. Once fully implemented, about 100 students from the Colleges of Medicine in Phoenix and Tucson could receive tuition reimbursement.
State, city of Phoenix and University of Arizona dignitaries, as well as family and friends attended a special reception Jan. 29 honoring the inaugural awardees at the Phoenix Biomedical Campus.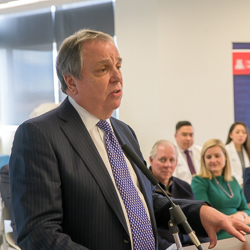 "This was an incredible win at the Arizona Legislature, and it took everybody coming together," said Robert C. Robbins, MD, president of the University of Arizona. "The primary thing was to make sure that we keep our brightest and best physicians here in Arizona."
More than 600 primary care doctors are needed immediately to overcome the shortage of physicians in the state, and by 2030, Arizona will need an additional 1,900.
Michael Dake, MD, senior vice president of the University of Arizona Health Sciences, told the audience that announcing the primary care scholars "is clearly the proudest moment I've had in the two years I've been at UA."
"This is a small effort, but it's something that will have a large impact," he said. "This is a momentous day and for this class, you have much to be proud of. In the future, your family will look at all of your accomplishments, but this will be something that is written down in the history of this school and the UA for years to come."
Arizona State Senator Heather Carter, EdD, associate director for the Arizona Center for Rural Health and an assistant professor of practice in the Mel and Enid Zuckerman College of Public Health, applauded the speed with which the university was able to implement the program.
"This is the first time I've been able to witness an idea go from concept development, to introduction, to legislation, to making it to the state budget, to appropriating state dollars, to be handed off to the university, to be created as a program, to actually awarding the scholarship in one year," she said. "That is light speed for government."
Carter said she championed the program because she wanted to ensure that medical students interested in serving the state's most vulnerable populations do so without the crushing student debt many medical students face after graduation.
"This will provide a path for those students to be able to engage in the work they love," she said. "We are excited about the great work you are going to do in the state."
Phoenix Mayor Kate Gallego underscored the need for primary care physicians, saying Phoenix has only 40 percent of the primary care doctors the metro area needs.
"When Phoenix voters approved the investment in the biomedical campus, this was exactly the kind of day they hoped would come. We need you to stay in our community, and we are thrilled that it will be a little easier to do so," she said.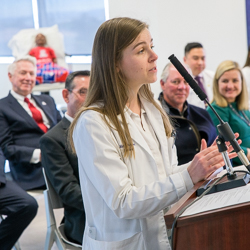 The program is part of the University of Arizona's commitment to remove financial and geographic barriers to education and health care access. Student recipients receive up to four years of tuition reimbursement for committing to serve up to four years as a primary care physician in a federally designated underserved area of the state. For purposes of the program, primary care includes geriatric medicine, general internal medicine, family medicine, pediatrics, psychiatry or obstetrics/gynecology.
College of Medicine – Phoenix Dean Guy Reed, MD, MS, said he was inspired by the students' commitment and dedication. "The very best medical students are not only those who have the intelligence, drive and commitment to master the science of medicine, but they have outstanding compassion, integrity and talent that will allow them to commit a lifetime of service to transforming the communities they serve as healers and leaders," he said.
Second-year student Merrion Dawson spoke for all the scholarship recipients, saying the program is important in incentivizing students to choose a career as a primary care physician.
"It shows me that the school is supporting me, and the state is supporting us," she said. "I am thankful to be a part of a state and part of a school that cares about us so much and understands the importance of primary care."
On Jan. 31, 21 students from the College of Medicine – Tucson were introduced.
Recipients of This Year's Scholarship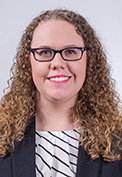 Alicia Leslie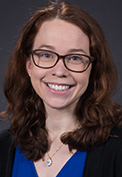 C. Maryssa Spires
About the College
Founded in 2007, the University of Arizona College of Medicine – Phoenix inspires and trains exemplary physicians, scientists and leaders to optimize health and health care in Arizona and beyond. By cultivating collaborative research locally and globally, the college accelerates discovery in a number of critical areas — including cancer, stroke, traumatic brain injury and cardiovascular disease. Championed as a student-centric campus, the college has graduated 669 physicians, all of whom received exceptional training from nine clinical partners and more than 2,600 diverse faculty members. As the anchor to the Phoenix Bioscience Core, which is projected to have an economic impact of $3.1 billion by 2025, the college prides itself on engaging with the community, fostering education, inclusion, access and advocacy.