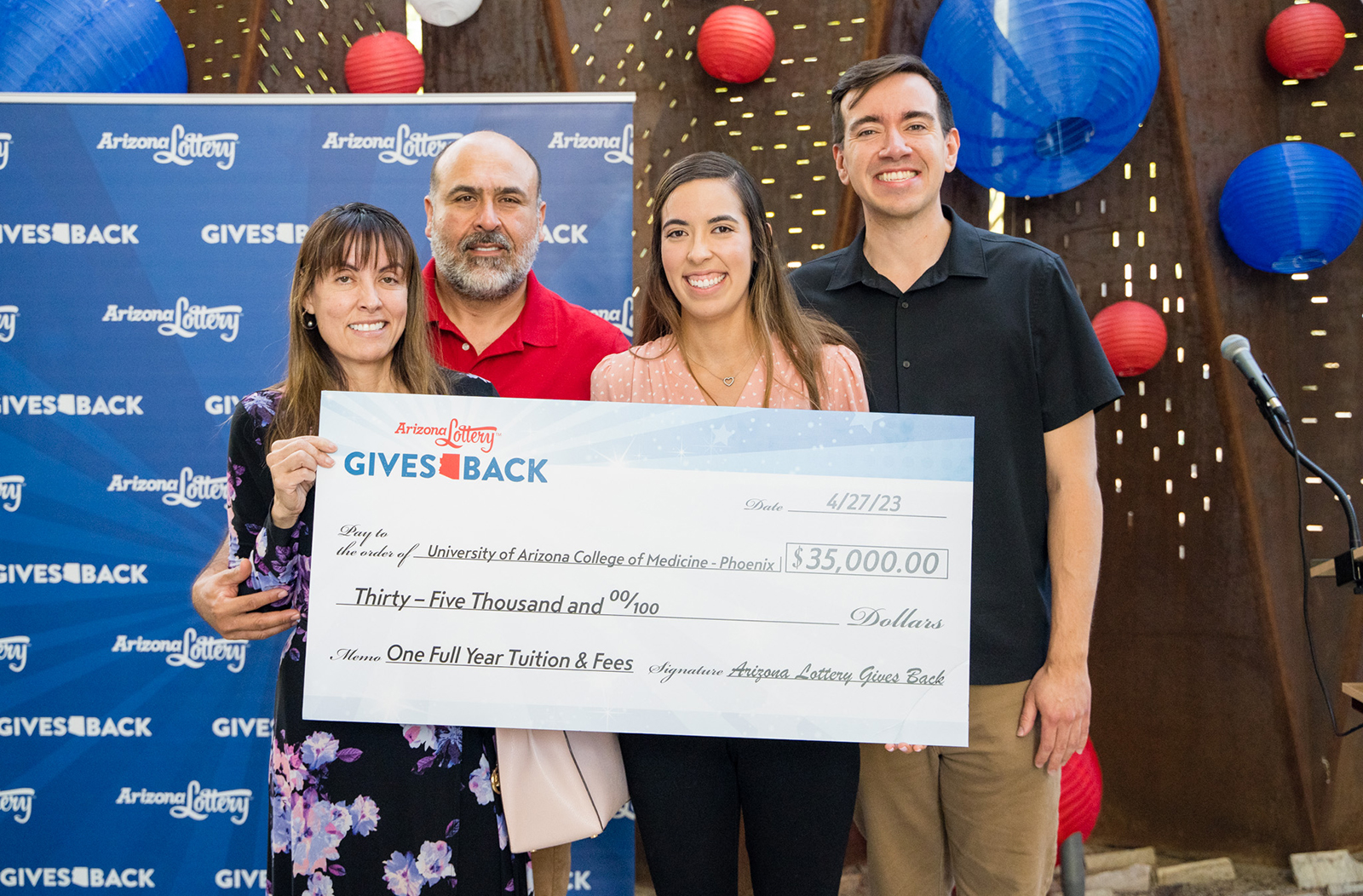 Fourth-Year Medical Student Awarded $35,000 Scholarship from the Arizona Lottery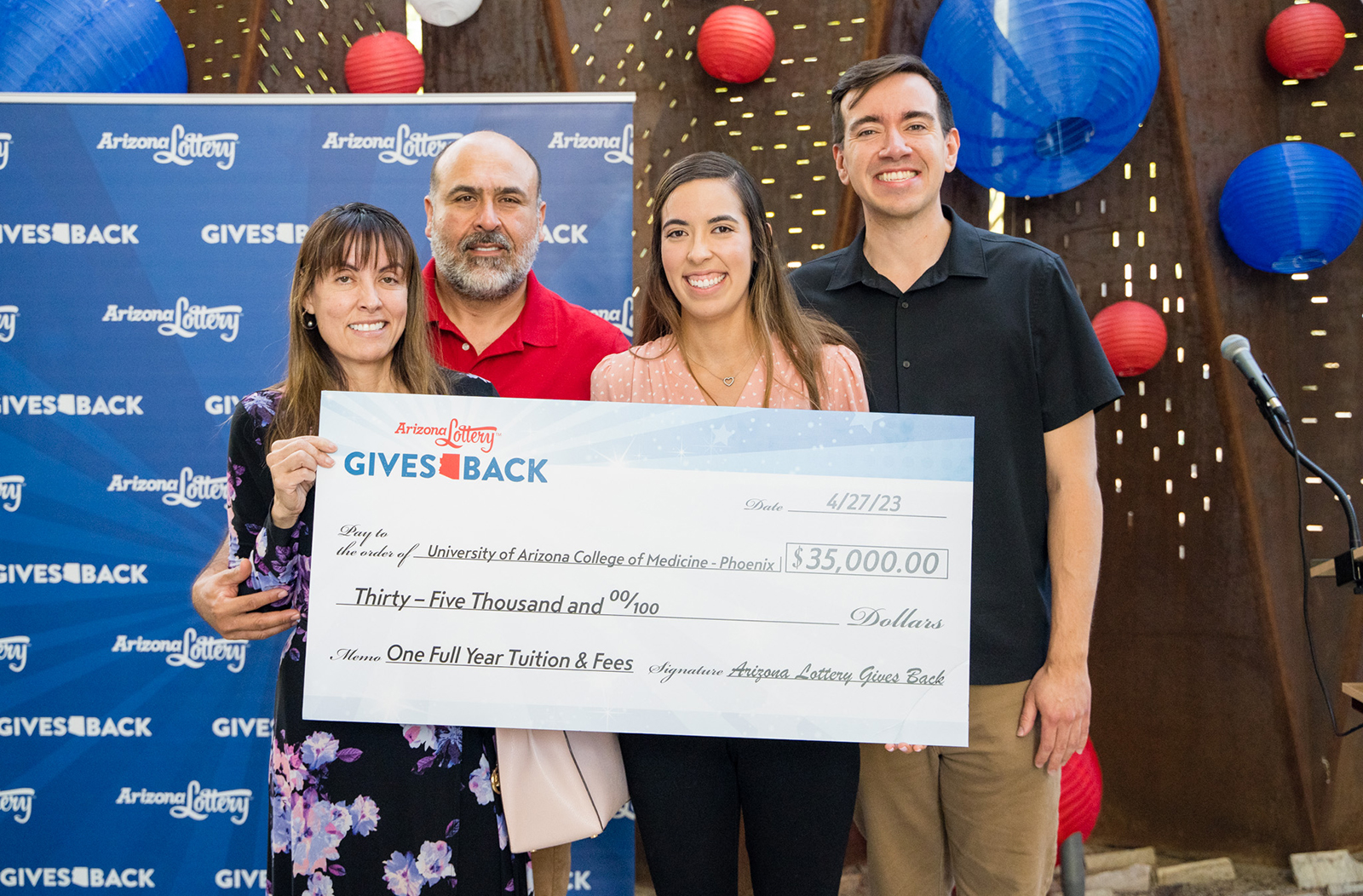 Amaris Tapia, who is dedicated to serving the communities of Arizona, received the award in a surprise ceremony on the college's campus
Thursday, April 27, Amaris Tapia — a fourth-year medical student at the University of Arizona College of Medicine – Phoenix — unknowingly walked into the surprise of a lifetime. Flanked by cheerleaders from the University of Arizona, Tapia entered the Grand Canyon of the Biomedical Sciences Partnership Building to cheers and applause.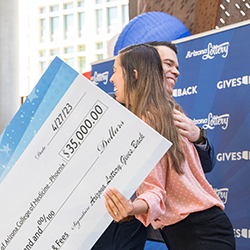 Confusion, quite clearly, set in, especially as she was welcomed to the podium by Arizona CBS 5 news anchor Yetta Gibson, who emceed the event. But in the moments to follow, the crowd, cameras and clapping would come into focus. Tapia was awarded a $35,000 scholarship from the Arizona Lottery in front of her parents, fiancé, future colleagues and college mentors.
Alec Esteban Thomson, executive director of the Arizona Lottery, introduced Tapia, complimenting her passion for medicine and helping those in need. "It is clear that Amaris understands the value of giving back to her community," he said. "We are proud that the Arizona Lottery can support individuals like Amaris … Thank you for the opportunity to play a small part in your mission to provide outstanding care to Arizonans."
Each year, the Arizona Lottery dedicates *hundreds of millions of dollars to programs, organizations and individuals who are making a difference in the state.
---
---
Tapia is the third medical student from the College of Medicine – Phoenix to receive the scholarship, which is part of their Gives Back program. The gift is indicative of the Arizona Lottery's continued support of higher education by assisting future physicians who are dedicated to helping improve the health of Arizona's communities, notably the underserved.
It is estimated that medical students in the U.S. graduate from medical school with an average of $200,000 in student loan debt. That amount can take up to 50 years to pay off. This scholarship helps to ease some of that burden. In addition, it helps to address Arizona's pressing physician shortage by encouraging students to practice in the state that they trained.
Stephanie Briney, DO, associate dean of Student Affairs, expressed the qualities that make Tapia such an exceptional medical student. "Amaris is a terrific example of the brilliant servant-leaders we prepare to be compassionate physicians," she said. "She is committed to caring for the most vulnerable among us."
Tapia — a first-generation college graduate — was deeply appreciative to receive the scholarship. Still in shock from the surprise, she could barely find the words to express her gratitude. "I feel amazed. I feel like this is a dream," she said. "I am beyond grateful to have received the Arizona Lottery Gives Back Scholarship. It means the world to me to have this financial award as I begin my career as a doctor and pursue my vision for providing care for underserved communities in Arizona as a pediatrician. Thank you so much for all of the support and love."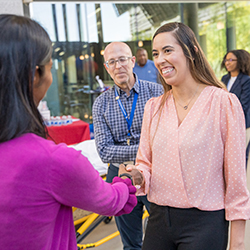 In her time with the college, Tapia has prioritized helping patients in the state she grew up in. She participated in the Primary Care Scholars Certificate of Distinction — a mentoring and scholarship program that prepares students to be leaders in primary care fields. That program seeks to bridge the widening need for primary care physicians (PCPs) in Arizona. Currently, Arizona needs nearly 600 additional PCPs — particularly in rural and underserved areas — a number that is predicated to grow to more than 2,000 by 2030.
She also completed a six-month Longitudinal Integrated Clerkship program in Payson, Arizona. Through that training, Tapia was able to build lasting relationships with the patients she served. From pre-natal visits to labor and delivery to pediatric check-ups with newborns, she was truly a part of their care across the medical continuum.
All these experiences have further deepened her desire to serve families who face significant barriers to medical care. "I have this dream of serving underserved communities in Arizona," she said. "Whether it is rural or urban, I definitely know I want to serve patients who need the most care and support from the medical community." She will continue to fulfill that mission as she begins her residency in pediatrics at Phoenix Children's this summer.
Video and Photos
Learn more about contributing to medical student scholarships
*This fiscal year alone, the Arizona Lottery provided almost $24 million in funding to support the health and wellbeing of Arizonans as part of their Gives Back initiative. This is done in coordination with the Arizona Department of Health Services' Healthy AZ initiatives. 
About the College
Founded in 2007, the University of Arizona College of Medicine – Phoenix inspires and trains exemplary physicians, scientists and leaders to optimize health and health care in Arizona and beyond. By cultivating collaborative research locally and globally, the college accelerates discovery in a number of critical areas — including cancer, stroke, traumatic brain injury and cardiovascular disease. Championed as a student-centric campus, the college has graduated more than 800 physicians, all of whom received exceptional training from nine clinical partners and more than 2,700 diverse faculty members. As the anchor to the Phoenix Bioscience Core, which is projected to have an economic impact of $3.1 billion by 2025, the college prides itself on engaging with the community, fostering education, inclusion, access and advocacy.