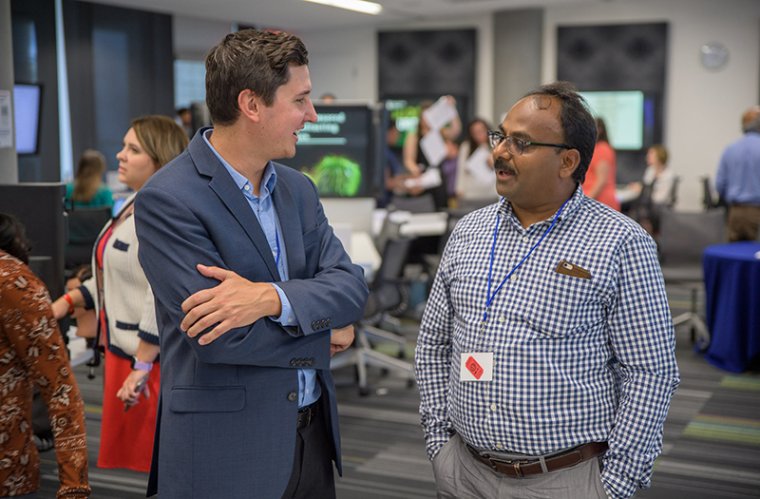 Research Open House Welcomes 136 Attendees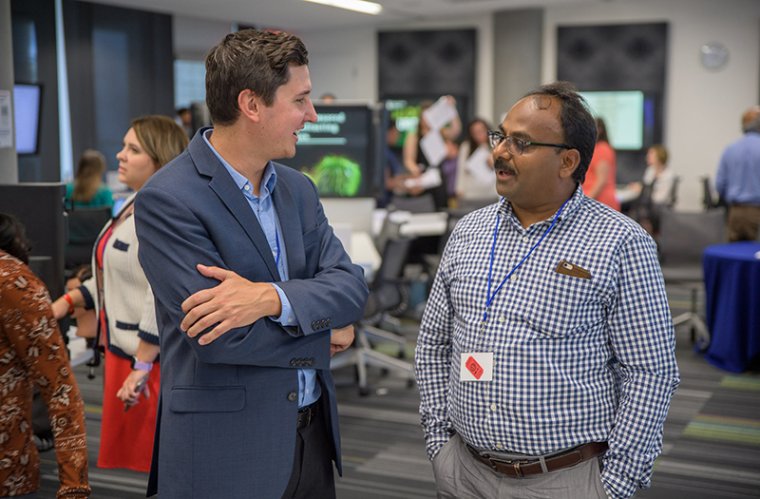 Event Showcases Resources Provided by the Research Office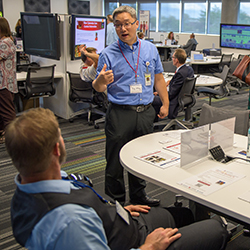 The University of Arizona College of Medicine – Phoenix Research Office hosted an open house and reception Sept. 26 for 136 of the college's students, faculty, residents and staff to learn more about the resources provided by the office.
The event included 30 booths representing College of Medicine – Phoenix Research Services, Biostatistics, Clinical Research Support Services, Laboratory Operations, Phoenix Research Cores, Research Proposal Development, UAHS Research Administration, University Animal Care, University of Arizona Cancer Center and the Valley Research Partnership, among others.
The event was followed by a cocktail reception with remarks from Guy Reed, MD, MS, dean of the UA College of Medicine – Phoenix, and Betsy Cantwell, PhD, MBA, senior vice president for UA Research and Innovation.
Dean Reed spoke about the importance of science to the College of Medicine – Phoenix: "Medical schools these days focus exclusively on education. In our curriculum, from the very beginning, science has been a central part of what we do, it's built in with the Scholarly Projects and it is a mechanism by which our students can learn critical thinking."
Dr. Cantwell, who leads the UA Office of Research, Innovation and Impact — which includes the Corporate Engagement Program, Tech Launch Arizona, the Forge and the UA research parks — spoke about why she is proud to work for the University of Arizona.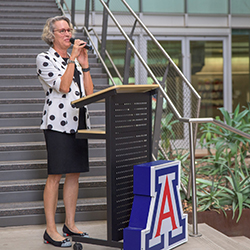 "The scholarship and the science heritage at the University of Arizona is really unparalleled, and it's particularly unparalleled in a unique physical location like Arizona," said Dr. Cantwell.
She is responsible for expanding the university's capacity for knowledge creation and discovery; integrating efforts by faculty, students, staff and executive leaders to move inventions and technologies to the marketplace; increasing the UA's connectivity with external collaborators; spearheading industry and public partnerships; and increasing total research funding.
Topics
About the College
Founded in 2007, the University of Arizona College of Medicine – Phoenix inspires and trains exemplary physicians, scientists and leaders to optimize health and health care in Arizona and beyond. By cultivating collaborative research locally and globally, the college accelerates discovery in a number of critical areas — including cancer, stroke, traumatic brain injury and cardiovascular disease. Championed as a student-centric campus, the college has graduated 669 physicians, all of whom received exceptional training from nine clinical partners and more than 2,600 diverse faculty members. As the anchor to the Phoenix Bioscience Core, which is projected to have an economic impact of $3.1 billion by 2025, the college prides itself on engaging with the community, fostering education, inclusion, access and advocacy.