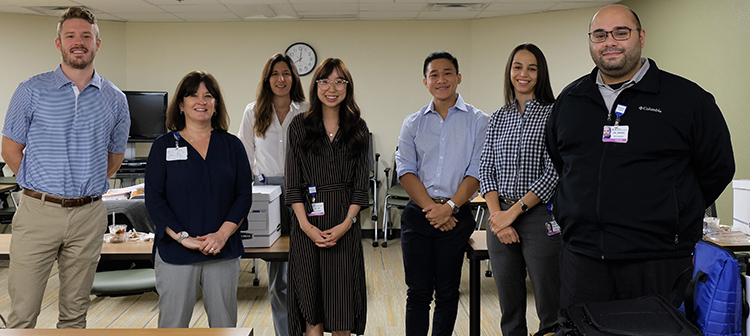 The Class of 2024 with program Director Andrea Waxman, MD
Research and Teaching
The University of Arizona College of Medicine – Phoenix is the sponsor of all of the residency and fellowship programs at Banner – University Medical Center Phoenix.
Our residents routinely interact with medical students in several settings during the students' required third-year clerkship and fourth-year elective experiences in Psychiatry, providing ample opportunities to teach.
Shared clinical responsibilities on our active Consultation-Liaison/Emergency Psychiatry Service provide mutually educational experiences with residents and students from the other training programs.
Our senior residents are also involved in teaching "primary care psychiatry" to Family Practice, Internal Medicine, OB/GYN and other residents trained at Banner – University Medical Center Phoenix and its teaching affiliates.
More recent research activities have included a variety of clinical medication trials, Interdisciplinary Quality Improvement and Patient Safety studies through the Department of Medical Education and Research, and collaborative neuroscientific projects in affiliation with our Banner Alzheimer's Institute and Memory Disorders Clinic. The department makes every effort to help underwrite expenses when a resident presents a research paper or poster at an educational conference.
In addition, residents have the opportunity to showcase their Quality Improvement and Process Improvement projects in fall during the annual High Value Idea Competition, where they have the chance to compete against other residents and fellows for a cash prize.
Residents have the option to pursue a Master's Degree in Clinical Translational Science in neuroscience during the later half of training. Residents will learn skills to be an effective research scientist and complete a thesis reporting the specific research they undertake.