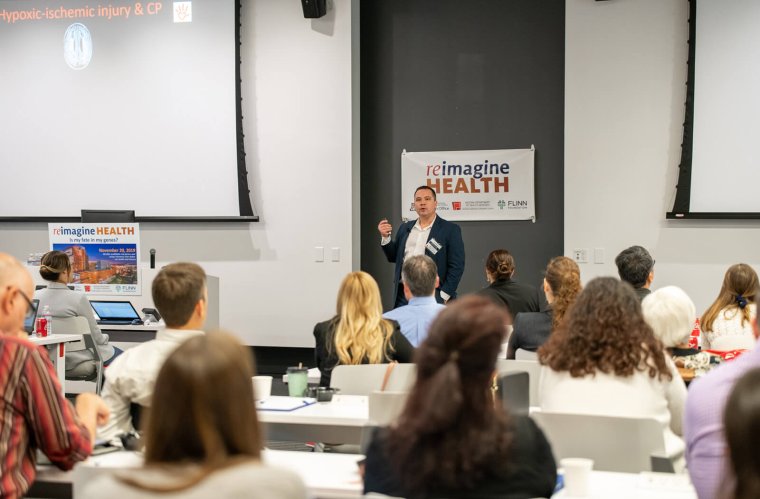 The Research Office host various conferences and symposiums throughout the year. Upcoming events can be found on the college's events calendar. Contact the Research Office with questions or sign up for our mailing list to receive updates.
Reimagine Health Research Symposium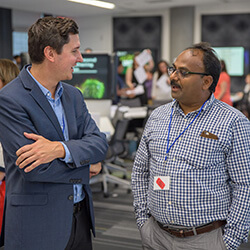 The mission of the annual reimagine Health Research Symposia is to provide an open and inclusive platform for the dissemination and discussion of significant and current challenges and solutions facing the health of humankind. To accomplish this goal, the venue brings together experts to present and discuss scientifically underpinned findings, as well as social and ethical matters. The symposium is sponsored by the Arizona Biomedical Research Centre (ABRC) and the Flinn Foundation. This event is free and open to the public.
ABRC-Flinn Foundation Research Conference
This annual research conference brings together grant awardees from the ABRC, Flinn Foundation and the Valley Research Partnership to showcase their research advances. It is sponsored by the ABRC and the Flinn Foundation. This event is free and open to the public.
The latest conference was held on Friday, April 28, 2023.
5th Annual Phoenix Research Resources Open House
Faculty, staff, clinicians, postdocs, research staff, fellows, residents, graduate students, medical students, and volunteers will have the opportunity to hear from leadership and learn about the research support available from the UArizona College of Medicine – Phoenix Research Office and Research, Innovation & Impact!
The event is scheduled to occur Thursday, September 21, 2023 2:00 PM to 5:00 PM. Register
Research Retreat
The Research Office hosts a bi-annual Research Retreat for research faculty, postdocs and staff to have an informative discussion centered around enhancing research at the college. The dean for Research provides updates and attendees are encouraged to share their input and ideas during round-table style discussions.