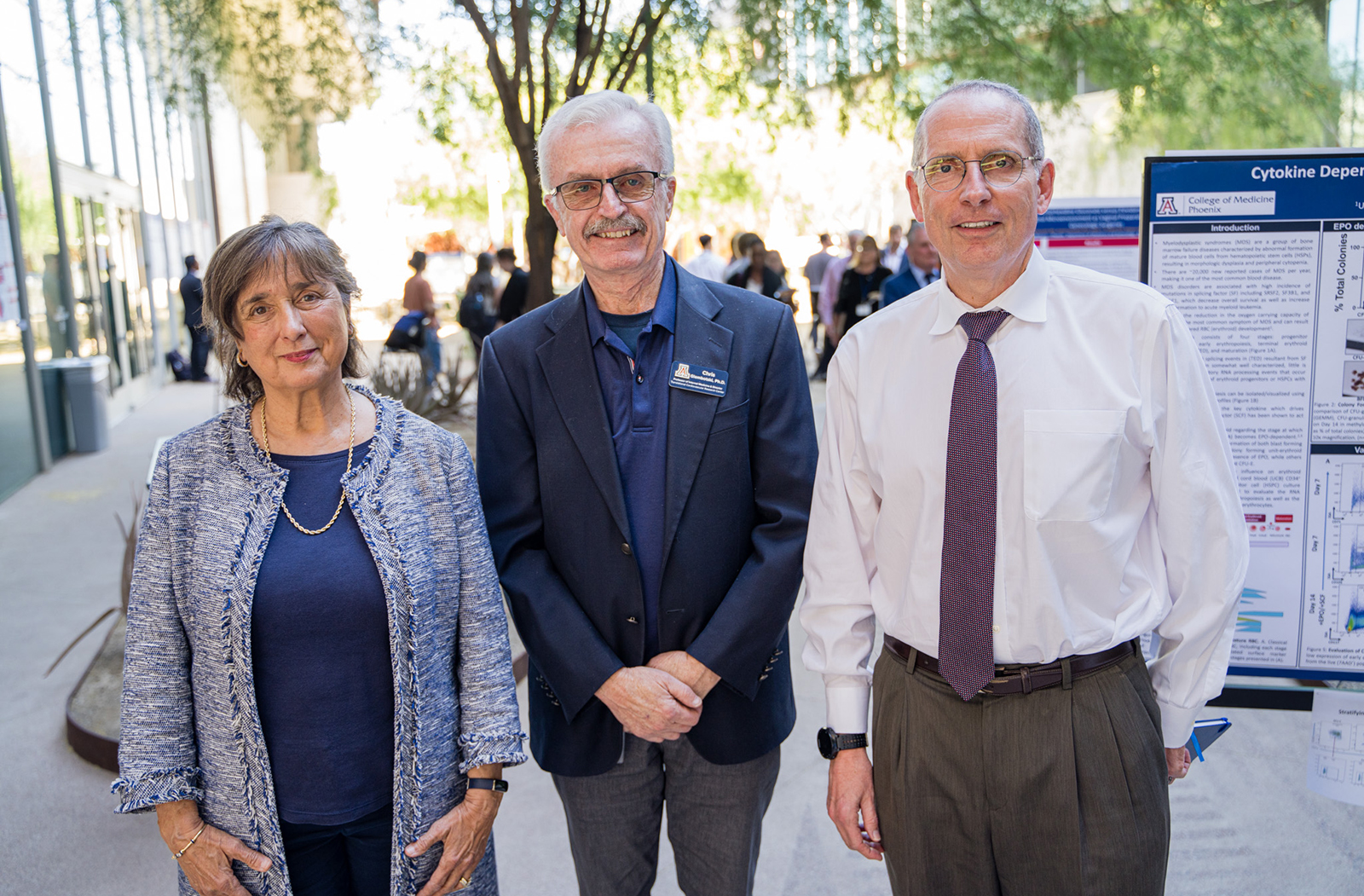 8th Annual ABRC-Flinn Research Conference Welcomes Researchers Across the Valley to Share Their Innovative Work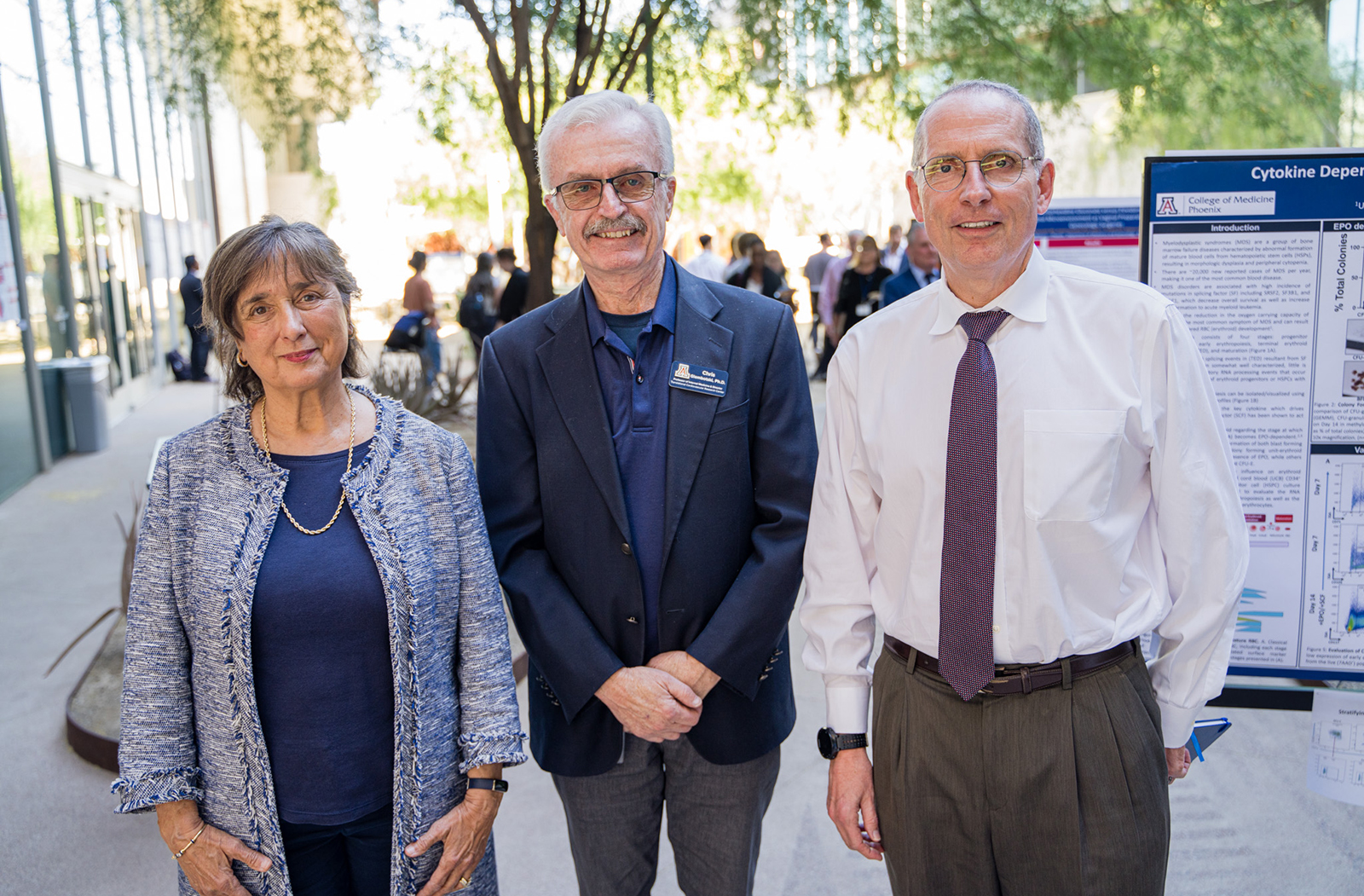 Conference sheds light on latest research findings in a myriad of pressing health fields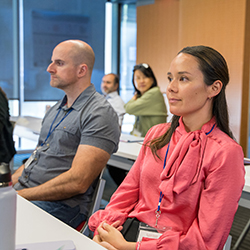 Research breakthroughs are central to the University of Arizona College of Medicine – Phoenix's mission. Yet to truly understand the leading-edge discoveries being made throughout the state, it is essential to go beyond the campus' borders.
To that end, the college hosted its 8th Annual Arizona Biomedical Research Centre (ABRC)-Flinn Research Conference Friday, April 28. The daylong conference welcomed 15 ABRC/Flinn Foundation grant awardees to present their findings in live oral presentations held in the Biomedical Sciences Partnership Building. An online component was available for those unable to attend in-person.
In addition, more than 75 research posters sponsored by the ABRC, the Flinn Foundation and the Valley Research Partnership (VRP) were on display in the Grand Canyon.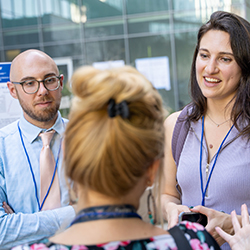 Chris Glembotski, PhD, associate dean of Research, professor in the Department of Internal Medicine and director of the Translational Cardiovascular Research Center, noted how events like this are propelling the college's research mission forward. "This conference contributed to the overarching college research vision of developing strategies for achieving distinction in areas of translational research that link scientific discovery to high priority clinical programs," he said.
Dr. Glembotski was also enthusiastic to have Michael Fallon, MD — executive director for Clinical Research, as well as a professor and chair of the Department of Internal Medicine at the college — and Roberta Diaz Brinton, PhD — the director of the Center for Innovation in Brain Science at the University of Arizona Health Sciences and a professor in the Departments of Pharmacology, Neurology and Psychology at the Evelyn F. McKnight Brain Institute — join as this year's featured speakers.
Hepatopulmonary Syndrome
Dr. Fallon's presentation, "The Role of Bile Acids in the Pathogenesis of Hepatopulmonary Syndrome," served as the conference's opening. It explored the connection between chronic liver disease and pulmonary vascular disorders — such as hypoxemia and portopulmonary hypertension.
While analyzing patients suffering from cirrhosis, Dr. Fallon's research group found that roughly 50% had normal vascular tone; but when they looked for intrapulmonary shunting — or blood not being properly oxygenated — they found between 40 and 60% of the patients were experiencing abnormal symptoms.
Dr. Fallon referred to this as hepatopulmonary syndrome (HPS), and — no matter the stage — it can lead to a higher mortality rate, as well as dramatically decrease a patient's quality of life.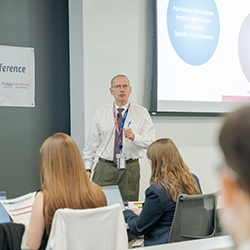 "Surprisingly, it is not the severity of hypoxemia. You don't have to have bad HPS; you just have to HPS," he explained. "It is not just the severe hypoxemic patients, which is really a minority of those patients. It is the presence of whatever is driving the pulmonary-vascular abnormalities that drives the increase in mortality."
Another issue with HPS is that from an outside view, these are not patients who seem to need a liver transplant because it does not appear in advanced stages of cirrhosis. HPS manifests much earlier, so the physician must be attuned to the potential signs of the disease.
This can include cyanosis of the hands — or discoloration of the skin due to poor oxygenation. If the physical tells are not present, though, physicians must search for the internal signs — like shunting — via various scans.
To better understand how HPS develops, Dr. Fallon set out to recreate the factors that lead to intrapulmonary shunting. "The current model of HPS pathogenesis is this: You've got vasodilatation and remodeling and anatomic — what's been called a functional shunt — so that venous blood going by the alveolus, the central stream of red blood cells, is not fully oxygenated. Some of it is going around the alveolar space, and that results in a hypoxemia, abnormal oxygenation, and the symptoms and changes that we described," he said.
Dr. Fallon's team felt that the effects of hypoxemia and shunting could be mitigated through inhibitors in these pathways, but that proved unfruitful. This led them to discover that the profile of bile acids — levels going up or down — could be driving the signaling alterations of the disorder.
"So, our current hypothesis around HPS is that there's not only a change in the vasculature, but there's a significant change in alveolar integrity in hepatopulmonary syndrome," he said. And they are working to determine how exactly those bile acids are affecting physiological functions.
Alzheimer's Disease
Dr. Brinton's presentation, "Regenerating the Alzheimer's Brain: From Discovery to Clinical Trial," closed the conference. She shared her three-decades long journey to develop a therapeutic for Alzheimer's disease.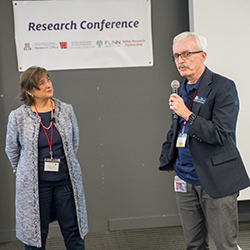 It all began in in the mid-1990s when Dr. Brinton treated hippocampal neurons in the lab with allopregnanolone. The following morning, she came into the lab and discovered that there were more neurons present than the previous evening. This was a huge surprise since at that time, neurons were not known to divide, especially when isolated in the lab.
"Essentially, what we found is that allopregnanolone was really promoting the proliferation of neural progenitor cells," she said. Unfortunately, in the immediate aftermath of the discovery, they were not able to secure funding from the National Institutes of Health to further the research, and it went dormant for more than a decade.
Fast forward to the present and through their research, Dr. Brinton and her team discovered that the administration of allopregnanolone can lead to the generation of neural stem cells, as well as and the promotion of neurogenesis (the process by which neurons are formed in the brain).
With those positive signs noted, the question then became, "If we're promoting regeneration, and if those cells actually have a function, can we actually do the tough experiment and ask whether a cognitive function maps on to this learning and memory paradigm?"
Yet again, the results were encouraging. "The learning capability in a model of Alzheimer's Disease was restored with allopregnanolone treatment. And when we looked at the survival of BrdU positive cells, we saw that there was an increase in the number of BrdU positive cells," Dr. Brinton said.
Bromodeoxyuridine, or BrdU, can be used as an identifier of whether cells are proliferating.
Through many years of further analyses, Dr. Brinton and her team were able to validate and replicate their initial findings. Allopregnanolone, if administered with the optimal regiment, promoted not only neurogenesis, but also oligogenesis and synaptogenesis — each an indicator of regeneration. In addition, it "promotes mitochondrial function … and bioenergetics, and acts as an anti-inflammatory" promoting synaptic function.
Their persistence paid off as clinical trials with allopregnanolone are underway. "And now we're in the process of developing a biotech company — while we're doing the phase two clinical trial — as a way to build a bridge from discovery to patients. And that's new therapeutics, which I like to say is the synapse between science and cure," Dr. Brinton said.
The symposium also featured topics ranging from new methods of tracking the rabies virus in Arizona; to the development of a blood-based assay for disease monitoring in patients with pancreatic cancer; to a point-of-care diagnostic platform that would enable the delivery of results within hours, providing for the triage and treatment of underserved communities.
Learn more about three funded researchers who presented at this year's conference:
Justin Wilson, PhD
Presentation: AIM2 Regulates Epithelial Differentiation to Direct Intestinal Inflammatory Responses
Funded By: ABRC
Dr. Wilson's lab studies how the regulation of inflammation on mucosal surfaces is dictated — in particular, how interactions between epithelial barriers, the underlying immune system and the microbiota interplay to produce beneficial inflammatory responses.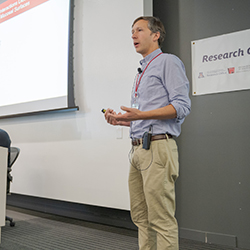 A big focus is to determine how they give rise to immunity, rather than chronic, inflammatory disorders that may be linked to assorted types of cancer. "We tease these apart by taking advantage of a group of proteins which are known as pattern recognition receptors (PRs)," he said. "One in particular is called AIM2, or absent in melanoma 2, which is a double stranded DNA sensor that's highly expressed by both many immune cells, as well as epithelial cells."
The epithelium is a type of body tissue that forms the covering of cells that line hollow organs and glands; its function is to provide a protective layer.
Their work has shown that AIM2 plays a role in suppressing certain pathways, limiting colon cancer development. Naturally, this led to another question, "In addition to cancer, does AIM2 — through its function of sensing microbes and regulating inflammation or these pathways — does it actually impact epithelial development during normal homeostasis and during different inflammatory responses?"
And, through their studies, they have been able to determine that AIM2 does promote intestinal tuft cells, which can trigger immune responses in both the gut and lung.
Dr. Wilson is an assistant professor of Immunobiology and Cancer Biology-GIDP at the College of Medicine – Tucson, as well as an assistant professor at the BIO5 Institute.
Hoai Huong Le, BS
Presentation: Profiling E-cigarette-Induced Exosomal MicroRNAs from Human
Induced Pluripotent Stem Cell-Derived Endothelial Cells Involved in Endothelium-Macrophage Crosstalk
Funded By: VRP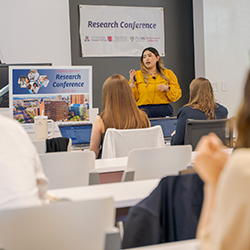 E-cigarettes, or electronic nicotine delivery systems, simulate smoking by vaporizing a chemical solution. That solution — a combination of propylene glycol, vegetable glycerin and other flavoring agents — can often lead to endothelial dysfunction. This is particularly problematic as approximately 3 million high school students currently use e-cigarettes.
"Endothelial dysfunction contributes to the progression of many diseases — including cardiovascular disease," Huong Le explained. It "is characterized by disruption in endothelial nitric oxide synthase (eNOS — or how cells fight vascular disease), as well as apoptosis, impairment in angiogenesis and migration … increased leakiness due to damaged tight junctions," and more.
All of these are contributors to the infiltration of macrophages by monocytes. Macrophages play a key role in inhibiting disease progression. "Macrophages are known for their plasticity — being able to respond to certain stimuli to polarize and change their phenotypes," she said.
There are two main polarization states of macrophages — M1 and M2. The M1 is known to be pro-inflammatory and is associated with the inflammatory response to microbial infection. M2 are anti-inflammatory and are associate with angiogenesis — the formation of new blood vessels — tissue repair and fibrosis.
To better understand how exposure to e-cigarettes negatively affected these cells, they took human-induced pluripotent stem cell-derived endothelial cells from four healthy donors; they then treated them with diluted e-cigarette extract.
"At 48 hours of treatment, we see an approximately 20% reduction in cell viability," Huong Le said. "We also found that the e-cig significantly inhibited cell proliferation." In addition to those negative outcomes, their tests showed that e-cigarette use severely impeded angiogenesis, as well.
Huong Le is a PhD candidate at the College of Medicine – Phoenix. She works in the laboratory of Won Hee Lee, PhD, assistant professor in the Department of Basic Medical Sciences.
Jarrett Eshima, BSE
Presentation: A Stratification of ALS Patient Transcriptomes Identifies Molecular Subtypes Associated with Differences in Prognosis
Funded By: Flinn
Eshima is a graduate student in the lab of Barbara Smith, PhD, BSc, an associate professor in the School of Biological and Health Systems Engineering at Arizona State University.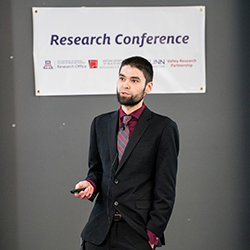 In Dr. Smith's lab, Eshima is researching Amyotrophic Lateral Sclerosis (ALS). ALS is a devastating neurogenerative disease that causes the progressive loss of motor function, eventually resulting in respiratory failure and death.
The presentation of symptoms and the progression of ALS are highly variable, making the development of effective therapeutics difficult.
In addition, early studies weren't particularly effective in pinpointing its causes. "Early approaches have attempted to use genetic models harboring mutant genes known to cause ALS to better understand the variability and disease progression," Eshima said. "However, given genetic-linked ALS only accounts for 5 to 10% of all cases, there exists a gap in the translation of these findings to the wider population."
More recent studies have taken broader consideration of the underlying mechanisms that drive the disease, seeking a greater understanding of how to optimize or improve patient outcomes based upon ALS sub-type.
Utilizing publicly available data sets from the New York Genome Center, Target ALS and other groups, Eshima and his fellow researchers elected to focus their efforts on the frontal and motor cortex transcriptomes (messenger RNA molecules from genes). This gave them more than 450 samples to work with, requiring them to employ multiple sequencing platforms to analyze the various ALS sub-types.
"Through this work, we have established that these ALS sub-types do influence patient outcomes like survival," he said. "However, given that our work considers expression in the post-mortem cortex, our findings have limited relevance for living patients."
Though that latter admission is discouraging, Eshima was sure to note that they are addressing this gap by collaborating with the VA and Centers for Disease Control ALS biorepositories, as well as locally with the Translational Genomics Research Institute to ensure their methodology is optimized to answer their essential questions.
More than 175 people registered to this year's conference; and its hybrid set up allowed it to go global, attracting attendees from around the world.
About the College
Founded in 2007, the University of Arizona College of Medicine – Phoenix inspires and trains exemplary physicians, scientists and leaders to optimize health and health care in Arizona and beyond. By cultivating collaborative research locally and globally, the college accelerates discovery in a number of critical areas — including cancer, stroke, traumatic brain injury and cardiovascular disease. Championed as a student-centric campus, the college has graduated more than 800 physicians, all of whom received exceptional training from nine clinical partners and more than 2,700 diverse faculty members. As the anchor to the Phoenix Bioscience Core, which is projected to have an economic impact of $3.1 billion by 2025, the college prides itself on engaging with the community, fostering education, inclusion, access and advocacy.