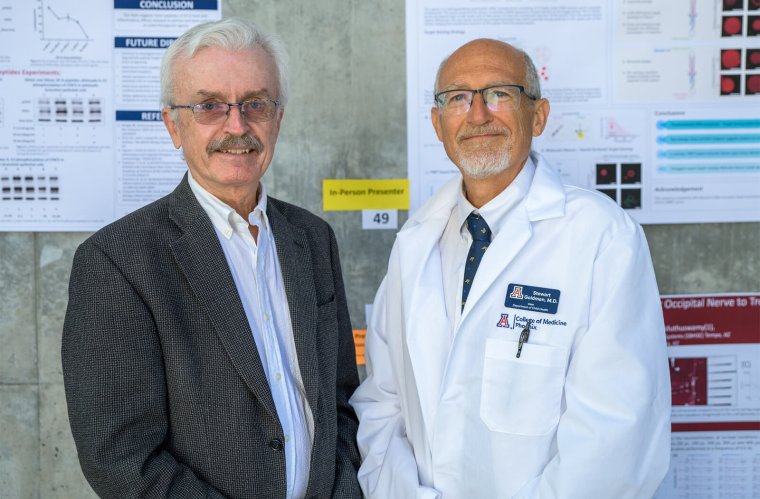 7th Annual ABRC-Flinn Research Conference Highlights Groundbreaking Research from Across the Valley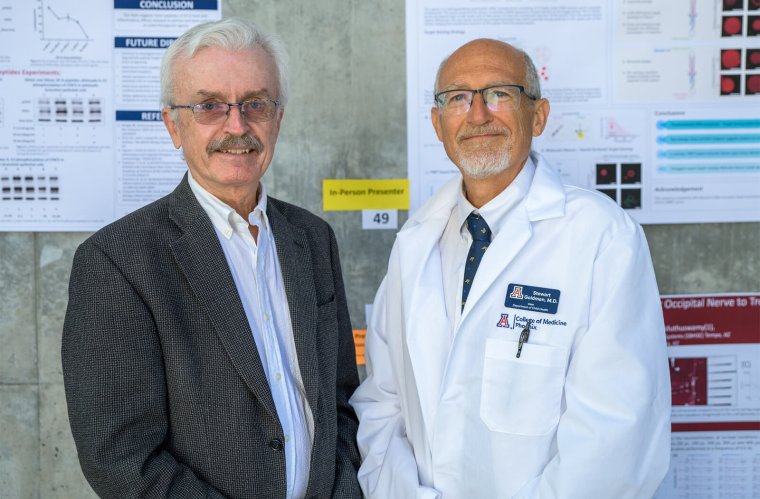 Researchers shared discoveries that will improve care for diverse patient populations
Translational research in pancreatic and chronic lung diseases, opioid receptors, West Nile Virus, Rocky Mountain Spotted Fever transmission, autism in older adults and insulin-dependent diabetes were among the topics discussed at the 7th ABRC-Flinn Research Conference.
Stewart Goldman, MD, chair of the University of Arizona College of Medicine – Phoenix Department of Child Health, was the keynote speaker. In his talk, "My Career: Clinical Trials, Lessons Learned," Dr. Goldman chronicled his extensive history researching neuro-oncology in pediatric patients and the informative nature of his clinical work. "Medicine is really just about additive knowledge," he said. Investigators are building upon the discoveries and the work that have come before.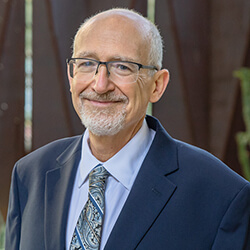 Some of those lessons included: no matter how good a trial is, outside forces can kill it; sometimes, compromising and not running a trial exactly the way you designed it can pay off; when opportunity presents itself, jump in; encouraging results and golden opportunities still require funding; research opportunities come in many flavors; and it's okay to try controversial ideas, just do it with integrity and intelligent design.
Dr. Goldman stressed the value of mentorship. "There's nothing more important than being a mentor; and there's nothing more important than having a mentor," he said. The impact his mentors had on him played a tremendous role in his own career trajectory, and he was excited to pay that forward by sharing the wisdom he has accumulated over his career.
Dr. Goldman also serves as the senior vice president of Research and the
Sybil B. Harrington Endowed Chair of Pediatric Oncology at Phoenix Children's.
The featured speaker for the event was Rachna Shroff, MD, MS, director of the UArizona Cancer Center Clinical Trials Office and associate dean of Clinical and Translational Research at the UArizona College of Medicine – Tucson.
Dr. Shroff's presentation, "Biliary Cancers – We are Closing the GAP!", focused on intrahepatic and extrahepatic carcinomas — or advanced versions of bile duct and gallbladder cancers.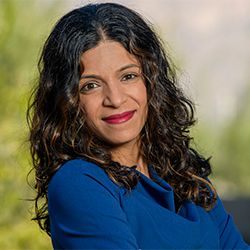 "This is a disease that has been historically thought of as a rare, heterogenous group of malignancies that was 'orphan' and over the last decade, it has been, I think, a wonderful example of precision oncology and incredible drug development," she said.
In her presentation, she chronicled the last 10 years of studies and how they've affected outcomes for those suffering from advanced stages of these cancers. Much of these efforts have strived to surpass the outcomes of 2010's ABC-02 study in the United Kingdom.
ABC-02 was a large, randomized Phase III trial that set the bar for treatment of biliary cancers and, "Demonstrated statistically significantly improved overall survival compared to what the standard of care was at the time," she said.
Until the last 18 months, researchers have been unable to match or exceed its results. But recent studies have yielded encouraging data, including her own.
Her study — which is sponsored by the National Cancer Institute — is the first randomized Phase III trial in biliary cancers to be done in North America. Employing a triplet chemotherapy treatment plan, the target accrual was 441 patients — a number thought to be unattainable when the study opened. They reached 441 participants in February 2021.
Even more encouraging is the amount of information it has enabled them to compile. "This is actually the largest biospecimen repository of biliary cancers prospectively collected in the world, so we are really getting excited about the type of questions we can ask and what we can learn from it," she said.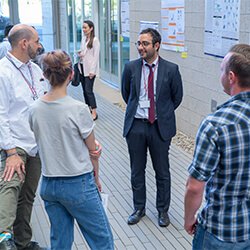 Hosted at the UArizona College of Medicine – Phoenix's Biomedical Sciences Partnership Building and featuring an online component through Whova, the daylong conference displayed the work of 15 grant awardees and 90 research posters sponsored by the Arizona Biomedical Research Centre (ABRC), Flinn Foundation and Valley Research Partnership (VRP). More than 300 people registered to attend; and its hybrid set up allowed it to go global, attracting attendees from countries like Australia, India and Poland.
Chris Glembotski, PhD, associate dean of Research and the director of the Translational Cardiovascular Research Center, expressed enthusiasm for the event and thanked the partners who helped realize it. "This exciting conference featured presentations of cutting-edge research made possible by a collaboration between the ABRC, Flinn Foundation and VRP," he said.
Learn more about three funded researchers who presented at this year's conference:
Claire Faulkner
Presentation: Characterization of Extracellular Vesicles in Pancreatic Ductal Fluids from Patients with Pancreatic Diseases
Funded By: VRP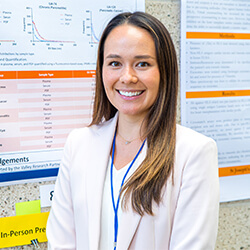 Claire Faulkner is a member of the college's class of 2024. Her research is analyzing better methods to detect pancreatic cancer. The need for detection in earlier stages of the disease is vital.
Pancreatic cancer is the third leading cause of cancer-related mortality in the U.S. with the lowest five-year survival rate at just 10 percent; most patients have advanced, unresectable pancreatic cancer at the time of diagnosis.
Through extracellular vesicles (EVs), blood and ductal fluid, Faulkner's research aims to isolate EVs from ductal fluid and compare it to EVs separated from plasma and serum. To date, most research has focused on EVs from blood. She proposes that the EVs in ductal fluids may serve as a stronger biomarker for disease.
"We hypothesize that the ductal fluids' close proximity to diseases of the pancreas may offer a more robust, disease-specific EV cargo than from blood," she said.
The research is being done in coordination with Faulkner's mentors at the Translational Genomic Research Institute, Kuntal Halder, Aiai Price-Smith, Aidan David, John Cunningham, Daniel Von Hoff and Haiyong Han.
John Streicher, PhD
Presentation: Development of a Mu-Delta Opioid Receptor Heterodimer Antagonist to Improve Opioid Therapy and Treat Withdrawal
Funded By: ABRC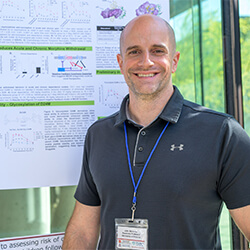 John Streicher, PhD, is an assistant professor of Neuroscience – GIDP and an associate professor of Pharmacology at the College of Medicine – Tucson.
Dr. Streicher's presentation, as its title suggests, focused on opioid receptors. Typically, when interacted with, single receptors will produce changes in the body — side effects or analgesia (the inability to feel pain).
The mu-delta opioid receptor heterodimer has a higher level of organization, where multiple receptors bound together signal differently. "They may act as a negative feedback loop on the opioid system — to block analgesia and to enhance side effects; so, it's sort of a natural negative feedback break on the actions of opioids in the body," he said.
"If this is true, what that would imply is that if you are able to block or reverse this somehow, you might be able to reverse these effects, enhancing analgesia and blocking side effects," he added.
The challenge was developing a drug that selectively interacts with the heterodimer. Dr. Streicher's team was able to do so. As a result, their studies have shown significant pain relief and a reduction of withdrawal, suggesting their drug could be used to enhance opioid therapy.
Ruslan Rafikov, PhD
Presentation: Enabling the Early Diagnosis of Chronic Lung Diseases with a Blood-Based Metabolomics Diagnostic Powered by Machine Learning
Funded By: Flinn Foundation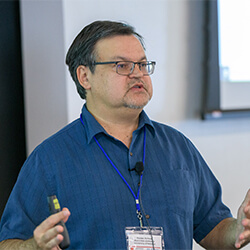 Nearly four years. That is how long it takes for a pulmonary arterial hypertension patient to receive a proper diagnosis after first dealing with non-specific symptoms.
Over that journey, a patient can incur costs of more than $12,000, all without ever knowing what is actually wrong with them. Worse, such a late diagnosis leaves them with long odds — 50 percent of patients with this affliction die within five years. So how do we correct this? Metabolites and machine learning.
"When we did the metabolic profile, we saw fast changes in metabolites — which actually preceded any changes in physiology," said Dr. Rafikov. The results were encouraging enough to explore further.
From there, Dr. Rafikov and his team were able to use artificial intelligence (AI) and machine learning to isolate the metabolites that were primary indicators of the disease. "Not every metabolite tells the story," he said. The team used AI to identify metabolites, reducing the number from 175 to 11, and increasing the precision of the results.
With this data, they were able to take well-phenotyped samples and run them through mass spectrometry analysis and AI algorithms to create disease-specific metabolic patterns. In essence, it produced a fingerprint unique to the disease they were trying to pinpoint.
"Using this refined metabolic panel, we got 100 percent accuracy — no negative data or false positives or negatives," he said.
About the College
Founded in 2007, the University of Arizona College of Medicine – Phoenix inspires and trains exemplary physicians, scientists and leaders to optimize health and health care in Arizona and beyond. By cultivating collaborative research locally and globally, the college accelerates discovery in a number of critical areas — including cancer, stroke, traumatic brain injury and cardiovascular disease. Championed as a student-centric campus, the college has graduated 669 physicians, all of whom received exceptional training from nine clinical partners and more than 2,600 diverse faculty members. As the anchor to the Phoenix Bioscience Core, which is projected to have an economic impact of $3.1 billion by 2025, the college prides itself on engaging with the community, fostering education, inclusion, access and advocacy.