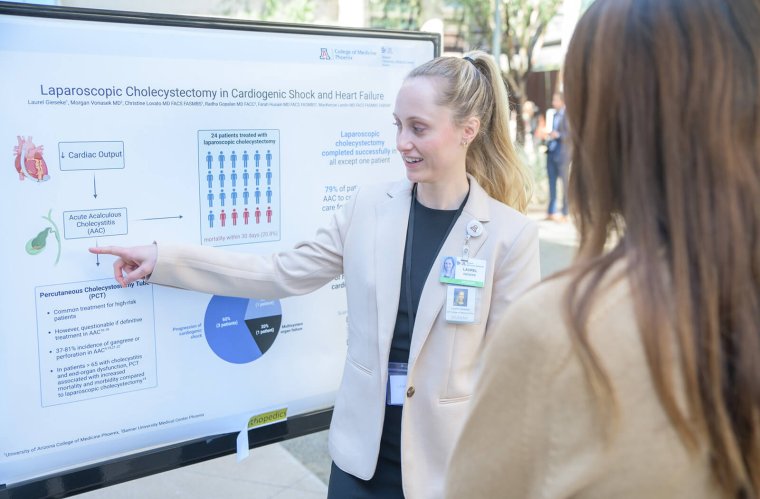 Annual Symposium Showcases the Four-Year Research Projects of Graduating Medical Students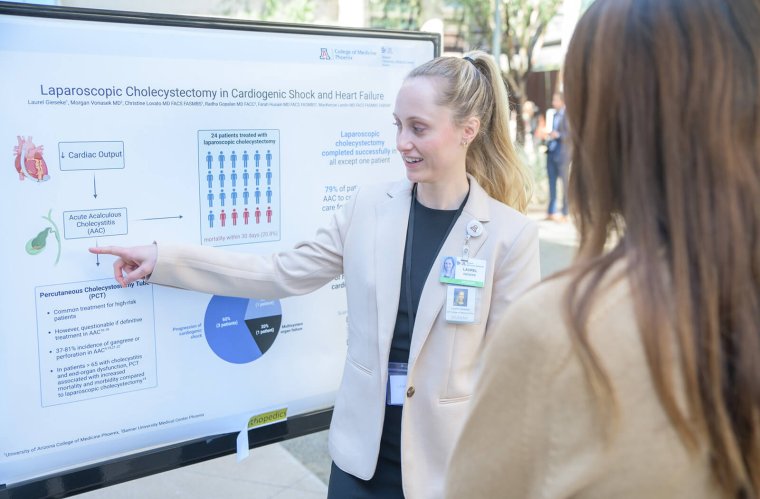 The culmination of four years of work, the project helps instill the importance of scholarly research
Medical students at the University of Arizona College of Medicine – Phoenix are required to complete a publishable, hypothesis-driven, data-supported Scholarly Project. Over the course of their four years of study, the students will work with a mentor to craft their research project.
As one of only a handful of medical schools to require such a project, it serves as a true differentiator for the college's students when they interview for residency programs.
For Joseph Stephan Stapczynski, MD, director of Scholarly Projects, its overall impact on their medical education cannot be understated. "Students learn about medical information literacy, life-long learning, teamwork, effective communication, research methods, evidence-based medicine approaches and ethics related to scholarly inquiry," he said. "Physicians of the future will be expected to keep up-to-date with advancing biomedical knowledge, so involvement in research via the Scholarly Project is a crucial step in the student's ability to understand research publications and incorporate that information into their practices."
Every year, the medical students present this research at the Annual Scholarly Project Research Symposium; and this year, several future physicians shared what they learned from the research process; what the outcome of their project was; how they felt it will make them better physicians; and offered advice to incoming medical students on what to expect.
Scholarly Projects
About the College
Founded in 2007, the University of Arizona College of Medicine – Phoenix inspires and trains exemplary physicians, scientists and leaders to optimize health and health care in Arizona and beyond. By cultivating collaborative research locally and globally, the college accelerates discovery in a number of critical areas — including cancer, stroke, traumatic brain injury and cardiovascular disease. Championed as a student-centric campus, the college has graduated 745 physicians, all of whom received exceptional training from nine clinical partners and more than 2,600 diverse faculty members. As the anchor to the Phoenix Bioscience Core, which is projected to have an economic impact of $3.1 billion by 2025, the college prides itself on engaging with the community, fostering education, inclusion, access and advocacy.