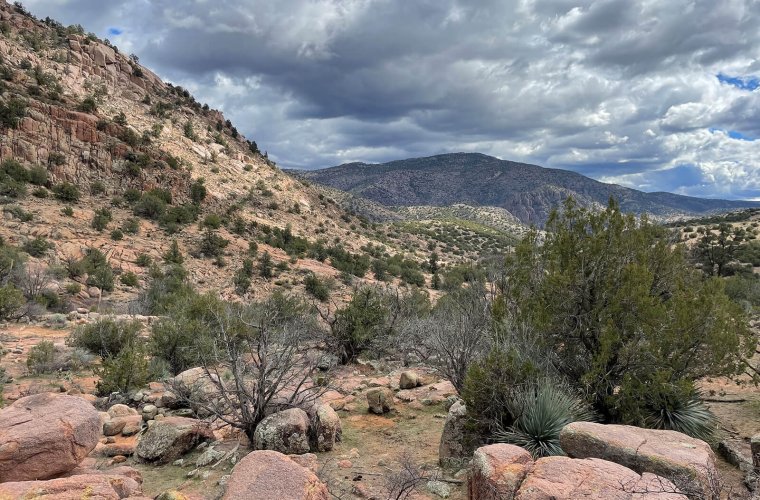 Medical Students Experience Rural Medicine as a Career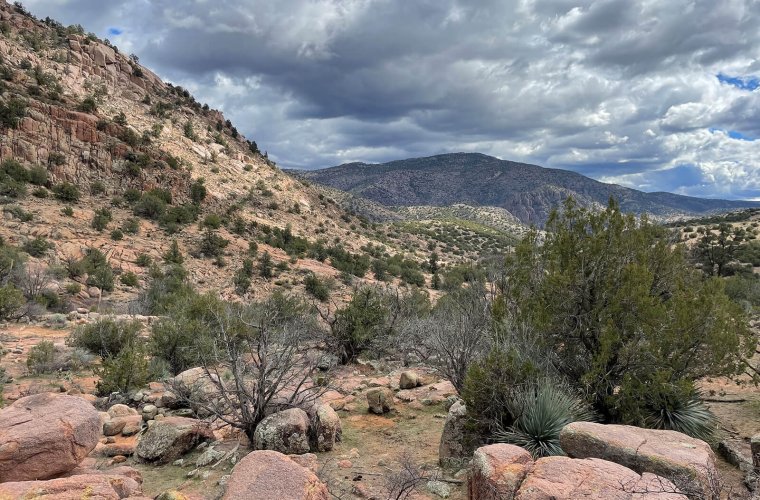 Inaugural Longitudinal Integrative Clerkship Cohort Trained in Payson During Pandemic
Three third-year medical students at the University of Arizona College of Medicine – Phoenix began training with rural physicians in Payson in April 2020, shortly after the COVID-19 pandemic reached Arizona. The Rural Health Longitudinal Integrated Clerkship, a program designed to address the physician shortage in rural areas, appealed to students Luke Wohlford, Maryssa Spires and Celina Virgen, and they joined the inaugural cohort. The students spent nine months embedded in the community, becoming experienced telemedicine health care providers during this critical period.
"It can be hard to feel helpful as a third-year medical student, but I've had moments where I felt like I am genuinely helping somebody; and this is exactly why I wanted to do this program in the first place," Wohlford said.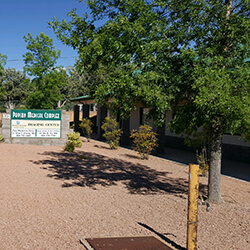 The clerkship, which was started through a collaborative partnership between the medical school and MHA Foundation, was supposed to welcome its first cohort of students in June 2020. Due to the pandemic and the need for health care providers in rural areas, the students rearranged their schedules to begin the clerkship a few weeks early. They trained in family medicine, obstetrics and gynecology, and emergency medicine. Students provided patient care via telemedicine visits at Ponderosa Family Care Clinic, Payson Christian Clinic and at Banner Payson Hospital.
"For the first time in our college's history, students used telemedicine visits to hone clinical skills," said Jonathan Cartsonis, MD, director of the college's Rural Health Professions Program. "Caring for families of patients over an eight-month span is a key element of the clerkship, and the students began to build their patient panels without delay. A huge amount of credit goes to Ponderosa Family Care medical and nursing staff for their adaptability and to Drs. Alan Michels and Judith Hunt for pioneering telemedicine, which allowed them to easily transition to include students."
In March 2020, all medical students at the College of Medicine – Phoenix and across the U.S. were prohibited from having face-to-face interactions with patients, due to safety concerns. According to Dr. Cartsonis, after COVID-19 disrupted medical school education, the College of Medicine – Phoenix led the way in developing and executing a revised curriculum.
"It (the pandemic) was and continues to be a huge blow to the development of their clinical skills because the best way to become a good doctor is to care for patients under the experienced eye of a seasoned one," Dr. Cartsonis said. "There are no substitutes for direct patient care, and the medical school clock is ticking. We only get one shot at preparing them for the real world."
Because the MHA Foundation and the College of Medicine – Phoenix had logged hundreds of hours over many months carefully structuring the Longitudinal Integrated Clerkship curriculum and planning for the students' arrival before the pandemic, they were able to quickly pivot and adjust the plans to the new pandemic environment. Dr. Cartsonis reached out to his colleague Dr. Hunt, and they worked together to design a new plan.
"We have the best students," said Dr. Hunt, a clinical assistant professor in Internal Medicine. "They have risen above everything the pandemic could have thrown at them. They have been so willing to be spontaneous; they have done everything that they could to be innovative and help us learn as doctors."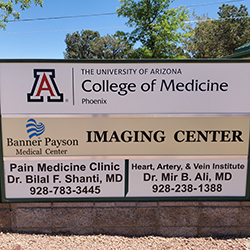 With their focus on protecting the health and safety of patients, each medical student saw between 35 to 40 patients a week through telemedicine visits. During the telemedicine visits, the students helped the patients log onto the platform with audio and visual. The visits included everything from an initial consult with patients to going over their medical history, vitals, symptoms and health concerns. The physician then joined the three-way video call with the patient and student to discuss the case and to make a care plan.
"It's very interesting to wake up as a third-year medical student, get ready for the day and not even touch my stethoscope," medical student Luke Wohlford said. "I still see patients, talk with them and help them with diagnosis, medications and next steps."
The students also supported the MHA Foundation's COVID-19 testing efforts in Payson, where they helped with screening and answering coronavirus questions. Students received an award from the MHA Foundation for their work in the community screening hundreds of Payson residents for the virus.
Additionally, students worked on public health projects and met with residents and leaders of Payson to better understand how they can address the community's health needs. They even helped in the evacuation of patients as well as animals from Tonto Basin, when wildfires cut off Payson from Phoenix. Dr. Cartsonis said, "They are becoming a valued part of the medical community during a multi-layered crisis."
"The patients have really valued the extra time the students could give them in answering questions specifically to COVID," Dr. Hunt said. "Students were able to reiterate the guidelines of protection for COVID and ease some of the fears. They were able to take the time and answer questions, which has been invaluable."
Dr. Cartsonis said the structure of the program provides a unique opportunity for students to witness first-hand the full cycle of health care — from seeing a patient in a primary care environment to referring to a specialist to scrubbing in for a surgery to follow-up care. In a traditional third-year of medical school, students complete each rotation in a different setting such as a hospital, clinic or family practice, usually in the Phoenix area.
"Everyone still needs health care during this time," Wohlford said. "In rural areas, it's even harder for patients to access care, so they need more support from people like Dr. Hunt, who provides regular telemedicine services. It has been an incredible experience thus far to see these aspects and be a part of the program."
The state's physician shortage is most acute in rural areas, where more than one-quarter of primary care physicians plan to retire in the next five years. The clerkship is designed to provide clinical experience to medical students interested in rural health.
"One of the challenges not only Payson faces, but Arizona and all of America, is that the rapid urbanization of the last 50 years has caused rural communities to be left in a state of disrepair when it comes to health care delivery," said MHA Foundation president Kenny Evans. "Although we have a better opportunity for quality of life in the sense that we have cleaner air and more opportunities for outdoor recreation, we have a lower standard of health care and consequently, a lower health outcome."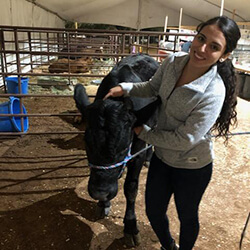 Dr. Cartsonis added, "The State faces physician shortages that are projected to get worse in the next decade. The College of Medicine – Phoenix developed the Rural Health Professions Program, so that students could learn clinical medicine in small communities across the state with expert clinicians — often placing them in the communities where they were raised. Supporting rural training is one way to improve the recruitment and retention of young doctors where they are most needed."
By developing the longitudinal clerkship and providing students with this experience in rural medicine, they hope this will lead to these future doctors coming back and practicing in rural areas, whether it's Payson or another community.
"Through this clerkship, students are learning that this is not just a profession, it's a calling," Evans said. "They are engaged with the community of Payson, and we can truly see it making a difference in people's lives."
To better understand the calling that inspired these students to participate in the clerkship, the University of Arizona College of Medicine – Phoenix invited them to share their inspiring experiences.
Our Students' Stories
About the College
Founded in 2007, the University of Arizona College of Medicine – Phoenix inspires and trains exemplary physicians, scientists and leaders to optimize health and health care in Arizona and beyond. By cultivating collaborative research locally and globally, the college accelerates discovery in a number of critical areas — including cancer, stroke, traumatic brain injury and cardiovascular disease. Championed as a student-centric campus, the college has graduated 745 physicians, all of whom received exceptional training from nine clinical partners and more than 2,600 diverse faculty members. As the anchor to the Phoenix Bioscience Core, which is projected to have an economic impact of $3.1 billion by 2025, the college prides itself on engaging with the community, fostering education, inclusion, access and advocacy.