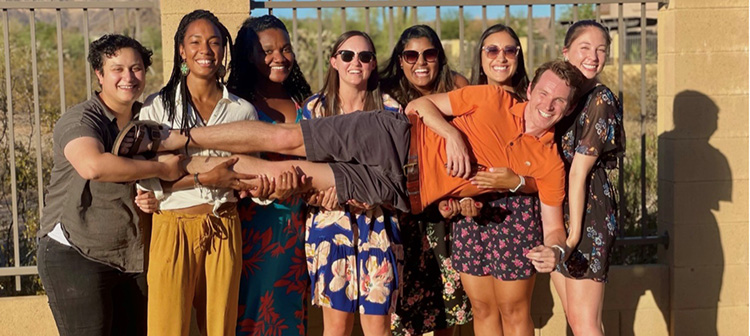 How to Apply
Selection Criteria
Selection and ranking are determined through combination of resident and faculty input. We put high value on resident input in choosing future residents.
Requirements:
Applicant must have passed United States Medical Licensing Examination (USMLE®) or Comprehensive Osteopathic Medical Licensing Examination (COMLEX) Step 1.

USMLE Step 2 or COMLEX Level 2 is strongly encouraged at time of initial application.

Medical School transcript.
Three (3) Letters of Recommendation.

Minimum of two (2) letters from an OB/GYN.
One (1) standardized letter of evaluation (SLOE) may count towards your Letters of Recommendation.

Full ERAS application.
Deadline:
October 1.
Review of applications will begin as soon as they are available in ERAS.
Interview offers will be released beginning October 25 and on a rolling basis.
Program interview invitations will be limited to the number of interview slots available.
Interview Dates in 2022-23
Interviews will be held virtually on Zoom from November 2022 – January 2023.
Friday, November 18.
Monday, December 5.
Friday, December 9.
Friday, December 16.
Friday, January 6.
Friday, January 13.
Applicants Who Completed Medical School Outside the U.S.
Additional Requirements:
Successful completion of the Educational Commission for Foreign Medical Graduates (ECFMG®) or Test of English as a Foreign Language (TOEFL®) proficiency test.
Current ECFMG certification.
Successful completion of at least one year of clinical (not research or observerships) hospital-based training in a teaching hospital affiliated with a residency program in the United States.
Must have graduated from medical school no more than two (2) years ago.
Must have no failures on any USMLE exam.
No visa sponsorships. J-1 visas considered with ECFMG.
Externship or observership programs are not available.
Medical Student Rotations
Fourth-year student rotations are available June through March and include:

Gynecologic Oncology.
Maternal-Fetal Medicine.
Labor and Delivery.
OB Ultrasound.

Applications must be submitted through Visiting Student Learning Opportunities (VSLO).

VSLO opens April 15.
Rotations are given on a rolling basis.
Contact
Note: With the number of emails received before ERAS opens, we are unable to reply to everyone. We will review your ERAS application and provide final application status by December 2, 2022.
Applying
Christie Layaoen
Residency Coordinator
602-839-3827
Student Rotations
Alma Frausto
Clerkship Administrator
602-839-3832