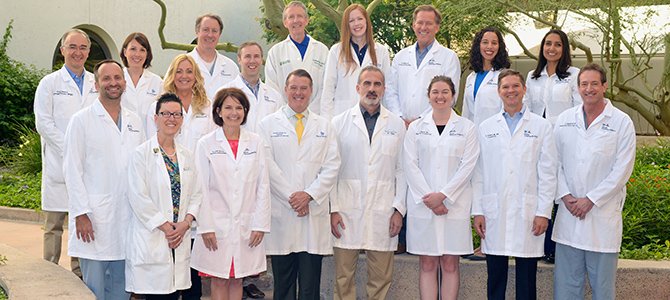 We are a unique residency training program in that we provide an outstanding clinical education and experience, in a highly supportive and nurturing environment. Our goal is to graduate top-notch clinicians who are altruistic, compassionate and have a passion for life-long learning. We also are here to mentor alongside our residents to be sure they have a strong support system and they live in harmony, caring for every aspect of their own lives.
Our primary teaching site is Banner – University Medical Center Phoenix, located in downtown Phoenix (BUMCP). Residents rotate to several community hospitals throughout the Valley, most of which are also within the Banner Health system, doing rotations which enhance the educational experience. Even when on these outside rotations, residents always come "home" to BUMCP for didactics and night call. This helps to facilitate the family atmosphere our program is known for.
Our faculty are a broad mix of employed and private practice physicians, giving us an innovative hybrid model. Our faculty enjoy the close relationships and mentoring opportunities working with residents and are proud to support residents as they each develop their own interests as either Specialists in General Obstetrics and Gynecology or any one of the subspecialties.
Our residents come from diverse backgrounds and from all across the country. They work hard and take great pride in not only providing excellent patient care, but in having fun together and supporting each other. Many residents have taken on leadership and officer roles within ACOG and CREOG. They have the opportunity for a six week elective as a PGY3 and selective as PGY4; at which time, residents have participated in Integrative Medicine, international experiences, additional simulation training and many more opportunities.
Our graduates practice general OB/GYN, including academic medicine, and have been highly successful at matching into fellowships. Over the past 10 years we have matched residents into Maternal-Fetal Medicine (MFM), Gynecologic Oncology, REI, Urogynecology (FPMRS) and Minimally Invasive Gynecology.