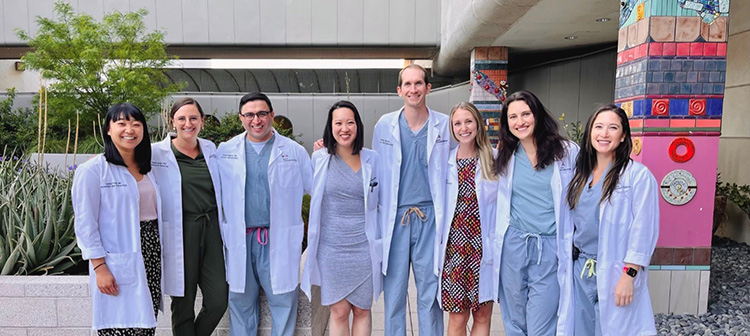 Research
All residents are required to complete a research project. All areas of interest are welcome, but quality improvement projects are encouraged. Throughout the project, support is available through the department's research coordinator and the University of Arizona. A travel fund is available for presentation of research at regional and national conferences, and all projects culminate with a presentation at Resident Research Day in their PGY4 year.
Resident Retreat
Held annually in October, this event includes a combination of team building, social and professional development activities.
Elective and Selective Blocks
Third-year elective and fourth-year selective experiences allow residents to sample areas of special interest locally, regionally and internationally. Financial support is available where needed.
Innovative Call Coverage
PGY1 residents do 15-hour overnight labor and delivery shifts every other night in four blocks; and upper-level residents have one in nine 24-hour call shifts. Day float residents cover post-call services, engaging in rapid sampling of different areas of the specialty for an entire block.
Integrative Medicine in Residency Program
The Integrative Medicine in Residency (IMR) program is a competency-based, interactive, online curriculum in integrative medicine. It is designed for incorporation into residency education through the University of Arizona Andrew Weil Center for Integrative Medicine. We are one of the only OB/GYN residency programs in the country to implement this curriculum for select interested residents in their second, third or fourth year of training. Upon completion, residents have a broader understanding of complementary and alternative treatments with an enhanced focus on the therapeutic relationship between women's health care practitioners and their patients.
Benefits
Twenty days of paid time off (PTO) per year.
Administrative time off for fellowship and job interviews, conference attendance and USMLE exam.
Family and partner health care benefits at no additional cost.
401K with match.
Financial assistance for travel to conferences.
Reimbursement for USMLE, ABOG and Arizona medical license expenses.
More information (PDF).