White Coat Profile: Jordan Henderson
Exploring a Career in Rural Health
Meet Jordan Henderson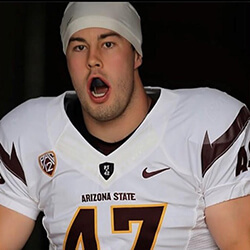 Jordan Henderson came to the Phoenix Valley to play football as a linebacker for Arizona State University (ASU). He was successful and played on the 2014 Sun Bowl, as well as the Pac-12 South Championship teams. After several years of living and coaching ASU football in Tempe, he is starting as a first-year medical student at the University of Arizona College of Medicine – Phoenix, and the goal of becoming a doctor is not a stretch for him.
Growing up in Snowflake and Payson, Arizona, as the son of a retired rural physician, Victor Henderson, MD, he already had a strong sense of commitment to rural communities and was inspired to pursue a medical career of his own after watching his father treat neighbors and friends. Those experiences lent him an understanding on how much rural patients rely upon the town's only physician.
"I have seen health disparities in people who live in rural areas," said Henderson. "It really hurts to see the people that raised me, supported me and taught me in classes, and then realize they are not getting the same medical care that I got when I was at college and lived in Phoenix. I want to be a voice for these people and be in a position to speak up for them," Henderson added.
It was his experience as a football coach at his alma mater ASU that also helped steer his path.
"I noticed instead of coaching, I started getting lots of health-related questions from the players and then from the other coaches about their health. I would try to find ways to improve player health to prevent injuries."
Henderson applied and was accepted into the University of Arizona College of Medicine – Phoenix Class of 2025 — the largest class to date with 120 students. According to Glen Fogerty, PhD, MBA, associate dean of Admissions and Recruitment, this class represents one of the most academically gifted to apply to medical school in the nation — with many of them entertaining multiple acceptances to medical school.
"I think the biggest thing that I am most excited about medical school is being able to study at the University of Arizona College of Medicine – Phoenix. It's a privilege to be able to learn medicine with and to be a part of this class of people who come from such diverse backgrounds. It will be good to hear different perspectives, which will help my understanding of other people's experiences," said Henderson.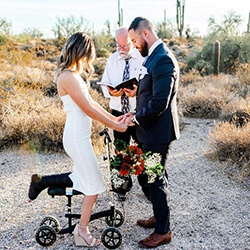 Henderson worked as an immunization coordinator in Payson, where he befriended Luke Wohlford, Maryssa Spires and Celina Virgen. The three third-year medical students completed the inaugural Rural Health Longitudinal Integrated Clerkship in Payson last year. They gave him great insight on medical school. He also talked with Judith Hunt, MD, from Payson-based Ponderosa Family Care.
He is looking forward to the White Coat Ceremony and also to his future. Henderson hopes to return to rural Arizona after residency.
"White Coat represents all the people who've been in my corner. So many people have helped me and mentored me along the way. They are rooting me on and supporting me to be able to put on a white coat. It's really a demonstration of the people — the family and friends — around me and the sacrifices they have made to propel me forward."
About the College
Founded in 2007, the University of Arizona College of Medicine – Phoenix inspires and trains exemplary physicians, scientists and leaders to optimize health and health care in Arizona and beyond. By cultivating collaborative research locally and globally, the college accelerates discovery in a number of critical areas — including cancer, stroke, traumatic brain injury and cardiovascular disease. Championed as a student-centric campus, the college has graduated more than 800 physicians, all of whom received exceptional training from nine clinical partners and more than 2,700 diverse faculty members. As the anchor to the Phoenix Bioscience Core, which is projected to have an economic impact of $3.1 billion by 2025, the college prides itself on engaging with the community, fostering education, inclusion, access and advocacy.