The Future of Translational Research is in Great Hands
Young investigators are making scientific discoveries to improve the health outcomes of tomorrow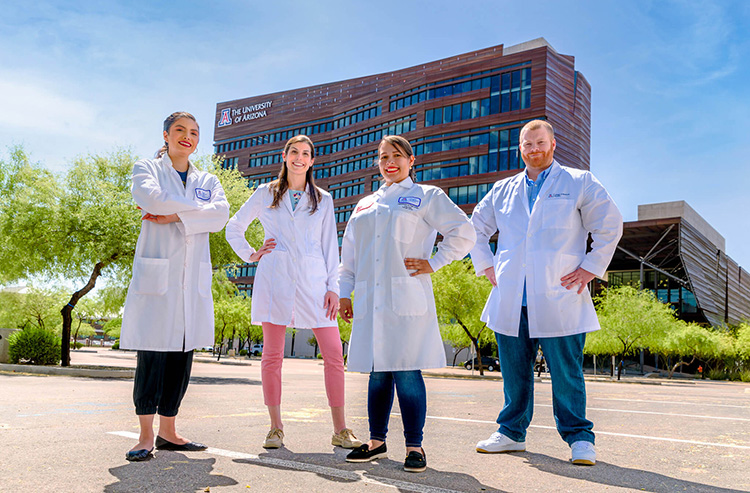 Nicole Jimenez, PhD, Alexandra Garvin, PhD, Luisa Rojas, PhD, and Erik Blackwood, PhD
---
Investigations performed by researchers at the University of Arizona College of Medicine – Phoenix have accelerated medical innovation and positively impacted patient lives in Arizona and elsewhere.
Young investigators, including postdoctoral researchers and fellows, are paving the way to answer complex questions in biomedical research. Alexandra Garvin, PhD, and Erik Blackwood, PhD, have been awarded grants to pursue research in cardiovascular disease. Nicole Jimenez, PhD, and Luisa Rojas, a PhD candidate, both received fellowships to continue their work in cancer research and data science, respectively.
"A commitment to groundbreaking translational research has always been foundational to the College of Medicine – Phoenix's mission and vision for the health of Arizonans," said Christopher Glembotski, PhD, associate dean for Research and director of the Translational Cardiovascular Research Center.
Translational research applies science discoveries to clinical practice, making new therapies and tools available for improving patient outcomes. These investigators work alongside distinguished research faculty who provide invaluable mentorship and encouragement; the future of medical research is in very capable hands.
"The work these investigators have contributed to and the awards they have received are a testament to their incredible talents as researchers, as well as to the critical roles they play within their respective research teams here in Phoenix. We couldn't be prouder of them, their accomplishments and of the work they are doing," said Dr. Glembotski.
Meet Our Young Investigators
About the College
Founded in 2007, the University of Arizona College of Medicine – Phoenix inspires and trains exemplary physicians, scientists and leaders to optimize health and health care in Arizona and beyond. By cultivating collaborative research locally and globally, the college accelerates discovery in a number of critical areas — including cancer, stroke, traumatic brain injury and cardiovascular disease. Championed as a student-centric campus, the college has graduated 745 physicians, all of whom received exceptional training from nine clinical partners and more than 2,600 diverse faculty members. As the anchor to the Phoenix Bioscience Core, which is projected to have an economic impact of $3.1 billion by 2025, the college prides itself on engaging with the community, fostering education, inclusion, access and advocacy.