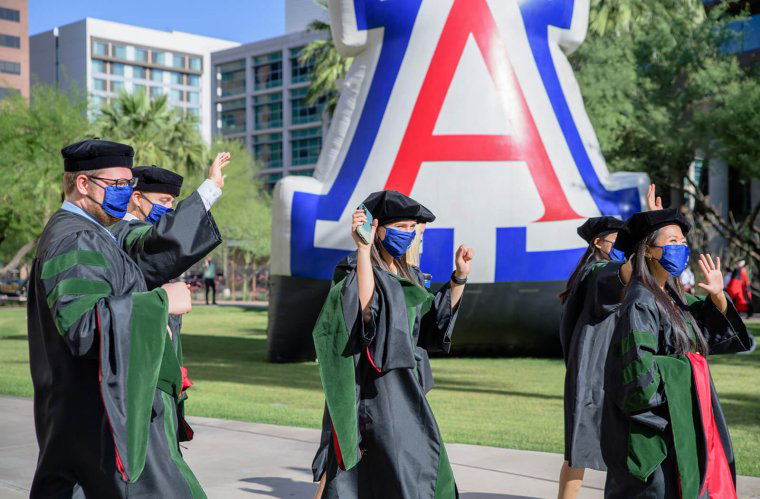 College Celebrates Class of 2021 with Hybrid Commencement Ceremony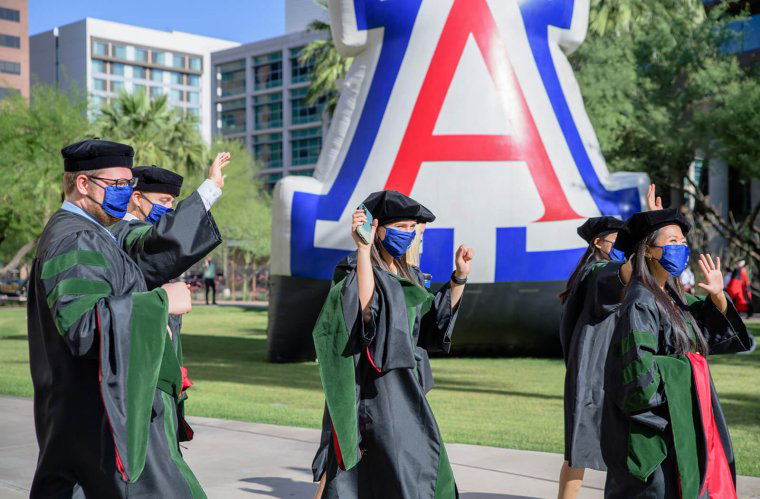 On Monday, May 10, the University of Arizona College of Medicine – Phoenix celebrated its 11th commencement ceremony. Amid the sounds of pipe and drum corps and the cheers from family and friends, 58 students from the Class of 2021 — resplendent in their academic regalia — processed the streets of downtown Phoenix with college and university leaders and faculty. Ten students participated virtually and were recognized as they were hooded by loved ones.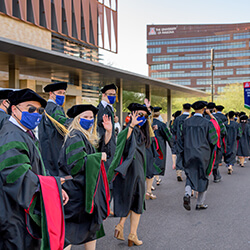 Robert C. Robbins, MD, president of the University of Arizona, greeted the graduates from the dais and expressed his appreciation for how students have demonstrated resilience during the pandemic, making him confident they are prepared to embark upon their medical careers.
"This past year, I have been so impressed with our Wildcats. I have seen our students' compassion for helping one another, for serving the community and for doing everything they can to help all of us get through the pandemic," President Robbins said. "You are graduating into a challenging moment for our profession, and for the world as a whole, but as you are prepared, we are confident that you can overcome these challenges. You have the support of all of us at the University of Arizona. You are entering a profession dedicated to service to others. It is an incredible calling, and I congratulate you on this achievement and for what you will go on to do."
Guy L. Reed, MD, MS, dean of the College of Medicine – Phoenix, remarked the Class of 2021 started with him as he began his role as dean. He reflected on how much they have overcome during COVID-19.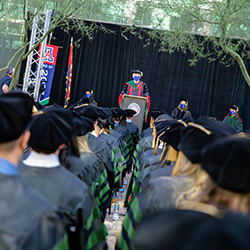 "Class of 2021, you are an extraordinary group of students, and you are becoming physicians during an extraordinary time in our history," Dean Reed said. "This pandemic has hurt us. It also has given us many profound insights. It has shown that we need physicians who are scientists, and physicians who understand the social determinants of health. We need physicians who are teachers, healers and leaders who can connect with diverse communities. Each one of you has the talent to create a better and healthier future, where advances in the science and art of medicine are equitably enjoyed by all."
The Class of 2021 completed their final year of training — and residency interviews — during the COVID-19 pandemic.
Many College of Medicine – Phoenix medical students stepped up to serve by volunteering to administer shots at university and state-run vaccination pods and providing health care to vulnerable populations via nonprofit organizations.
Mohammad Mousa, MD, was selected by his classmates to serve as class representative throughout the four years of medical school and to deliver the student commencement address. He recounted the moments that brought the Class of 2021 to this day and the feelings they felt throughout their journey: inspiration, passion, pride and triumph.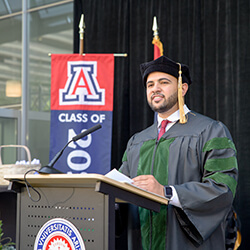 "But all of our success and accomplishments do not mean our work is done. Our world is changing rapidly — socially, ethnically, economically and medically. We must continue to stand up and fight for those who cannot. Our unique privilege of becoming physicians places us in a level of power where we can be the forefront of change for the betterment of humanity," Mousa said.
Aletha Maybank, MD, MPH, senior vice president and inaugural chief health equity officer for the American Medical Association, presented a virtual commencement address.
Dr. Maybank focused her comments on the term, "eliminating health care disparities" — a new concept she heard two decades ago when she graduated medical school from former U.S. Surgeon General David Satcher.
"Over the coming months and years, the United States medical system will struggle to adapt to a new post-pandemic norm. This new day calls upon all of you to know and understand what creates health more broadly beyond the halls and walls of the health care system, the hospitals and doctors' offices, and understand how larger political, historical, structural, social and cultural contexts in which we all live impact your patient's health, your health and the health of our loved ones," Dr. Maybank said.
"It's my absolute honor to be here and congratulate you on behalf of the American Medical Association's Center for Health Equity. To be a physician is a tremendous privilege not afforded to many; the privilege to enter people's lives who are absolute strangers in which they hand over their keys to vulnerability and trust. Trust that you are always going to do the best that you can do to promote and protect their health and well-being," Dr. Maybank said.
Laura Mercer, MD, was awarded the Stuart D. Flynn, MD, Master Educator Award, an honor bestowed by the graduating class to a faculty member who exemplifies the dedication, hard work, compassion and discipline that it takes to be a great educator.

"Dr. Mercer has been such an integral part of our medical education. She is hands down the most organized, receptive and responsive person at our school. She is not only an excellent teacher and cares about our learning, but she supports us as whole people," read the nomination.
Faculty leadership in attendance included: Michael Dake MD; Steven Lieberman, MD; Lisa Shah-Patel, MD; Katie Brite, MD; Paul Standley, PhD; and Cheryl O'Malley, MD. Regent Larry Edward Penley, PhD, presented remarks from the Arizona Board of Regents.
These newly minted physicians are well-prepared to enter their residency training and serve the immense need for more doctors in communities across the United States.
Videos and Photos
Class of 2021 Student Profiles
About the College
Founded in 2007, the University of Arizona College of Medicine – Phoenix inspires and trains exemplary physicians, scientists and leaders to optimize health and health care in Arizona and beyond. By cultivating collaborative research locally and globally, the college accelerates discovery in a number of critical areas — including cancer, stroke, traumatic brain injury and cardiovascular disease. Championed as a student-centric campus, the college has graduated 745 physicians, all of whom received exceptional training from nine clinical partners and more than 2,700 diverse faculty members. As the anchor to the Phoenix Bioscience Core, which is projected to have an economic impact of $3.1 billion by 2025, the college prides itself on engaging with the community, fostering education, inclusion, access and advocacy.