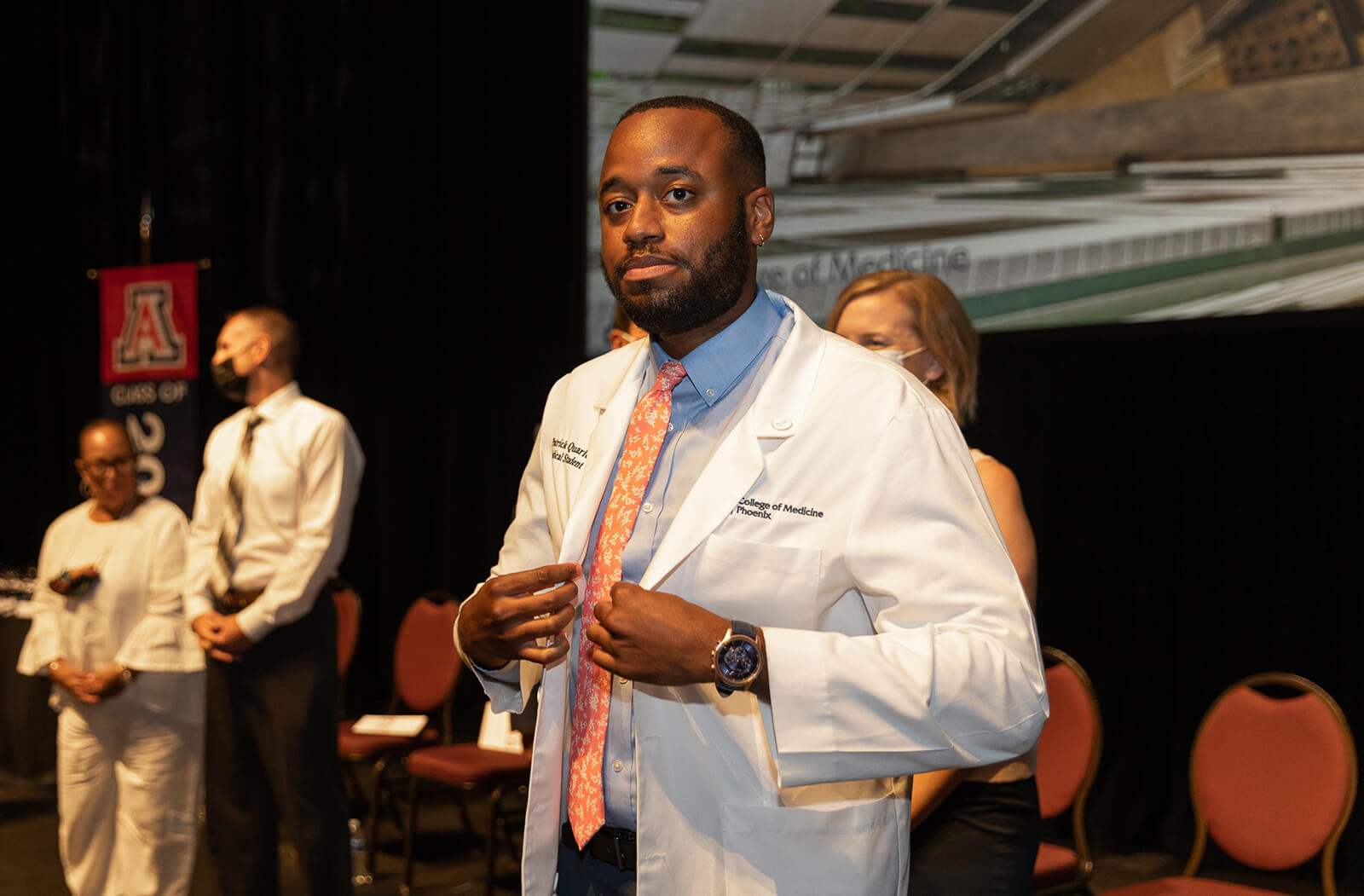 A Day to Remember: The Class of 2026 Presented Their White Coats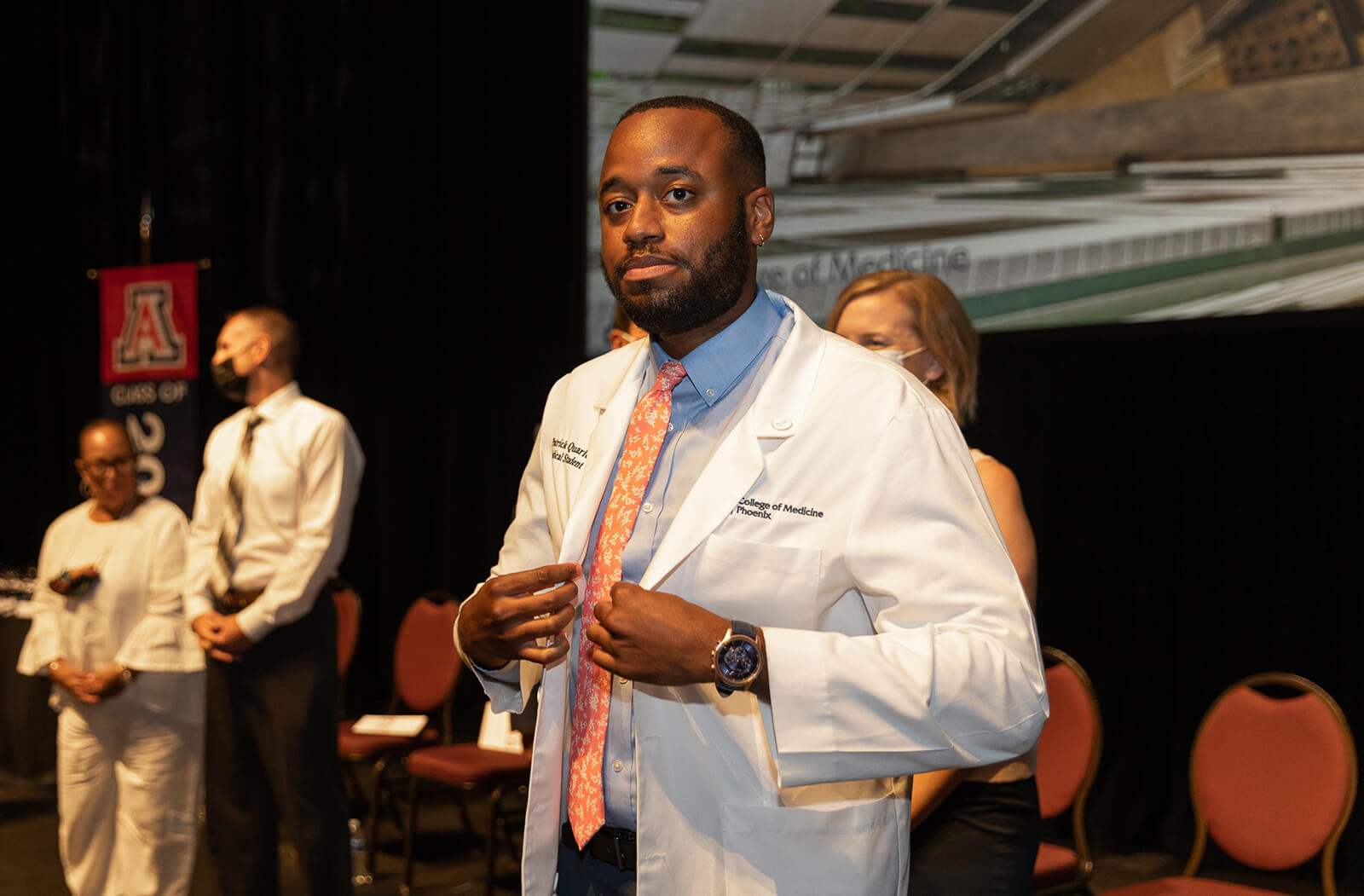 120 medical students coated, officially beginning their journey to an MD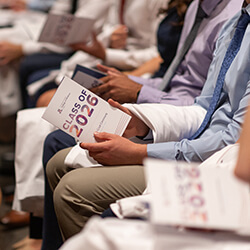 The White Coat Ceremony marks the transition of incoming students to officially be recognized as physicians-in-training. It is an internationally practiced rite of passage for all new medical students.
As they don their white coats for the first time, the ceremony signals more than just the start of their studies toward a medical degree. It is a symbol of their commitment and lifelong dedication to advocacy, professionalism and patient-centered care.
On Friday, July 15, at Symphony Hall in downtown Phoenix, the Class of 2026 became the 16th class to enter the University of Arizona College of Medicine – Phoenix. As their families and friends watched with pride, the 120 students that comprise the class were warmly welcomed to the college by Dean Guy Reed, MD, MS.
"Class of 2026, this is a joyous occasion that will hold a special place in your memory for years to come," he said. "Wearing this coat marks your commitment to serving communities and individuals with a combination of wisdom and genuine compassion."
---
---
At the ceremony, the students also received valuable insights from keynote speaker, Pamela Davis, MD, and alumni speaker, David Moore, MD, from the Class of 2012.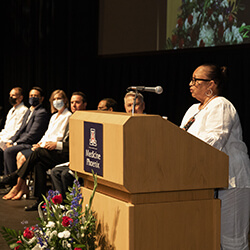 Dr. Davis is the executive medical director at Intercept Pharmaceuticals, a global biotech company headquartered in New York City. But her relationship with the University of Arizona began when she was a clinical assistant professor with the College of Medicine – Tucson. During her 10-year career in medical education, she served as an instructor of Internal Medicine and as director of the Clinical Research Unit.
As a woman of color, Dr. Davis dealt with many adversities over her career. Her remarks reflected those trials, encouraging the students to use their time in medical school as a tool to build their own resiliency and become more empathetic healers. "The greatest friend of truth is time, her greatest enemy is prejudice and her constant companion is humility," she said.
Dr. Davis, a breast cancer survivor, stressed the importance of keeping things in perspective, as well. "Do not anguish over little things, things out of your control. Be passionate, persistent and patient with life and who you love."
Since opening its doors in 2007, the college has graduated more than 660 physicians, helping to alleviate the dire shortage facing Arizona and beyond. The alumni speaker, Dr. Moore is an excellent example of how the college has helped serve the state.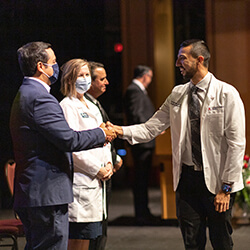 Post-medical school and residency, he has treated patients at several correctional facilities across Arizona — with his primary practice at the Arizona State Prison in Kingman.
Dr. Moore urged the students to embrace the moment and take every chance to learn from those around them. "For four years, you are going to live in this wonderful bubble, where you are expected to make mistakes and not expected to know answers," he said. "This is by design; you are being given the freedom for unrestricted growth. Make the most of it."
After each student received their personalized coat, as well as a stethoscope and a copy of the Patient History: Evidence-Based Approach to Differential Diagnosis textbook, the ceremony closed with the Class of 2026 reciting their oath.
Written collectively in their opening days of medical school, their oath focused on their desire to enrich the lives of those they serve — treating the patient, rather than the illness — and to break down impediments to care that have plagued communities for far too long.
---
I will always strive to combat the barriers that have kept, and continue to keep, patients from care. I will embrace the diversity of my local and global community and fiercely advocate for justice. I recognize that my impact as a physician transcends beyond the walls of an exam room...
---
Over the next four years, they will build toward the commitment expressed through those words, evolving into the next generation of doctors who will help transform the future of health care.
Class of 2026 Student Profiles
Videos, Photos and More
The College of Medicine – Phoenix would like to thank individuals from the across the campus and partners from the community for their generosity. Through their kindness, the Class of 2026 White Coat Campaign was able to raise more than $49,500, heftily exceeding its goal and enabling the creation of future student scholarships.
About the College
Founded in 2007, the University of Arizona College of Medicine – Phoenix inspires and trains exemplary physicians, scientists and leaders to optimize health and health care in Arizona and beyond. By cultivating collaborative research locally and globally, the college accelerates discovery in a number of critical areas — including cancer, stroke, traumatic brain injury and cardiovascular disease. Championed as a student-centric campus, the college has graduated more than 800 physicians, all of whom received exceptional training from nine clinical partners and more than 2,700 diverse faculty members. As the anchor to the Phoenix Bioscience Core, which is projected to have an economic impact of $3.1 billion by 2025, the college prides itself on engaging with the community, fostering education, inclusion, access and advocacy.