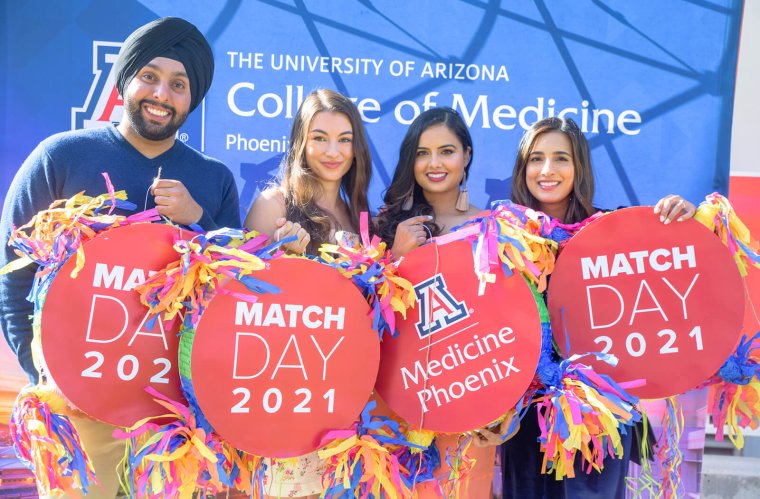 More Than 70 Medical Students Matched at the University of Arizona College of Medicine - Phoenix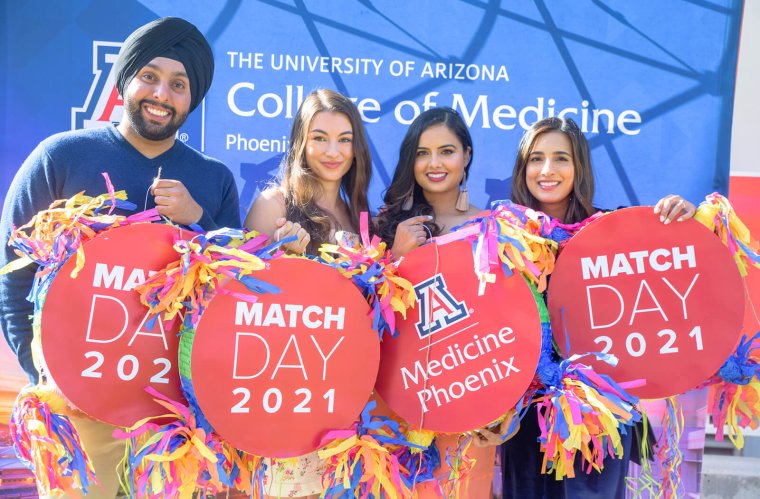 Nearly 26 Percent of the Class of 2021 will Specialize in Primary Care; Matched Students Placed into Competitive Residencies in Multiple Specialties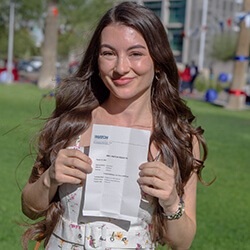 More than 70 medical students from the University of Arizona College of Medicine – Phoenix's Class of 2021 celebrated a career milestone when they learned where they matched into residency. Nearly 26 percent will go into the primary care fields of family medicine, internal medicine and pediatrics, addressing the critical need for physicians in these areas. Matched students placed into very competitive residencies in multiple specialties in Arizona and other states.
Lisa Shah-Patel, MD, interim associate dean, and members of the Student Affairs team hosted the live virtual Match Day event, while family and friends participated from festive private parties. This was the 11th Match Day at the UArizona College of Medicine – Phoenix, and the second virtual Match Day the college has hosted to protect the health of attendees and prevent the spread of COVID-19.
"Match Day is a time when we congratulate our fourth-year medical students on their accomplishments," Lisa Shah-Patel, MD, interim associate dean of Student Affairs, said. "You have experienced something no other class has. This year, all of the residency interviews were virtual, and through all of the unknowns, you've handled it with grace, resilience and poise."
After a year of change, reflection and growth where COVID-19 impacted every aspect of their fourth year in medical school, these students prepare to join medical teams in Arizona, and nineteen other states. They'll spend three to seven years completing training in their chosen specialty. Health care systems across the United States have been tremendously strained as they responded to a pandemic that introduced novel challenges and required innovative approaches.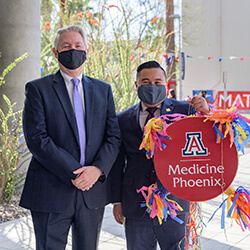 Guy Reed, MD, MS, dean of the College of Medicine – Phoenix commented to the Class of 2021 in a pre-recorded video message. "In 2017, I met your amazing families, and I saw the deep optimism and commitment that you will bring to your role as physicians, scientists and servants," he said. "Most of you will match at your top three choices, and all of you will continue your journey to distinction and service to our communities. Wherever you go, you'll carry the special things that you've learned here at the University of Arizona College of Medicine – Phoenix."
More than 48,000 applicants participated in the 2021 Main Residency Match, including seniors from both international and osteopathic schools, as well as U.S. seniors and graduates. Students from the college joined those colleagues across the nation as they simultaneously revealed matches through the National Resident Matching Program. Some UArizona College of Medicine – Phoenix students matched into highly competitive residencies at Yale, Johns Hopkins, Stanford University, the University of California at Los Angeles, the University of Washington and the University of Michigan. After each match was announced, staff from Student Affairs pinned each resident's photo to the city and state on a giant-size United States map.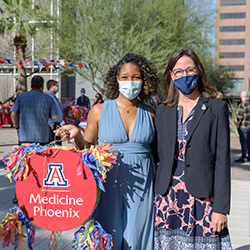 "Not only are you servant leaders, as we all saw with many of you stepping up to help in the community during this past year of COVID-19, but you are all so motivated, compassionate and emphatic," Lisa Shah-Patel, MD, said. "We know that you are going to become amazing doctors for your patients, their families and the communities in which you serve."
UArizona College of Medicine – Phoenix students are as exceptional as they are diverse. Each brings a firm understanding of how much their skills are needed in urban and rural Arizona communities experiencing physician shortages. Their personal reasons for becoming physicians speak to their early experiences with health care as children:
Match Day is the culmination of a complex, year-long process that matches the nation's graduating medical students with residency programs. Match results are released nationally by the National Resident Matching Program™ and announced at Match Day ceremonies coordinated to occur each year on the same date (the third Friday in March) at the same time.
Fast Facts – Class of 2021 Match Day
Twenty will enter residency in Arizona.
Eleven at Banner – University Medical Center Phoenix.
One at Banner University Medical Center Tucson.
Four at Creighton University affiliated hospitals.
Four at Abrazo, HonorHealth and Tucson Hospitals Medical Education.
News, Videos and Photos
About the College
Founded in 2007, the University of Arizona College of Medicine – Phoenix inspires and trains exemplary physicians, scientists and leaders to optimize health and health care in Arizona and beyond. By cultivating collaborative research locally and globally, the college accelerates discovery in a number of critical areas — including cancer, stroke, traumatic brain injury and cardiovascular disease. Championed as a student-centric campus, the college has graduated 669 physicians, all of whom received exceptional training from nine clinical partners and more than 2,600 diverse faculty members. As the anchor to the Phoenix Bioscience Core, which is projected to have an economic impact of $3.1 billion by 2025, the college prides itself on engaging with the community, fostering education, inclusion, access and advocacy.