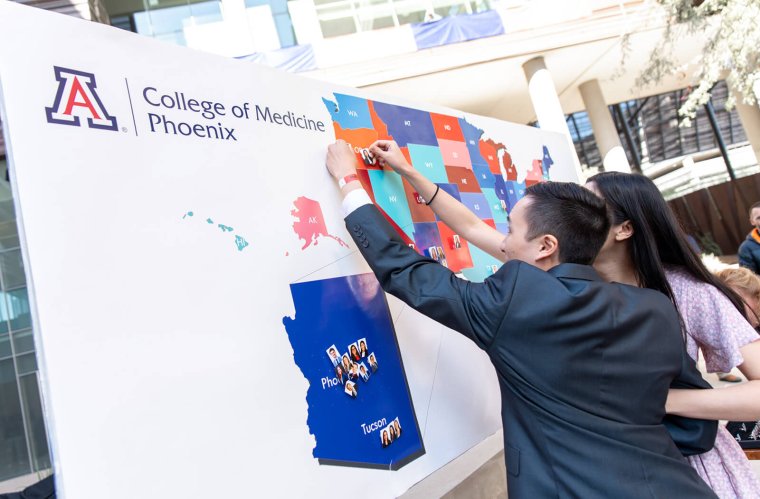 Residency Bound: More than 70 Students Match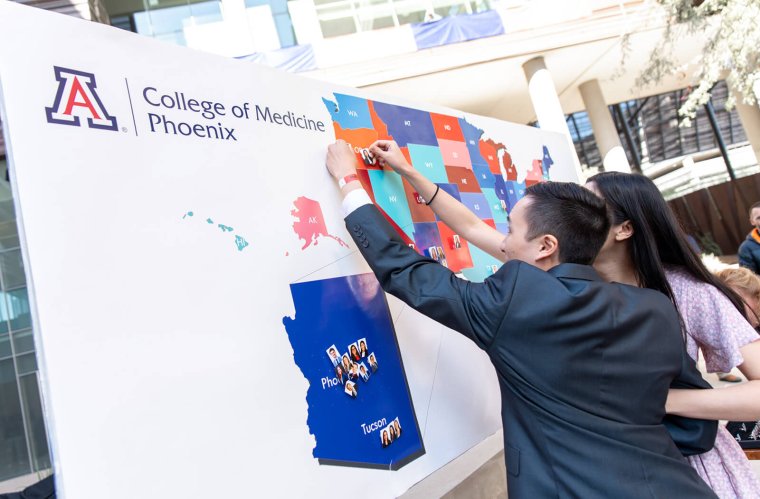 The Class of 2022 Celebrates in Style at the First In-Person Match Day in Two Years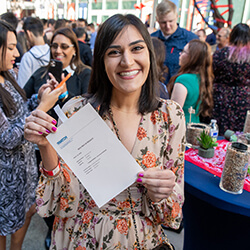 For the University of Arizona College of Medicine – Phoenix's Class of 2022, the last two years of their medical training were marked by change and adaptation due to the COVID-19 pandemic's overwhelming presence.
"To me, you are the 'can do' class. You rise to challenges and continue working tirelessly toward your goals, regardless of the obstacles standing in your way," said Katie Brite Hillis, MD, interim senior associate dean of Undergraduate Medical Education and associate dean of Clinical and Competency-Based Education.
The students' determination and positivity paid off during their Match Day ceremony on March 18. They competed with more than 47,000 applicants who participated in the 2022 Main Residency Match, including seniors from both international and osteopathic schools, as well as U.S. seniors and graduates.
"The Class of 2022 is everything we could have hoped for in a class," said Stephanie Briney, DO, associate dean of Student Affairs. The students chose the moniker "most supportive class," as evidenced by their dedication to one another, and their desire to aid the community during the pandemic through the COVID-19 Student Services Corps. "They sought opportunities to support their peers during great challenges. And they will make excellent future physicians in their chosen specialties," Dr. Briney said.
Surrounded by family and friends and cheered by faculty, staff and fellow medical students from an overlook of the Health Sciences Education Building, the Class of 2022 opened their matches. Encased in a glass jar full of pebbles, emblazoned with the college's logo and topped with a succulent, the letters revealed the next step in their journey as physicians.
It was joyous scene — one encapsulated by an abundance of hugs and a seemingly endless shower of confetti; and it was a welcome reminder of how far the class has come since they entered medical school in 2018.
"When I think of all of you, I think of one word: 'awesome.' You are awesome because of your journey of education and success during a time of significant adversity," said Guy L. Reed, MD, MS, dean of the UArizona College of Medicine – Phoenix. "When the pandemic threatened to turn your clinical training upside down, you persevered. You succeeded."
Dean Reed expressed confidence that each student would continue a journey full of personal and professional growth.
The class of 2022 matched into highly competitive fields, including interventional radiology, psychiatry, ocular pathology, general surgery, anesthesiology and dermatology. They placed into prestigious programs, such as University of Pittsburgh Medical Center, UCLA, Mayo Clinic, Kaiser Permanente, Emory University, George Washington University, UArizona College of Medicine – Phoenix and Phoenix Children's.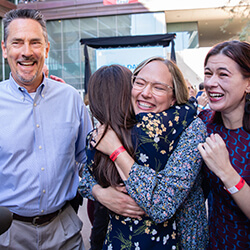 Dr. Briney left the class with this message, "This success is due to your hard work and perseverance. You still have a journey ahead, but you should relish your achievements to date. Congratulations!"
Match Day is the culmination of a complex, year-long process that matches the nation's graduating medical students with residency programs. Match results are released nationally by the National Resident Matching Program™ and announced at Match Day ceremonies coordinated to occur each year on the same date (the third Friday in March) at the same time.
The 39,205 certified positions available marks the largest number on record. Of those, 36,277 were first-year (PGY1) positions — also the largest on record and a 3.1 percentage point increase over last year.
Match Day 2022 Fast Facts
Eighteen medical students are staying in Arizona for all years of residency.
Two additional students will complete their preliminary year in Arizona, and then go elsewhere for their specialty.
Of these 20 Arizona students:

Eleven matched at Banner – University Medical Center Phoenix.
One matched at Banner – University Medical Center Tucson.
Four matched at Creighton University-affiliated hospitals.
Four matched at Abrazo, HonorHealth and Tucson Hospitals Medical Education.

Twenty-two states were represented as our students head to their residencies.
Videos and Photos
Student Profiles
Match Day 2022 Stats
About the College
Founded in 2007, the University of Arizona College of Medicine – Phoenix inspires and trains exemplary physicians, scientists and leaders to optimize health and health care in Arizona and beyond. By cultivating collaborative research locally and globally, the college accelerates discovery in a number of critical areas — including cancer, stroke, traumatic brain injury and cardiovascular disease. Championed as a student-centric campus, the college has graduated 669 physicians, all of whom received exceptional training from nine clinical partners and more than 2,600 diverse faculty members. As the anchor to the Phoenix Bioscience Core, which is projected to have an economic impact of $3.1 billion by 2025, the college prides itself on engaging with the community, fostering education, inclusion, access and advocacy.