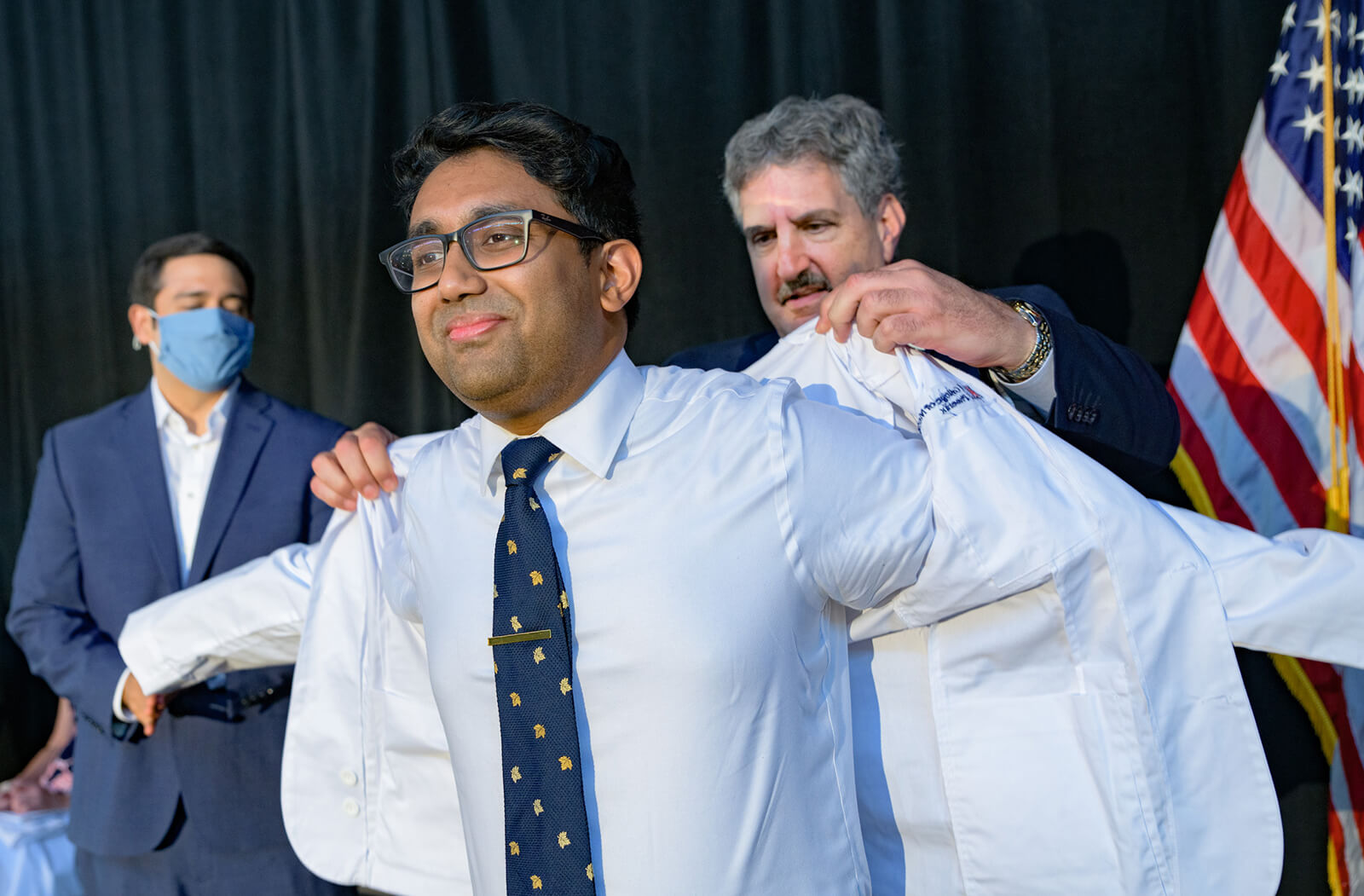 White Coat Ceremony Held for the Largest and Most Diverse Class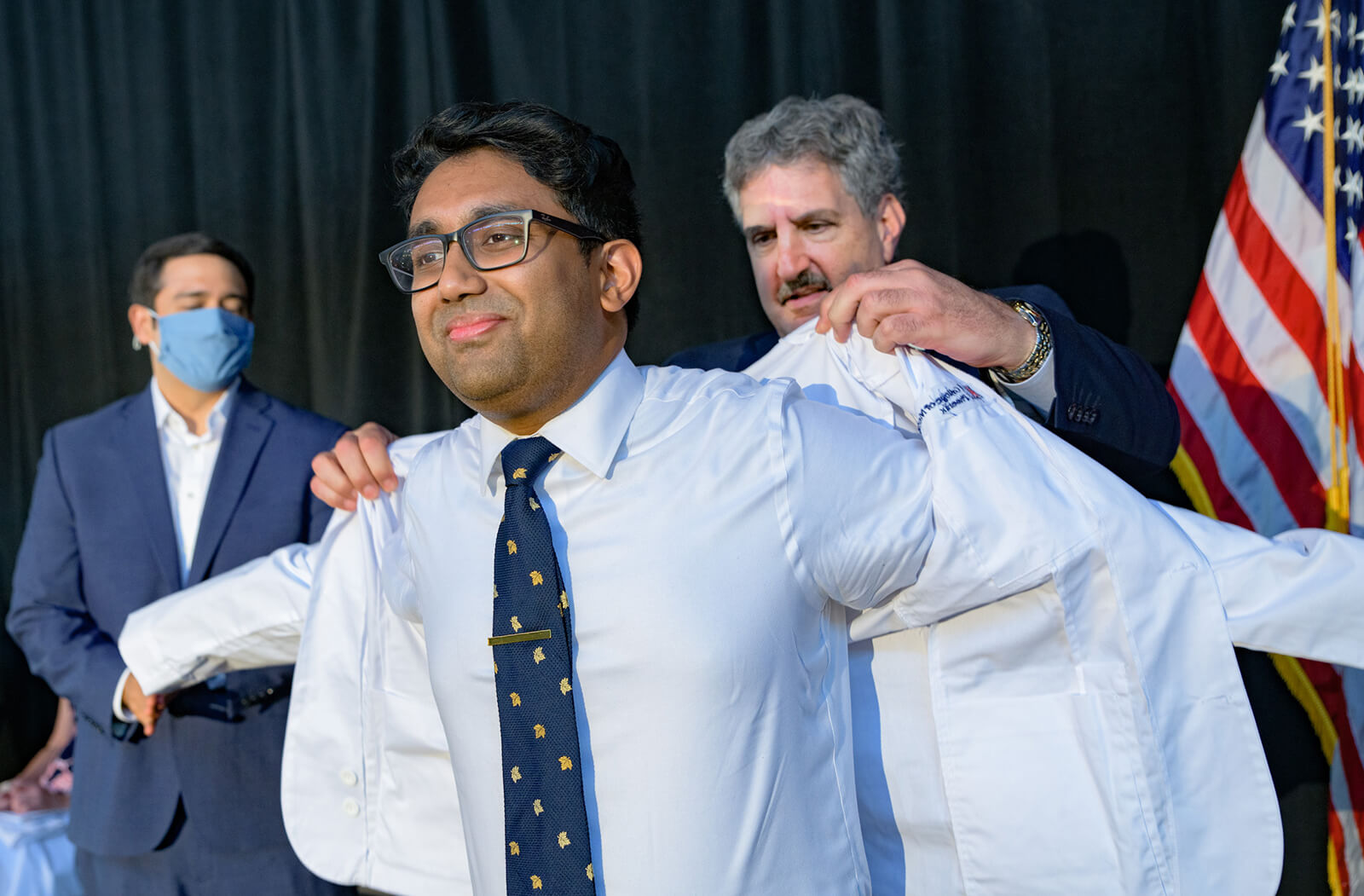 More than Half of the Class — or 61 Percent — Identifies as Having at Least One Dimension of Diversity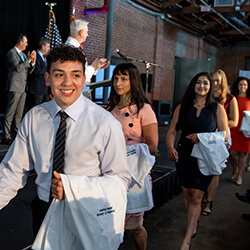 The University of Arizona College of Medicine – Phoenix hosted the Class of 2025 for an in-person White Coat Ceremony Friday, July 16. Topping out at 120 students, the Class of 2025 is the largest and the most diverse class of future physicians in the college's history. Family, friends and college leadership gathered at Warehouse 215 to witness this milestone event and to congratulate the first-year medical students.
"Our college's longitudinal goal has been — and continues to be — training physicians who represent our community," said Glen Fogerty, PhD, MBA, associate dean of Admissions and Recruitment. "Phoenix and other cities in Arizona are growing, and it is important to have physicians who reflect these communities. The Class of 2025 is the most diverse class in the college's history, and these future physician leaders share our commitment to serve others." 
Each year, the White Coat Ceremony is an internationally practiced rite of passage for new medical students and establishes the beginning of a lifetime of professionalism and advocacy in the practice of medicine.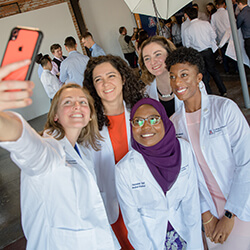 "The White Coat Ceremony signifies the beginning of a marathon journey of transformation from a talented, carefully selected student, into an exceptionally skilled and compassionate physician," said Guy L. Reed, MD, MS, dean of the UArizona College of Medicine – Phoenix. "Every time I don my white coat, I am reminded of my sacred responsibilities, the role I have accepted, the commitments I have made toward becoming a better, more knowledgeable and compassionate physician in the service of my patients," said Dean Reed.
The Class of 2025 is the 15th class to enter the college since it welcomed its first class in 2007. During the ceremony, medical students recited their class oath and received a personalized white coat, 3M™ Littmann® Cardiology IV™ Stethoscope and The Patient History: Evidence-Based Approach to Differential Diagnosis textbook. Valued partners, including Kote Chundu, MD, MMM, president and CEO of the District Medical Group, contributed to the 2021 White Coat Scholarship Campaign, exceeding the fundraising goal of $30,000 to reach more than $40,000 in funds for students.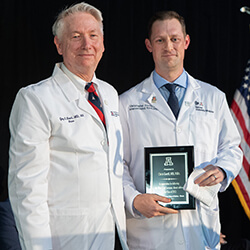 Class of 2012 graduate Chris Goettl, MD, MBA, was the alumni speaker. Dr. Goettl is a clinical assistant professor of Radiology at the UArizona College of Medicine – Phoenix and an interventional radiologist at Banner – University Medical Center Phoenix.
"I really am honored and humbled to be here with you tonight. I feel honored because I know a little bit about who you are, and how important this step is in your lives. You are 120 of the most qualified applicants ever to attend medical school in our state. Equally important, you are a very diverse group.," said Dr. Goettl.
In his remarks, Dr. Goettl encouraged the Class of 2025 to focus on their classmates, their families and their health.
"Your family will support you and make sacrifices for you along the way. They likely have already made sacrifices to help you get to this point. If you're here with your parents, don't forget to give them a hug and say, 'Thank you,' " said Dr. Goettl.
The students in the Class of 2025 were selected from more than 6,000 applicants to the UArizona College of Medicine – Phoenix. Overall, these talented candidates placed in the top 10 percent of 2020 medical school applicants, with an average MCAT score of 514 and median cumulative GPA of 3.77.  More than half of the class — or 61 percent — identifies as having at least one dimension of diversity. Some students were heavily recruited and entertained multiple acceptances to medical school. Each remarked that their choice of UArizona College of Medicine – Phoenix was based on the holistic philosophy and curriculum, the student-centric culture, the college's distributive model — with nine clinical partners — as well as the vast resources available for research and clinical trials.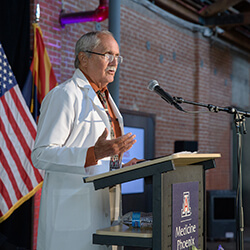 Training the next generation of medical students today takes on a new urgency due to current demands on health care systems. These physicians-in-training are aware of the structural inequity of access to health care experienced by diverse patient populations. In their personal statements, they espouse a philosophy of servant leadership along with gratitude for the training regime they are beginning. They firmly believe in inclusivity when treating future patients and are committed to not only rebuilding trust in the medical profession, but in science, as well.
Keynote speaker Douglas Campos-Outcalt, MD, MPA, mentioned the obligations physicians have to their patients — to communicate with them, to recognize the social determinants impacting patient health and to stay competent. Dr. Campos-Outcalt graduated from the UArizona College of Medicine – Tucson and previously served as the chair of Family Medicine.
"People trust their individual physicians, and that's a very privileged position to be in. We should put our patients first and learn to how to communicate with them and listen to them. Don't let the medical record interfere when you are listening to your patient. Realize that they come to you with a variety of social determinants that are probably affecting their health more than you are going to be able to," Dr. Campos-Outcalt said.
"Medicine is a life-long learning profession. You have to learn how to continually learn — how to have an open mind, access scientific evidence, find out what works and what doesn't work, and be able to figure out the wheat from the chaff," he said.
As representatives from both metropolitan areas and rural communities, the Class of 2025 is keenly aware of the challenges each demographic experiences. Some of the incoming students are native Arizonans who have witnessed how Phoenix's rapid growth has contributed to a physician shortage. Others were raised in rural communities across America and understand how the community's physician is literally a lifeline for many.
Class of 2025 Student Profiles
Videos, Photos and More
About the College
Founded in 2007, the University of Arizona College of Medicine – Phoenix inspires and trains exemplary physicians, scientists and leaders to optimize health and health care in Arizona and beyond. By cultivating collaborative research locally and globally, the college accelerates discovery in a number of critical areas — including cancer, stroke, traumatic brain injury and cardiovascular disease. Championed as a student-centric campus, the college has graduated more than 800 physicians, all of whom received exceptional training from nine clinical partners and more than 2,700 diverse faculty members. As the anchor to the Phoenix Bioscience Core, which is projected to have an economic impact of $3.1 billion by 2025, the college prides itself on engaging with the community, fostering education, inclusion, access and advocacy.