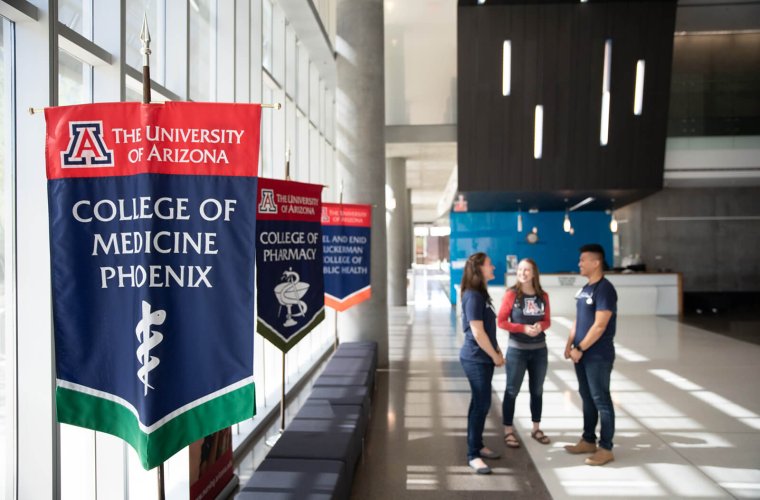 College of Medicine – Phoenix Welcomes its Largest Class of Students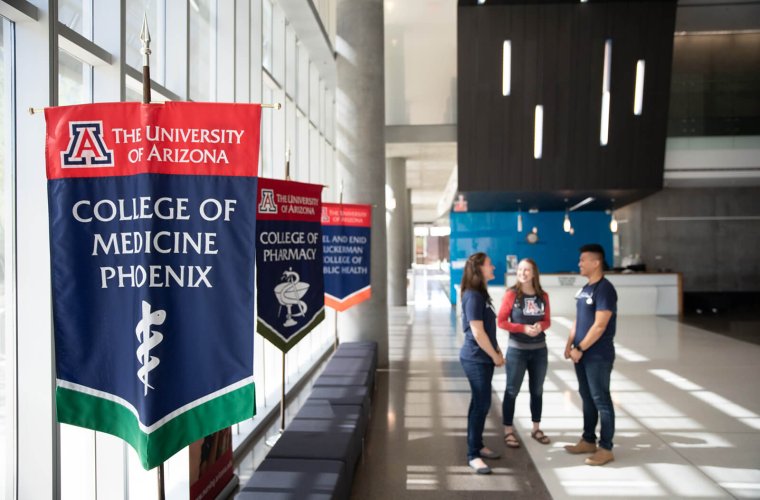 New Students Begin Their Medical Journey Online Due to Pandemic
The University of Arizona College of Medicine – Phoenix virtually welcomed its largest class of students this July to campus.
The coronavirus pandemic has impacted the ability for these 100 students to start their medical school journey in-person. Students are starting the year with online classes and celebrating traditions like the writing of the class oath virtually. Each class of first-year students creates its own class oath, reflecting the values they commit to demonstrate and maintain in service to their patients and communities. The White Coat Ceremony that heralds the students' entry into clinical medicine and welcomes them into the medical profession will be held in the fall.

"The Admissions Committee often referenced how the students of this class knew how to balance it all," Glen Fogerty, PhD, MBA, associate dean of Admissions and Recruitment said. "I believe this skill will serve the class well — whether it being all that medical school has to offer or determining how to understand how to manage their learning in our current new normal. I have confidence in this class, and I know they will be up to task on anything presented to them."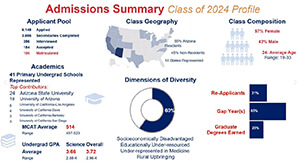 There were 6,148 applications for the Class of 2024, and the college offered 396 interviews to get to the 100 students. This is a 20 percent increase in class size, with about 55 percent being Arizona residents. The other 45 percent represent 17 states. Of the Class of 2024, about 57 percent are female and 43 percent male. Three students already have their doctorates and about 60 percent come from socially disadvantaged, educationally under-resourced, underrepresented areas in medicine or rural upbringings.
"Parts of me are both afraid, yet emboldened to enter medicine at this time," first-year medical student Jordan Santos said. "Afraid, because like many today, there is a sense of uncertainty and unrest. It's very easy to get caught up in the headlines. Emboldened, because there is much knowledge to gain and work to be done. I cannot ignore those in need. I am very grateful that we have many brave medical workers out there that put themselves at risk for the greater good. I am honored to join this community and hope to do my part."
The pandemic has not only impacted the ability for students to be on campus, but has impacted other important events for the college — including commencement and Match Day. The medical school recently graduated 93 physicians who are now in residency, serving on the front lines in Arizona and across the country.
"I would have to say that these past six months have probably been the most rewarding time in my career, even though this is during the most troubling of times," Dr. Fogerty said. "I mention this as I have been with the medical school for four years now, and I was able to witness students from the first class I was able to assist building (the Class of 2020) graduate early to help fight the pandemic. Now, this year, we welcomed our first class of 100 (the Class of 2024). As quickly as possible, we will have these students intertwined within our medical community, serving those in need and working diligently to be our future physicians."
Since the college welcomed its first class of 24 in 2007, the UArizona College of Medicine – Phoenix has increased its class size from 48 in 2008 to 80 in 2012 to 100 in 2020. The Phoenix medical school has graduated 593 physicians. Currently, the medical school enrolls only about one percent of applicants and the mean MCAT scores of the entering class are among the top 10 percent in the country. First-year medical students recorded an average MCAT score of 514, an average undergraduate GPA of 3.72 and an average science GPA of 3.66.
"The best advice I may be able to offer is for our students to trust themselves as we both move through this new reality," Dr. Fogerty said. "I know we have recruited an extremely bright class and with that, these students know themselves better than anyone. They already know how they best learn, how they best study and most importantly, how to manage a variety of situations. I hope they use this collective knowledge and connect it with all that we have to offer to support their academic learning. Bridging these two elements together will serve our new students well."
Meet a Few of Our First-Year Medical Students
About the College
Founded in 2007, the University of Arizona College of Medicine – Phoenix inspires and trains exemplary physicians, scientists and leaders to optimize health and health care in Arizona and beyond. By cultivating collaborative research locally and globally, the college accelerates discovery in a number of critical areas — including cancer, stroke, traumatic brain injury and cardiovascular disease. Championed as a student-centric campus, the college has graduated 593 physicians, all of whom received exceptional training from nine clinical partners and more than 2,400 diverse faculty members. As the anchor to the Phoenix Biomedical Campus, which is projected to have an economic impact of $3.1 billion by 2025, the college prides itself on engaging with the community, fostering education, inclusion, access and advocacy.