Global Health
At the University of Arizona College of Medicine – Phoenix, the Global Health Program exposes students to the primitive clinical and public health care due to the resource constraints typically found in developing nations. Students have the opportunity to apply their medical knowledge to health care situations around the world and to learn from colleagues and experts abroad in the fields of tropical medicine, nutrition and public health. These equal partnerships are aimed at promoting health equity here and abroad through the shared development of best practices. Students involved in the Global Health Program return better prepared to provide care to patients and communities in underprivileged countries.
Certificate of Distinction
This certificate of distinction (COD) integrates the long-established College of Medicine electives in Global Health (GH) with several newer elements. The certificate consists of five educational components, including externships, courses, participation in seminars, a scholarly project and a preceptorship abroad. Students who complete the certificate receive a "Distinction in Global Health" at graduation
A "medical home" has been established between our College of Medicine and a site in Rocky Point, Mexico, that gives our students the opportunities to care for the underprivileged Mexican community and Guatemalan refugees. By going there twice a year, the community is followed and cared for by having prior knowledge and documentation of their illnesses. COD in Global Health students are required to participate and if space is available, other first-year and second-year students are invited to join.
Rocky Point, Mexico, Trip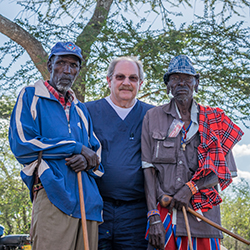 Sponsored by our student run organization — Global Health Interest Group (GHIG)
*Detailed information about the trip
Elective
This is Element 5 of the Global Health Certificate of Distinction. You do not need to be a part of the Global Health Certificate of Distinction to participate in this elective. The requirement for the University of Arizona College of Medicine – Phoenix is that it is a rural or district hospital setting and that it is a primary care setting. If you want to go abroad to a developed nation or a tertiary care setting in a specific specialty in a developing nation, you can speak to Dr. Beyda about the specifics of allowing you to study abroad.
Images courtesy of Brandon Cunningham©​