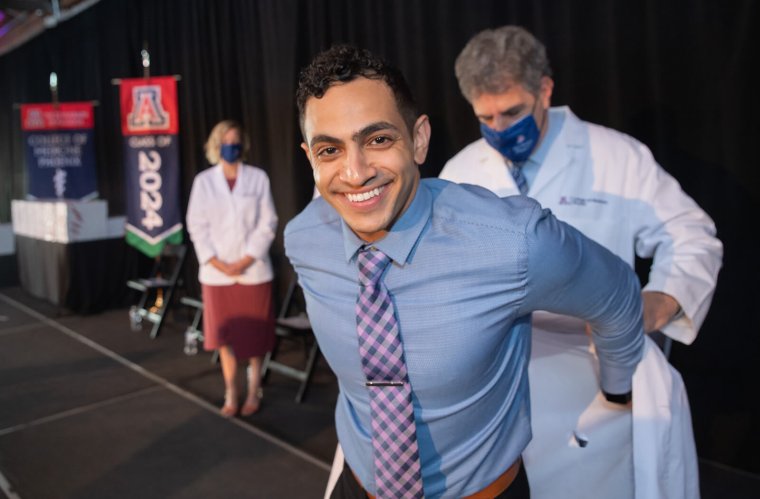 Class of 2024 Celebrates Long-Awaited White Coat Ceremony In-Person with Family and Friends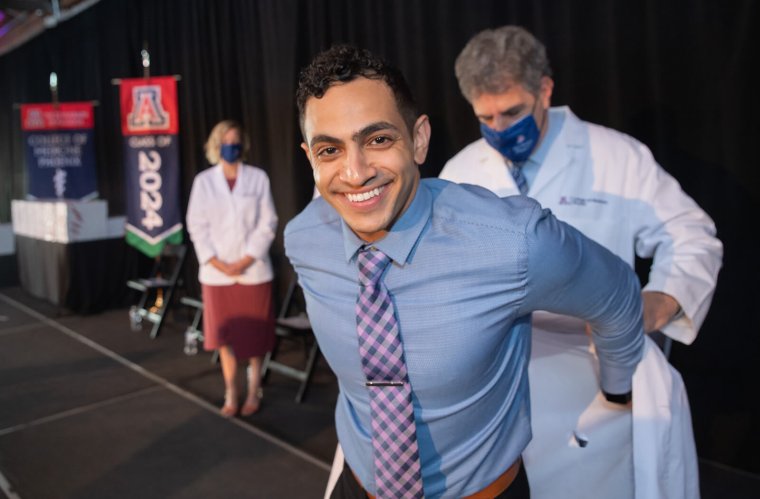 First Class to Have Patient and Clinical Experience Before the Formal Ceremony, as well as to Feature a Student White Coat Speaker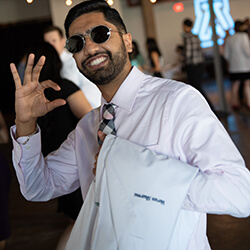 Before more than 300 family and friends — who cheered and congratulated them — the 100-member Class of 2024 publicly received their white coats and recited their oath in a White Coat Ceremony long overdue. Unlike most medical students, who receive their white coat in a ceremony within the first two weeks of course instruction, the Class of 2024 voted to postpone this cherished tradition and rite of passage until they could gather safely in-person with family and friends. Their first year of medical school was conducted virtually.
"We recognized these students were special during the interview process, and they have exceeded our expectations over this past year. We are so proud of each of them," said Glen Fogerty, PhD, MBA, associate dean of Admissions and Recruitment. "I can tell you [family, friends and loved ones], it was truly important for these students to have you here to celebrate this moment. They didn't want to be 'white coated' without you in attendance, and that is a testament to the important place you hold in their hearts."
Each medical student wore the personalized white coat they received when they began their medical studies. At that time, the students also received a 3M™ Littmann® Cardiology IV™ Stethoscope and The Patient History: Evidence-Based Approach to Differential Diagnosis textbook. In Friday's ceremony, the Class of 2024 also received a set of scrubs — which completes their full uniform as medical students — and a framed class photo.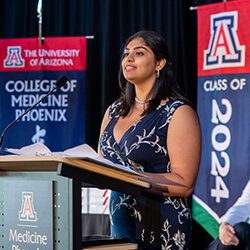 Meher Rakkar was nominated to deliver a student address, becoming the first student to speak at a White Coat Ceremony. Rakkar reflected on how much the class has grown together and learned from each other over the past year.
"I have watched my classmates draw from their own diverse backgrounds to identify problems within health care," said Rakkar.  "I have seen them use these insights to implement positive change within our institution and within our communities. I have seen them educate one another and our incoming class about these inequities to ensure that these changes are long-lasting and impactful. It has been my privilege to learn from them."
Guy Reed, MD, MS, dean of the University of Arizona College of Medicine – Phoenix, noted the class has already distinguished itself by having both patient and clinical experience.
"You must be able to meet patients where they are; to earn their trust and provide healing. This is a promise to walk with them through seasons of health, illness, recovery and even death," said Dean Reed. "At the same time, the tragedies and upheaval of the last year have shown us that our medical profession must do more to address structural inequities that exist in our society. We must work to remove impediments that prevent everyone from achieving a life of health, free from the scourge of chronic illness."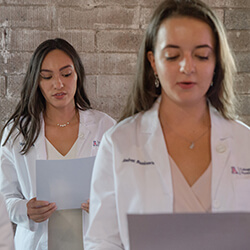 Developing their oath is one of the first things the medical students do together as a class. It signifies the students' commitment to demonstrating and maintaining the core values of the College of Medicine – Phoenix — including collaboration, community, diversity, excellence, innovation, integrity and servant leadership. Like so many events from last year, the Class of 2024 initially recited their oath over Zoom. "We pledge to respect your diverse values and contributions. We will embrace the spirit of collaboration, unafraid to seek help when we do not know the answer. We vow to honor the legacy that preceded us and to cultivate future innovation." They publicly declared their commitments by reciting their oath during the ceremony.
Class of 2015 Alumni Guest Speaker David Reeder, MD — an allergist/immunologist, as well as a board-certified internist — spoke about how character impacts the type of physician they will ultimately become. Dr. Reeder practices at Arizona Allergy Associates, specializing in managing allergic and immune deficiency diseases in both adults and children. He also serves as a faculty physician at Banner – University Medical Center Phoenix.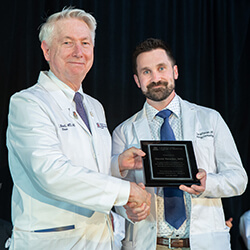 "Everyone has a place or a moment where their resolve is tested," said Dr. Reeder. "For some, it only comes once. I would suggest that, for a doctor, it comes often."
Dr. Reeder also pointed out the promises made in the Class Oath. "You made many promises and I'd like to reciprocate and promise something, as well. If you keep to your oath, you will find that it changes and shapes you in ways that will be beautiful to see. Your white coat symbolizes an ideal, something that unites all physicians. It is a part of my story, and now it's a part of yours."
The Class of 2024 marks the first cohort of 100 students, which was a key part of the college's growth plan since welcoming the first class in 2007. Not only has the class size grown, increasing by 20 percent, so has the diversity. About 55 percent are Arizona natives and the other 45 percent are from 17 other states. Of the Class of 2024, about 57 percent are female and 43 percent male. Sixty percent come from socially disadvantaged, educationally under-resourced, underrepresented areas in medicine or rural upbringings.
Videos, Photos and More
Meet Members of the Class of 2024
About the College
Founded in 2007, the University of Arizona College of Medicine – Phoenix inspires and trains exemplary physicians, scientists and leaders to optimize health and health care in Arizona and beyond. By cultivating collaborative research locally and globally, the college accelerates discovery in a number of critical areas — including cancer, stroke, traumatic brain injury and cardiovascular disease. Championed as a student-centric campus, the college has graduated 669 physicians, all of whom received exceptional training from nine clinical partners and more than 2,600 diverse faculty members. As the anchor to the Phoenix Bioscience Core, which is projected to have an economic impact of $3.1 billion by 2025, the college prides itself on engaging with the community, fostering education, inclusion, access and advocacy.