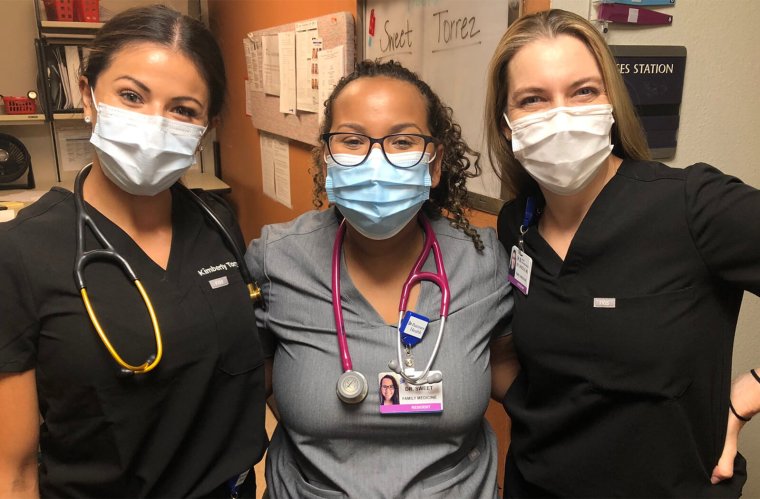 Women in Medicine and Science Month: College Recognizes Remarkable Women Fighting COVID-19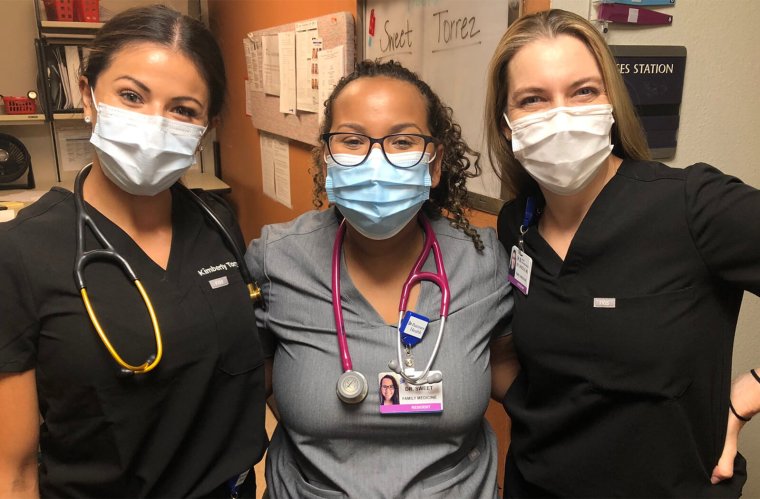 College Highlights the Work of Women Faculty Members Throughout the Month of September
The University of Arizona College of Medicine – Phoenix is celebrating Women in Medicine and Science throughout the month of September, by highlighting some of the remarkable women fighting the novel coronavirus. The college is pleased to share their experiences of working in health care during a pandemic and offer a glimpse back to the pivotal moments that inspired them as young women to pursue careers in medicine.
The recognition echoes an initiative developed by the American Medical Association, which designates September as a time to celebrate women physicians, residents and students. This initiative showcases the accomplishments of women physicians, as well as elevates health issues impacting women patients.
Women faculty members at the college are working in community COVID-19 clinics, respiratory centers and the hospital ICUs; conducting research on COVID-19 in the lab and the clinic; organizing outreach to underserved communities that are at increased risk from the virus; and revamping medical education curriculum to safely maintain students' academic progress.
Amelia Gallitano, MD, PhD, director of the Women in Medicine and Science Program at the college, said that women faculty are addressing the COVID-19 crisis at every level.
"Women frequently don't draw attention to their own work and accomplishments, feeling more comfortable promoting and shining the light on others than on themselves," Dr. Gallitano said. "This can lead to their contributions not being fully recognized. Historically, women's contributions were not recognized, which has allowed erroneous beliefs and biases to persist. We want to highlight the critical work that our women faculty are doing to help Arizona overcome the range of challenges brought on by this pandemic."
The coronavirus has impacted the lives and well-being of communities across the globe. In Arizona, the outbreak was one of the worst in the country, with almost 200,000 cases and 4,800 deaths as of August 25.
"We are immensely proud of our women faculty members and researchers who have served our community during this time of uncertainty," Guy Reed, MD, MS, dean at the UArizona College of Medicine – Phoenix said. "Their extraordinary efforts to combat the global pandemic exemplifies the college's commitment to serve as a center for medical education, research and care to our community. The need for these contributions to sustain the health and wellbeing of patients and communities is more significant than ever before."
According to Dr. Gallitano, now that schools, daycares, elder-care services and other resources are closed, families have to take on this work that was previously done by others. This extra work more often falls on women whose to-do lists are typically already maxed-out.
"Studies have already shown that the pandemic is having a disproportionate effect on women, who frequently shoulder a greater proportion of the burdens resulting from the pandemic," Dr. Gallitano said. "These studies also show that the pandemic is impacting women in the field of academic medicine more than men. The top scientific journals are publishing articles showing that women's submissions of research papers suddenly dropped in March of 2020, while those of men have been less affected, or even increased. These publications are warning that the pandemic may cause a setback of decades for the advances that have been made in diversity and equity."
Melissa Herbst-Kralovetz, PhD, director of the Women's Health Research Program at the college, added that currently, women are not okay. She said that stress levels are through the roof and even her cardiologist said they are seeing people they would never see with skyrocketing blood pressure and premature ventricular contractions. "As primary caregivers of all kinds, women bear a disproportionate amount of the burden," Dr. Herbst-Kralovetz said.
The pandemic is creating enormous stress for everyone, but this stress can easily cross the tipping point for those who have little reserve capacity, whether because of limited resources or an excess number of responsibilities, or both. Dr. Gallitano recommends women to reach out, talk to friends and colleagues who are in the same boat and don't be afraid to ask for help. She also recommends for men, and everyone who cares about a woman who is shouldering extra burdens, "offer to help! We are all in this together, and if we help each other, we all rise."
Taben Hale, PhD, an associate professor of Basic Medical Sciences, added that it's important to find a support group. "I've been leaning on my support group more than ever these days," Dr. Hale said. "The other advice that I heard today from Melissa (Dr. Herbst-Kralovetz) is to 'be kind to yourself and give yourself a break.'"
"There has been a lot of media coverage of the added burden that the pandemic is creating on women," Dr. Gallitano said. "What has not been well covered, though, is the legitimate concern that women have in admitting that they are under tremendous stress. Even without a pandemic, women suffer from biased assumptions that they must not be working as hard as men if they have a family, or for any number of other reasons. These biases have very real consequences, such as women being paid lower salaries than men for the same work, despite numerous studies showing their equal productivity. In the pandemic, this puts women in a bind. As one of my colleagues stated, 'I'm not working any less hard. I just sleep less.' "
During September, the college will feature stories of women faculty and scientists, spotlighting their service to patients and communities in response to the COVID-19 pandemic. We encourage you to visit the college's website and social media accounts to get to know these extraordinary women and the astounding work they are doing from bench to bedside.
Meet Our Women in Medicine and Science
About the College
Founded in 2007, the University of Arizona College of Medicine – Phoenix inspires and trains exemplary physicians, scientists and leaders to optimize health and health care in Arizona and beyond. By cultivating collaborative research locally and globally, the college accelerates discovery in a number of critical areas — including cancer, stroke, traumatic brain injury and cardiovascular disease. Championed as a student-centric campus, the college has graduated 745 physicians, all of whom received exceptional training from nine clinical partners and more than 2,700 diverse faculty members. As the anchor to the Phoenix Bioscience Core, which is projected to have an economic impact of $3.1 billion by 2025, the college prides itself on engaging with the community, fostering education, inclusion, access and advocacy.