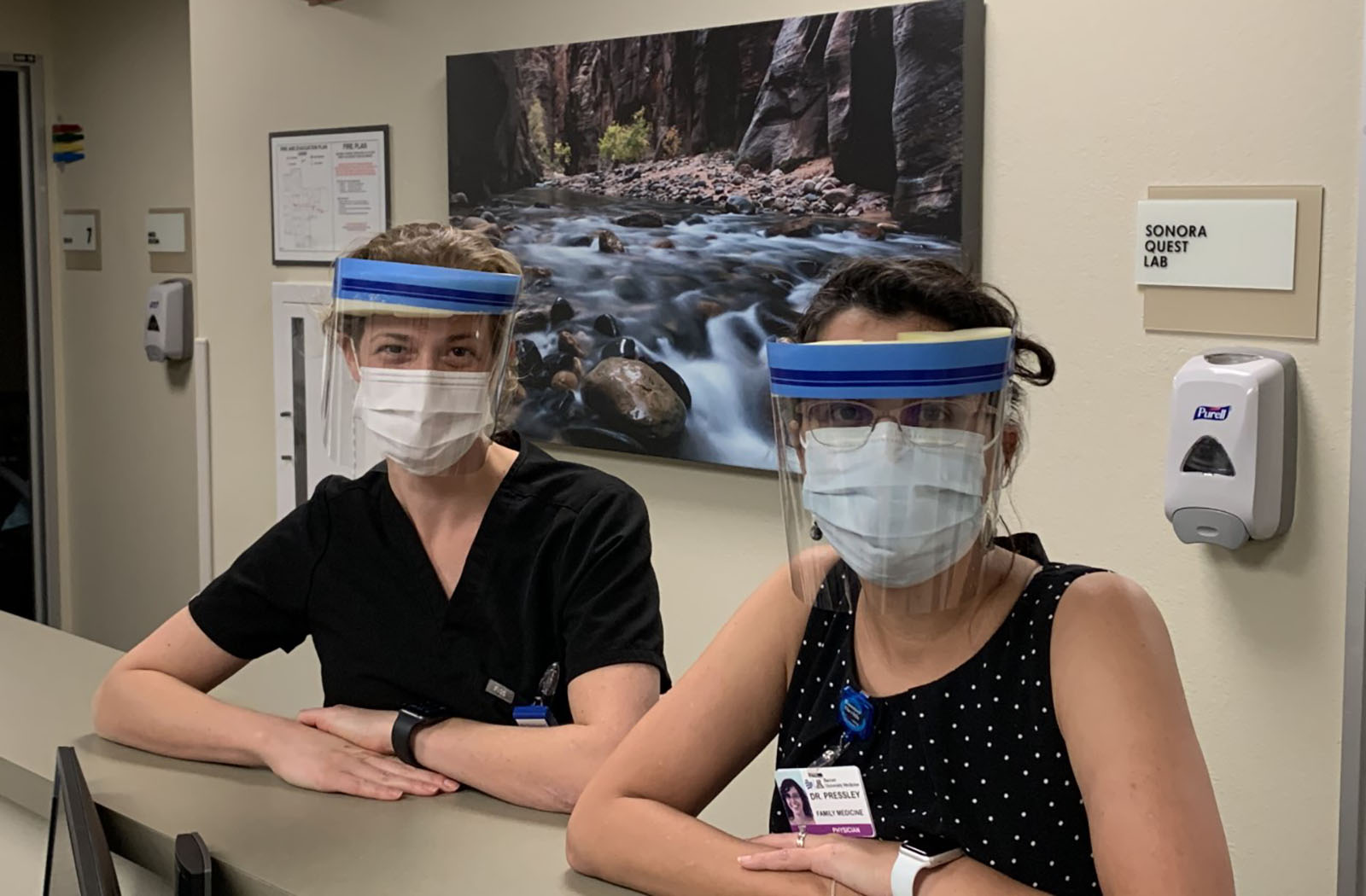 Women in Medicine Fighting COVID-19: Dr. Hillier and Dr. Pressley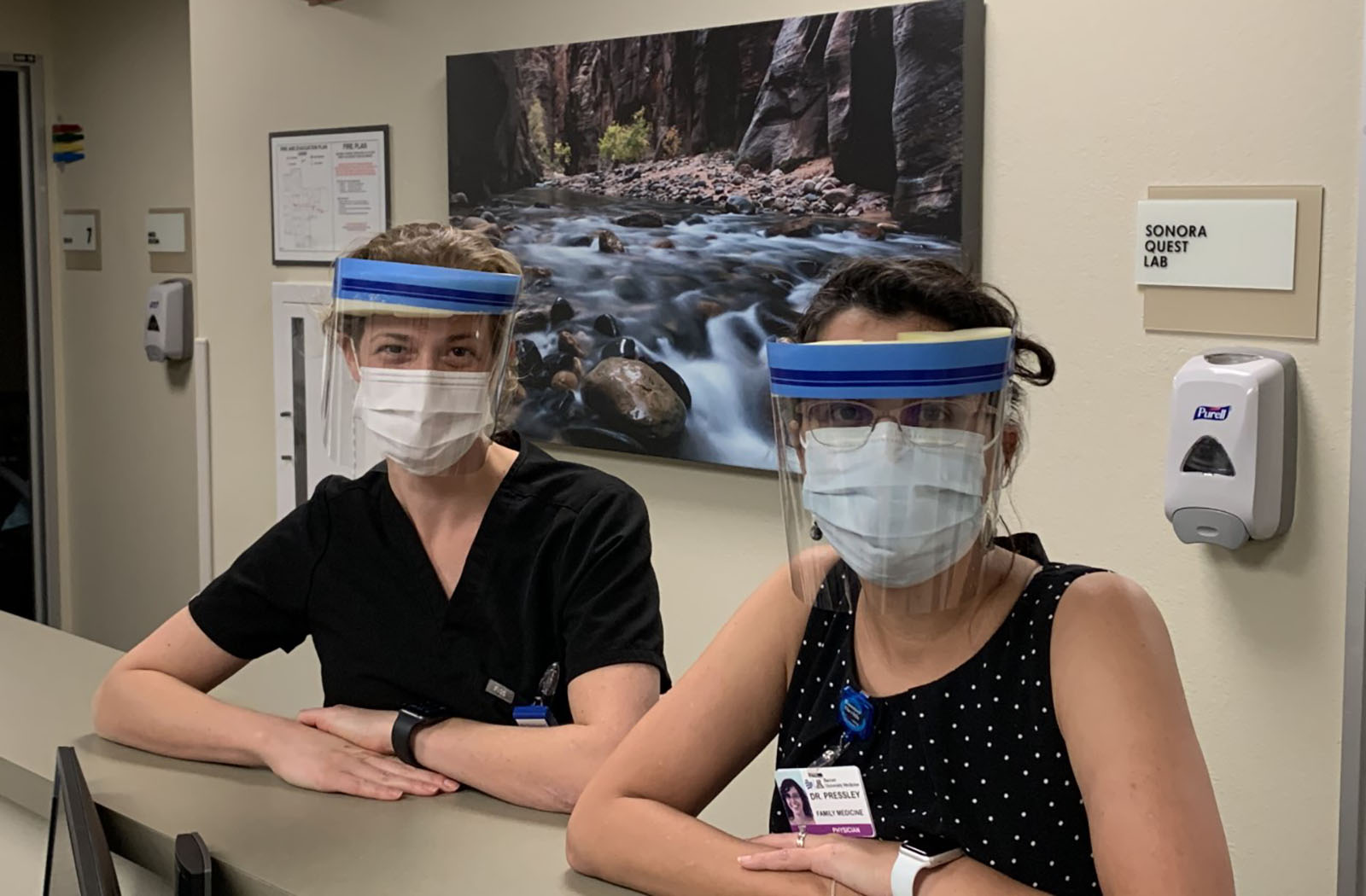 Faculty Develop Outreach Program to Connect Patients with Resources During Pandemic
In honor of this year's Women in Medicine and Science month, the University of Arizona College of Medicine – Phoenix has asked a few faculty to share their inspiring stories and work that is helping our community through the coronavirus pandemic.
Meet Shari Pressley, MD, and Leah Hillier, MD
Shari Pressley, MD, and Leah Hillier, MD, developed a vulnerable patient outreach program to identify patients with unmet needs during the pandemic and connect them with resources.
Dr. Pressley and Dr. Hillier, who are both clinical assistant professors in the Department of Family, Community and Preventive Medicine at the University of Arizona College of Medicine – Phoenix, used the program as a service learning opportunity for medical students, which allowed students to serve patients while clinical work was on hold.
Describe your experience working during the pandemic.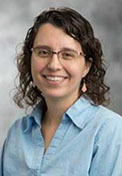 Dr. Pressley: Dr. Hillier and I are both mothers of young children. There is always an aspect of juggling as a full-time clinician and parent, but it has been particularly pronounced during the pandemic with uncertainty regarding childcare and family support. We have been very lucky to work with a supportive team in the Department of Family Medicine. Our entire staff has been very flexible and we have all been trying to accommodate each others' needs – working from home via telehealth, adjusting schedules and covering for each other when colleagues are out isolating due to illness and while waiting for results of COVID testing. The pandemic has been frustrating as a primary care doctor – we are watching many of our patients fall behind in their preventive care screening and management of their chronic diseases. We are trying to figure out how to catch up to prevent the wave of illness that's going to result from delayed care.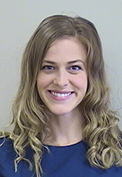 Dr. Hillier: Initially, I was very resentful of the media referring to health care providers as "heroes" loudly and repeatedly; I felt more like a prisoner. We just had no idea what this pandemic was going to look like. As the initial fear has faded and the unknown has become a little more known, I have actually found the dynamic nature of the pandemic really interesting. A good friend who is a public health doctor changed my perspective when he excitedly told me, "this is what I trained for." Like most things in life, perspective is important. During the pandemic, we are always coming together as a clinical team and course-correcting how we work and deliver care to our patients. I have an interest in health systems and particularly how we change them for the better, so the pandemic has given me hope that maybe we'll see some real changes in how health care is funded and delivered. Of course, there are headaches related to this process, but there has also been innovation. I hope that we will harness this innovation to change the way we deliver primary care going forward. Nobody should have to worry that if they lose their job, they'll lose their health insurance, especially not in the midst of a pandemic.
What advice or words of encouragement do you have for other physicians during this time of uncertainty?
Dr. Pressley: I have really found that work keeps me sane. Seeing my colleagues and talking with them about the stresses we're all feeling has been immensely helpful.
Dr. Hillier: I think many doctors really do feel that medicine is a calling and I've found it helpful to focus on that idealism. Recognizing my own privilege in this situation and focusing on what I can do to ease the stresses of this situation for our most vulnerable patients helps me to channel my anxiety into something more productive. In this time of strife, we can collapse or we can rise to meet these unprecedented challenges with a sense of duty and adventure. This is history in the making and I have been humbled to see the incredible courage of the people I work with, not only our emergency room and ICU teams, but all of the non-clinical staff in our hospital/clinic.
What would you like the community to know about your work during this time as women in medicine and science?
Dr. Hillier: I recently saw a patient who was complaining of headaches. When the medical student working with me took the history, the patient identified that she got the headaches when she hasn't eaten. When we asked the right questions, it became apparent that the patient was experiencing food insecurity. We don't often see "resources for accessing the food bank" and "referral to social work" listed as a treatment for headaches, but in this case, prescribing her a medication would have missed the point. This work has reminded us of the importance of asking the right questions about social determinants of health, which helps us provide the most effective care for our patients.
Describe your work with the community during this time.
Dr. Pressley: We developed the Vulnerable Patient Outreach (VPO) program with the support of an interdisciplinary team in our clinic which includes nursing, behavioral health and social work. Each of the physicians in our practice identified their most vulnerable patients based on their social situations and medical comorbidities and our residents and medical assistants began calling those patients to check on them. We developed tools for use in these calls that helped to identify concerns and resources to help our patients cope. We screened for housing and food insecurity, financial stress, health insurance status, domestic abuse, access to air conditioning and water, emotional supports and coping, and medical needs. We continue to make these calls and have developed this as a learning experience for our medical students rotating in Family Medicine. Social determinants of health are the most significant factors in health outcomes. We hope the VPO program helps our medical students to gain skills in asking about social determinants of health and intervening appropriately, no matter what medical specialty they choose.
Dr. Hillier: A large portion of our patient population struggles socioeconomically at baseline. We recognized very early that the pandemic was going to hit our patients hardest. In the face of an overwhelming health crisis, we just wanted to focus on something we could control. We decided that doing good, even on a small scale, was better than being paralyzed with fear and uncertainly. As family doctors, we are used to our impact being through small moments with our patients that hopefully make a difference down the road, so for our entire team, this felt like a natural thing to do.
Why did you find this work important?
Dr. Hillier: Many of our most vulnerable patients were afraid to seek medical care, particularly in-person right at the beginning of the pandemic. Many of them (like all of us) did not understand what was going on. This allowed us to preemptively address concerns in hopes of preventing potentially catastrophic events like loss of housing. Our social workers and behavioral health nurses were very busy. We were also able to explain to patients what we understood about the virus at the time and how to limit their risk of exposure.
What impact do you hope this project has?
Dr. Pressley: We had many patients who simply expressed their gratitude for having someone to talk to. People appreciated knowing that they weren't alone at a time that felt very lonely for all of us. Numerous studies have shown correlation between social isolation and poor health outcomes. We were hoping to help people be a little less isolated. Paradoxically, I think these calls also ended up being somewhat therapeutic for our team; I think we've all been appreciative of human connection these days.
Why did you want to start this project?
Dr. Hillier: We were all struggling initially with what to do. As family doctors, we had been put on 'standby' to support our colleagues in the emergency department. We were not seeing many patients at that time and I think many of us felt a great deal of guilt with our idleness. I know our entire interdisciplinary team was eager to do something productive. We were worried about our patients, and this seemed like something we could do to help keep them out of the emergency department and ICUs, which supported our colleagues working in those places too.
About the College
Founded in 2007, the University of Arizona College of Medicine – Phoenix inspires and trains exemplary physicians, scientists and leaders to optimize health and health care in Arizona and beyond. By cultivating collaborative research locally and globally, the college accelerates discovery in a number of critical areas — including cancer, stroke, traumatic brain injury and cardiovascular disease. Championed as a student-centric campus, the college has graduated more than 800 physicians, all of whom received exceptional training from nine clinical partners and more than 2,700 diverse faculty members. As the anchor to the Phoenix Bioscience Core, which is projected to have an economic impact of $3.1 billion by 2025, the college prides itself on engaging with the community, fostering education, inclusion, access and advocacy.